The Touching Reason Someone Left A $10,000 Tip At This Florida Restaurant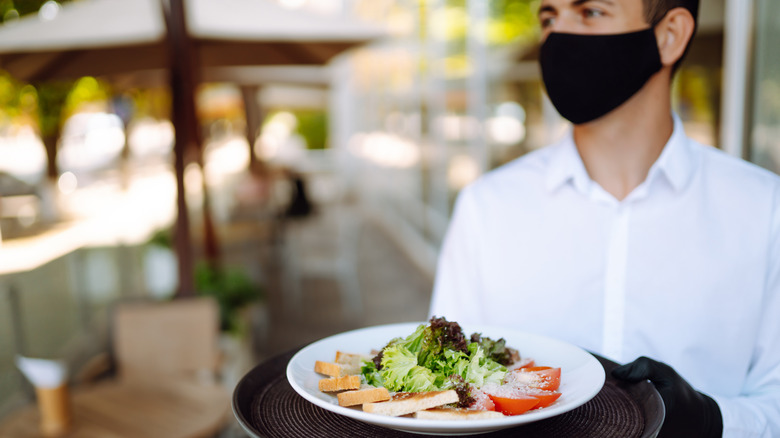 maxbelchenko/Shutterstock
It is no secret that during the pandemic, restaurants chains were hit hard due to the lengthy lockdown in the United States. Business Insider shared that 10% shut down permanently as a result of problems caused by COVID. Both casual and upscale eateries suffered, with the likes of even Subway closing more doors than any other fast food chain of its size. At a time when economic strife seems rampant, imagine the surprise the staff of Wahoo Seafood Grill in Gainesville, Florida, experienced when one generous diner decided to leave them a $10,000 tip.
The restaurant took to Facebook to share the act of kindness, writing, "On Tuesday night, a customer asked our entire restaurant staff to come to the dining area. He thanked them for showing up and working hard. Then something incredible happened. He told them he was giving them $1,000 each. Our staff couldn't believe it." 
This gesture really astonished the staff, and owner Shawn Shepherd said, "I'm not usually an emotional guy, but this really got me. I'm blown away. We're ALL blown away by his generosity." And it probably couldn't have come at a better time. It wasn't just the dollar amount that mattered but what it represented in a moment of dwindling optimism. Wahoo Seafood Grill wrote in a post, "The truth is that we were beginning to lose hope with all the stress and disappointments of the last 18 months in the restaurant biz. But then THIS HAPPENED and we feel revitalized!!"
It's hard work even in normal times
Such an act of kindness might add a much-needed morale boost for restaurant workers even if a pandemic wasn't raging, especially when you consider that being a part of a waitstaff – be it at Chick-fil-A or some high-end eatery - can be tough work. According to Vice, a 2015 study found that waiting tables could be extremely stressful (perhaps even more so than working as a neurosurgeon) and harmful to one's health. In fact, the researchers discovered that the risk of stroke was 22% greater in waiters and waitresses than among workers in low-stress occupations. ANd low compensation probably doesn't help. 
Compound that normal stresses with the reported labor shortages, long hours, and all of the pandemic stressors, and it's easy to understand why the staff at Wahoo Seafood Grill felt so overwhelmed by the $10,000 tip. The Facebook post expressed a desire to spread the newfound hope: "Our whole staff would like to thank this generous customer from the bottom of our hearts. We are all going to pay it forward in our own ways. Even the smallest acts of kindness can have a giant ripple effect. We're just a local, veteran-owned seafood restaurant doing our best to weather this storm ... By sharing this, we hope you feel inspired to do something nice for someone today. Be the reason someone believes in the goodness of people." Amazingly inspiring.