Not Everyone On Instagram Is Impressed With 'The Best Big Mac Hack Ever'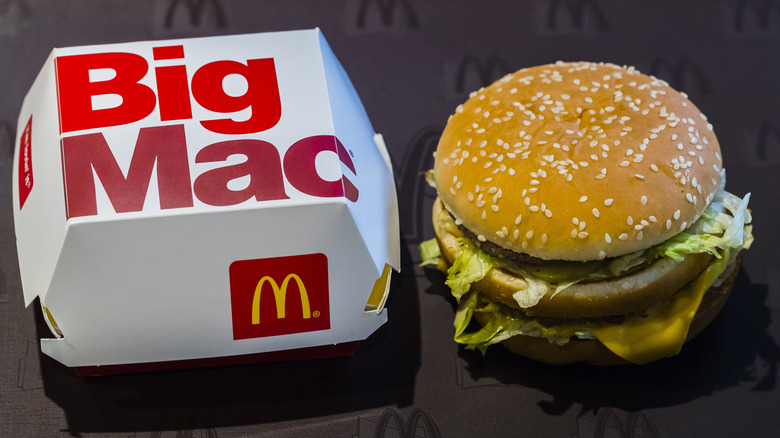 S3studio/Getty Images
Since the Big Mac first hit McDonald's menus in 1967, the burger has become one of the most popular items at the Golden Arches (via Love Food). According to Reference.com, there are more than 900 million Big Macs sold per year, which averages out to about 2.4 million per day. The cult-favorite sandwich features two of McDonald's' classic burger patties topped with American cheese, shredded lettuce, chopped onions, pickles, and the famous secret sauce — which is rumored to be mayonnaise, French dressing, and sweet relish (via Top Secret Recipes) — all on a toasted sesame seed bun.
While the OG Big Mac has long been a favorite among McDonald's customers, one fan claims to have come up with an even better way to enjoy the burger. Jonathan Massaad shared his simple and mind-blowing hack, and it's going viral on social media, Lad Bible reports. Here's what he recommends doing the next time you order a Big Mac.
Eat your Big Mac without the top half of the bun
In an Instagram post, Jonathan Massaad demonstrates how to execute what he dubs "the best Big Mac hack ever." He recommends completely removing the top half of the bun (the rounded part with the sesame seeds) and then flipping the middle piece of bread over to sandwich the two patties between the remaining slices. "Now your meat and sauce ratio is a lot better because [the top] bun has no sauce and now [the center] has all the sauce," he explains. By removing a third of the bread, your Big Mac will feel a lot more balanced.
While the hack may have seemed brilliant to many people — or "amazing" as one viewer described it — not everyone is a fan of altering the Big Mac, as evidenced by the comments section of Massaad's Instagram video. "Why waste food?" one person wrote, while another said, "[Too] small." Clearly not mincing words, a different commenter simply posted, "Noooooo." Others suggest instead just asking for extra sauce rather than discarding the top bun.