Instant Pot Steel-Cut Oats Recipe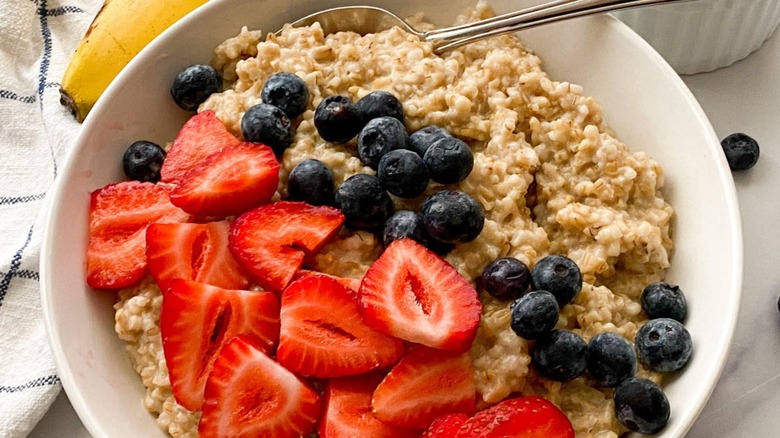 Miriam Hahn/Mashed
Of all the meals we eat in a day, breakfast is the one we're most likely to consume in a hurry. In fact, quite a few of us are so addicted to hitting "snooze" that breakfast may consist of nothing more than a cup of coffee we drink in the car on the way to work, followed by whatever's available in the break room vending machine. (Stale Snickers bar or dubious-looking microwave burrito? Choices, choices ...)
We all know, though, that even if breakfast isn't the most important meal of the day, we'd still be far better off starting our day with something both satisfying and nutritious, and nothing fills the bill better than oatmeal. Recipe developer Miriam Hahn enjoys making steel-cut oats, but they do take longer to cook than other types of oats. That's why she uses her Instant Pot. Hahn admits that when she makes steel-cut oats on the stovetop, "In many cases, they boil over, leaving a big mess." She also says they can also stick to the bottom of the pot. Plus, you can't just walk away and busy yourself with something else as your stovetop oats cook.
With this recipe, however, that won't be an issue. As Hahn says, "The main reason I love [using the Instant Pot] is you can set it and forget it." Let's take a look at how to make this Instant Pot oatmeal.
Steel-cut oats have some serious health benefits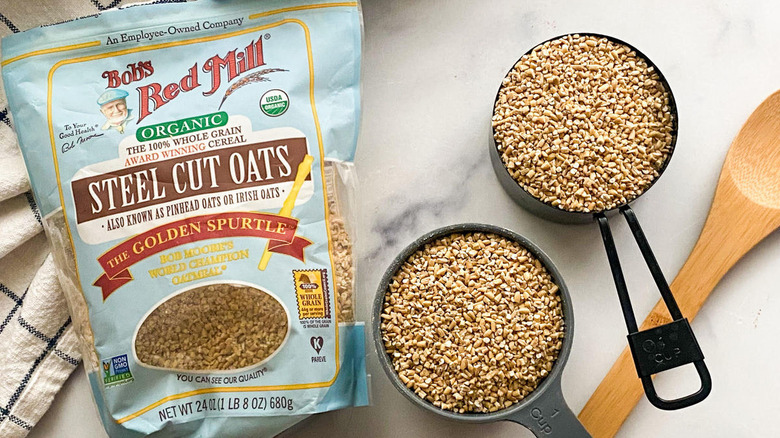 Miriam Hahn/Mashed
Steel-cut oats, like rolled oats, have, as Hahn says, "tons of health benefits ... They have lots of minerals and fiber, and they also have resistant starch, which is good for the gut." She goes on to explain that resistant starch is something that helps the good gut bacteria to multiply and also mentions that oats can help to maintain a healthy blood sugar level. What's more, oats by themselves are fairly low in calories (Bob's Red Mill says a single serving consisting of a quarter of a cup of dry oats has 170 calories), but they are very filling.
Hahn, a wellness coach, says, "I think having oats for breakfast is one of the healthiest things you can do for yourself." She does note, though, that you should look for organic oats since this item, if not organically grown, may have been heavily sprayed with pesticides.
Steel-cut oats cook quickly in an Instant Pot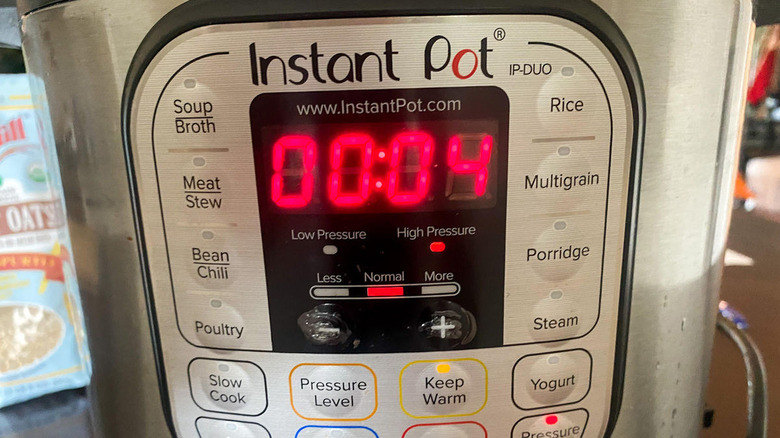 Miriam Hahn/Mashed
To start the Instant Pot oats, add the oats to the pot along with five cups of water. Cover the Instant Pot with its lid, and make sure the nozzle is set to "sealing." Press the "pressure cook" button, and set the time for four minutes. Hahn notes that the Instant Pot will take about 15 minutes to heat up, at which point the cooking time will show on the front panel, and the four-minute countdown will begin.
"I usually get the Instant Pot oats going and then leave for a run," she tells us, adding, "When I come back, they are perfect and warm." This is due to the fact that Instant Pots have an automatic warm setting that will kick in once the cook time is up.
After the oats have cooked, they'll need to let off some steam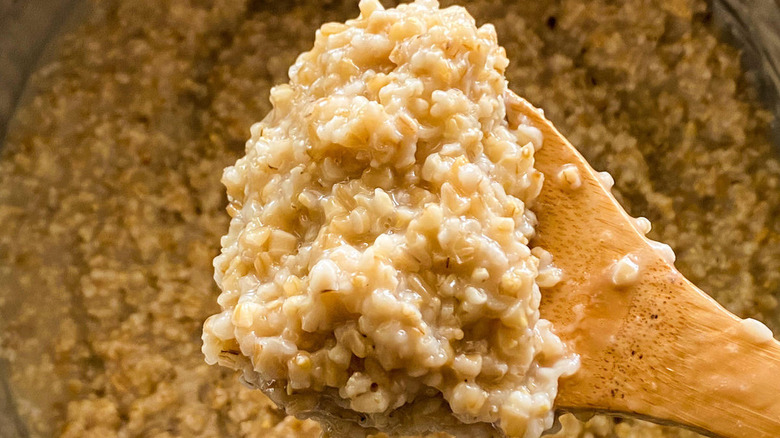 Miriam Hahn/Mashed
Even after the oats are done cooking, it's still going to take a little while before they're ready to serve. Before you open the lid, you will need to let the Instant Pot do a natural pressure release for 20 minutes. After this time is up, you'll need to change the nozzle from "sealing" to "venting" — Hahn says to be very careful doing this and suggests using a utensil. She also cautions, "Stand back in case there is any remaining pressure to release, which will come out of the top of the lid." Once all of the pressure has vented, open the Instant Pot lid and stir the oats.
Serve your steel-cut oats any way you like them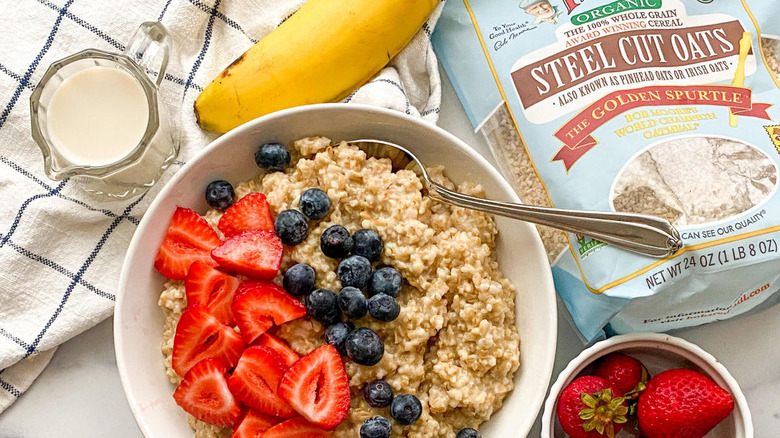 Miriam Hahn/Mashed
If you like steel-cut oats cooked on the stove, you're sure to enjoy the Instant Pot version even more. As Hahn says, "I find that [oats] are a little creamier when I make them in the Instant Pot because of the even cooking," and explains that "sometimes, if the heat is just a little off on the stove, they can dry out." She says she enjoys her steel-cut oats with almond milk, fresh fruit, and slivered almonds or chopped walnuts but adds that her kids enjoy the oats with maple syrup.
Hahn even offers a meal prep tip involving these Instant Pot oats. As she suggests, "You can make a batch on Sunday and just heat [it] up for a quick weekday breakfast." She adds that she also enjoys these steel-cut oats as a healthy afternoon snack.
Instant Pot Steel-Cut Oats Recipe
Let's take a look at how to make this Instant Pot oatmeal. It may just become your new favorite easy breakfast for busy mornings.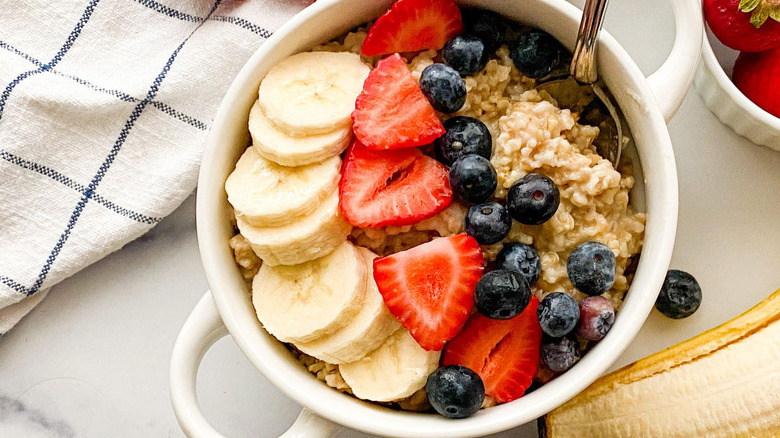 Ingredients
2 cups steel-cut oats
5 cups water
Directions
Add the oats and 5 cups of water to the Instant Pot and stir.
Place the lid on the Instant Pot and make sure the nozzle on the lid is set to "sealing."
Select the Instant Pot's "pressure cook" button and set the cook time for 4 minutes. (The Instant Pot will take 15 minutes to preheat before the cook time begins.)
When the cook time is done, let the Instant Pot natural release for 20 minutes, and then change the nozzle from "sealing" to "venting."
Open the Instant Pot lid and stir the steel-cut oats.
Serve and enjoy.
Nutrition
| | |
| --- | --- |
| Calories per Serving | 99 |
| Total Fat | 1.8 g |
| Saturated Fat | 0.3 g |
| Trans Fat | 0.0 |
| Cholesterol | 0.0 mg |
| | |
| --- | --- |
| Total Carbohydrates | 18.2 g |
| Dietary Fiber | 2.5 g |
| Total Sugars | 0.4 g |
| Sodium | 8.7 mg |
| Protein | 3.7 g |