The Reason This Alabama Funeral Home Became A Thriving Food Truck Park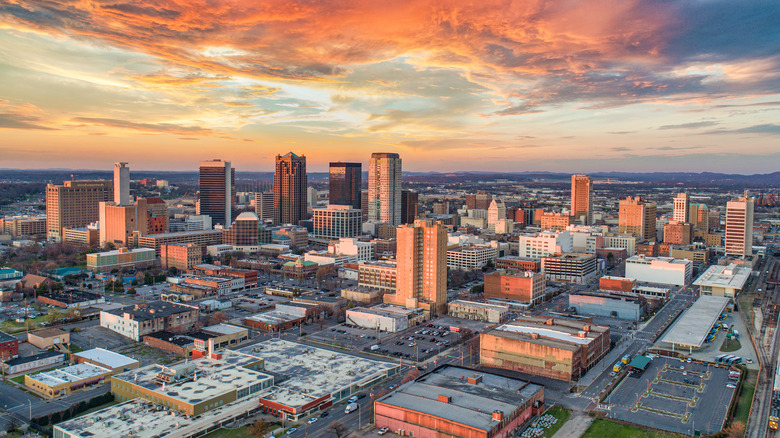 Kevin Ruck/Shutterstock
While often they set out on their own routes and go to the spots where they know their customers will be, it's not uncommon for several food trucks to park together and create an impromptu "food truck park" of sorts. At events like farmers markets or outdoor festivals, you'll often spot a lineup of trucks offering a wide variety of tasty dishes. In Birmingham, Alabama, a bustling food truck park recently popped up in a somewhat unusual location — a funeral home parking lot (via Alabama Life). The weekly culinary pop-up has been deemed the West End Food Truck Park.
The unique location for the food truck park came about when a woman named Arlillian Bushelon, whose family owns the funeral home, got the idea in response to an issue she was seeing over and over again. She and her staff were often incredibly busy with their work at the funeral home and didn't really have time to take a break for lunch. To make matters worse, for those who could find some time to break for lunch, the area of the city they are in is a food desert with very few options for grabbing lunch (via YouTube). Bushelon figured the easiest solution to her employees' lunch woes was to bring fresh, delicious food right to them — hence, the food trucks.
Options for everyone at the West End Food Truck Park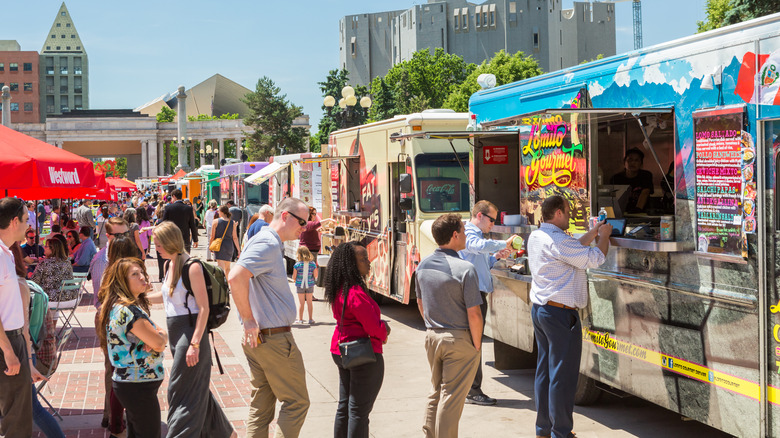 Arina P Habich/Shutterstock
The culinary pop-up kicked off with just one food truck, all the way back in October 2020 (via Alabama Life). Luckily, that one food truck happened to be Simone's Kitchen ATL, run by well-known chef Whitney Generette, aka "Chef Simone." As Generette said to WVTM 13 News during one Thursday pop-up, "When she [Bushelon] reached out to us, I was like, it's an area that my truck doesn't really frequent often, so I do know that we have a following that's over here as well, in addition to it being a food desert like you said, so I felt like it was the perfect opportunity to bring something to the community" (via YouTube). Generette's support and notoriety in the community encouraged others to come out, and now, diners have several options to choose from on a weekly basis, with an average of about eight to 10 trucks showing up every Thursday. The fare varies widely, from tart lemonade to cool down on a hot day, to spicy Jamaican jerk quesadillas, or even vegan cupcakes for a little sweet treat.
As an added bonus, Bushelon isn't just feeding the community — she's supporting it in other ways. While she charges a small fee of $40 for trucks to park in the lot and participate, all that money is saved and pooled in a scholarship fund for youths in the West End community.