Creamy Beef Stroganoff Recipe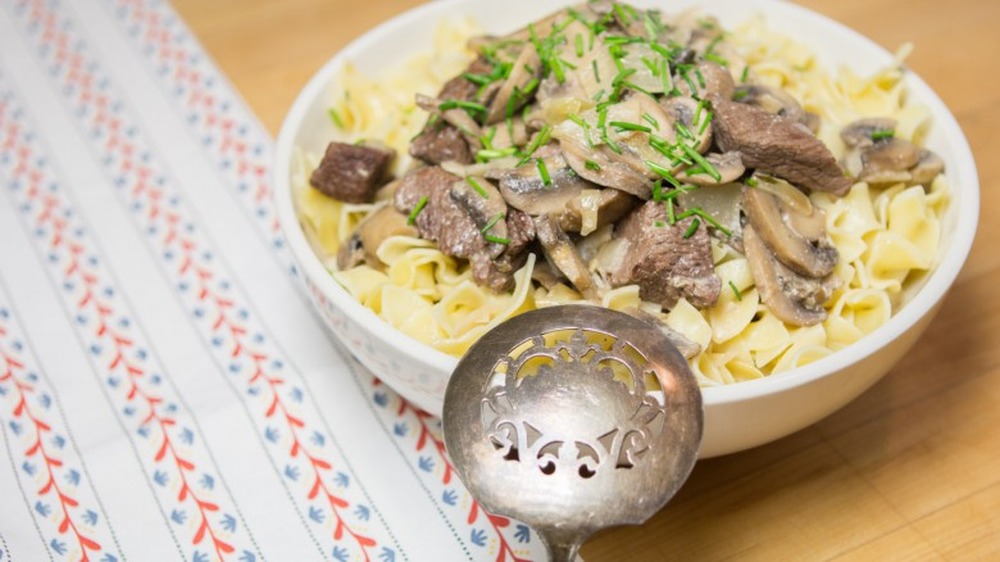 Prep time: 10 minutes. Cook time: 50 minutes. Servings: 4.
Beef stroganoff is classic Russian fare that's especially perfect on nights when warming comfort food is required. Traditionally made with pieces of sauteed beef cooked in a decadent sauce, this cozy dish is an easy favorite during winter months but can (and definitely should) be enjoyed any time you need dinner to feel like a big bear hug. A cross between a flavorful stew and silky sauce, beef stroganoff is best eaten with egg noodles but would be just as at home with a heap of fluffy rice or a loaf of crusty bread for soaking up the juices.
Here, seared stew beef is combined with sauteed mushrooms seasoned with fresh thyme. A luxurious sauce made with heavy cream and sour cream lend loads of richness. Served over a bed of buttery egg noodles speckled with chives, this aromatic take on beef stroganoff is a study in balance — rich but not heavy, rustic but also complex, meaty and full of earthy veggie flavor.
Ingredients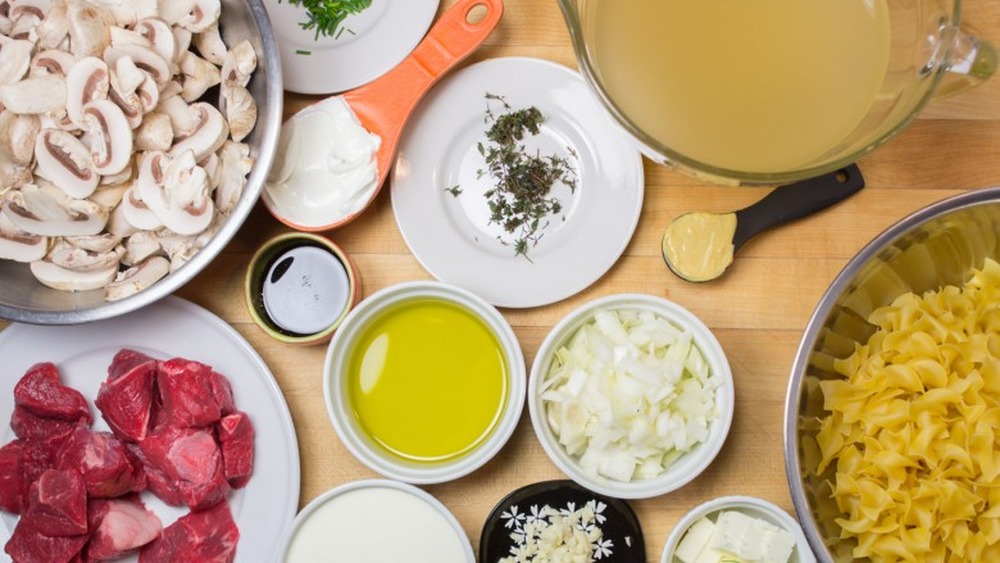 Shopping list
¼ cup plus 3 tablespoons olive oil, divided
1 pound white button mushrooms, thinly sliced
1 tablespoon fresh thyme, minced
kosher salt
freshly ground black pepper
1 pound stew beef, cut into 1-inch pieces
1 small onion, diced
2 garlic cloves, minced
2 ½ cups low-sodium chicken broth
¾ cup heavy cream
½ cup full-fat sour cream
2 tablespoons Worcestershire sauce
1 tablespoon Dijon mustard
10 ounces egg noodles
2 tablespoons unsalted butter, cubed
fresh chives, thinly sliced for serving
Equipment
Saute mushrooms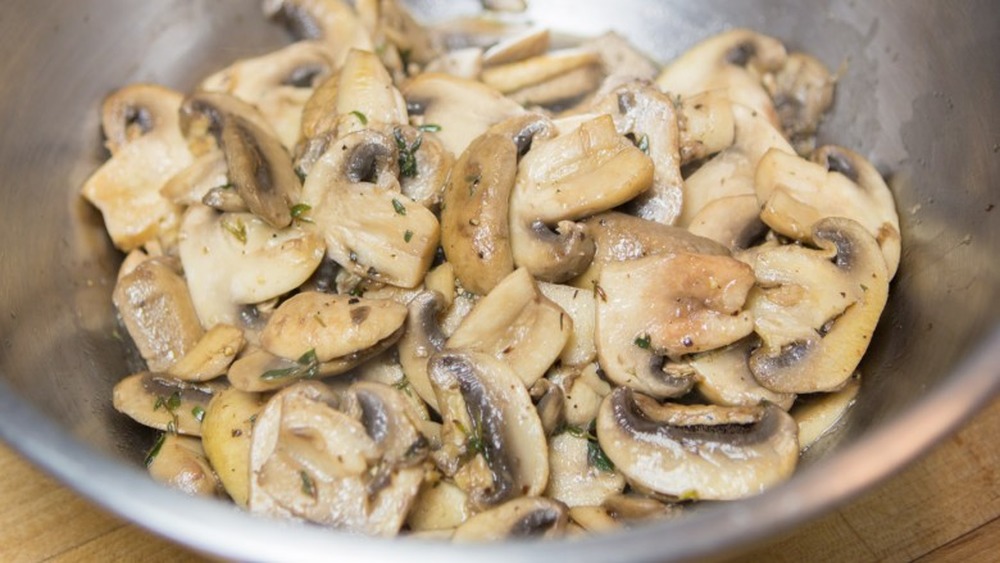 Heat 3 tablespoons of the olive oil in a large pot over medium-high heat. When the oil is shimmering, add the mushrooms and thyme. Season with as much salt and black pepper as desired. Saute, stirring occasionally, until the mushrooms are golden brown and tender, 8-10 minutes. Transfer to a large bowl and set aside.
Brown beef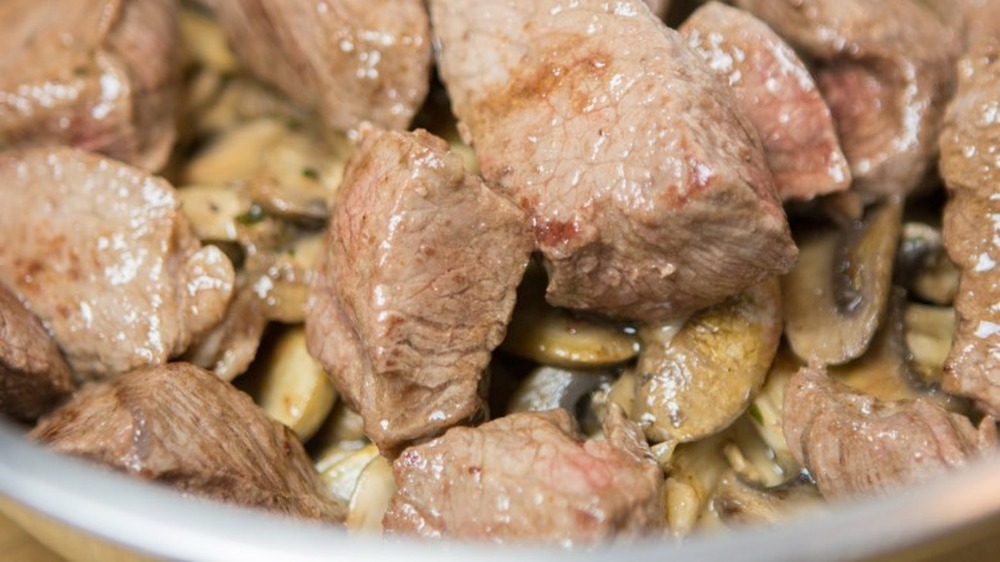 Heat 2 more tablespoons of the olive oil in the pot from the mushrooms over high heat. When the oil is shimmering, add the beef in a single layer and cook without moving until browned on the bottom, about 2 minutes, then stir and continue to cook until browned on all sides, 5-6 minutes more. Transfer to the bowl with the mushrooms and set aside.
Cook sauce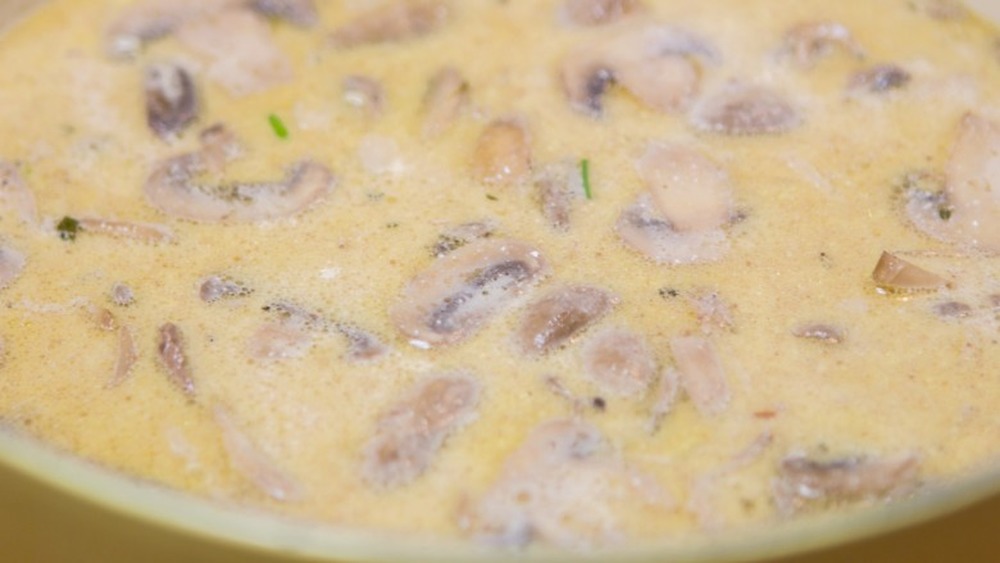 Heat the remaining 2 tablespoons of the olive oil in the pot from the beef over medium-high heat. When the oil is shimmering, add the onion and garlic and saute, stirring, until softened, about 8 minutes. Add the chicken broth and the heavy cream and bring to a boil, then reduce heat to medium and simmer until the liquid reduces by almost half, 20-25 minutes. Stir in the sour cream, Worcestershire sauce, and mustard. Season with more salt and black pepper as desired. Simmer until the sauce begins to thicken slightly, about 10 minutes. Add the mushrooms and beef to the pot and stir to combine. Cook until the mixture is completely warmed through, about 5 minutes more.
Cook egg noodles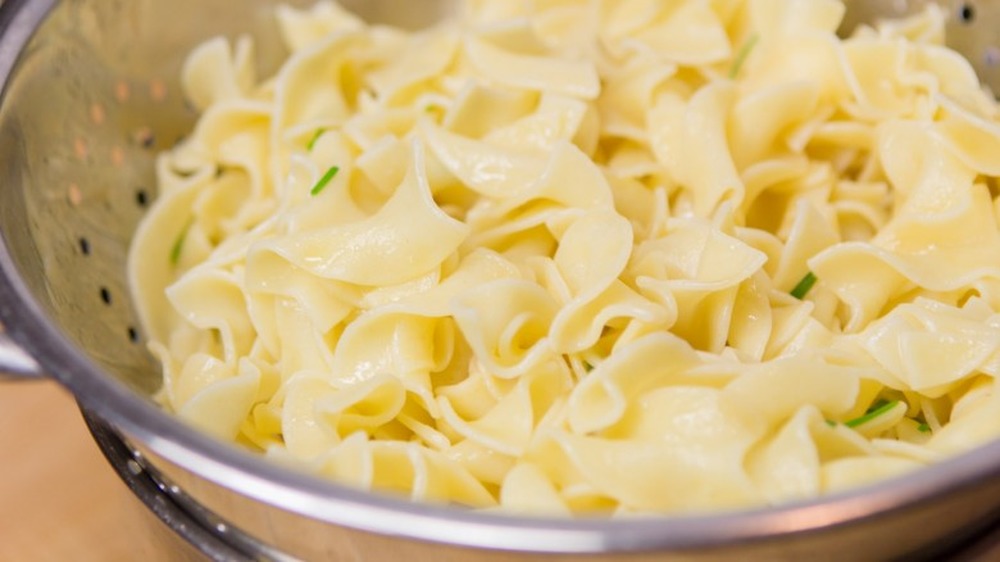 While the sauce cooks, bring a separate large pot of water to a boil over high heat. When the water is boiling, add a generous amount of salt along with the egg noodles, stir, and cook until al dente, 6-8 minutes. Drain and toss with the butter and a pinch of chives to combine. Set aside.
Serve beef stroganoff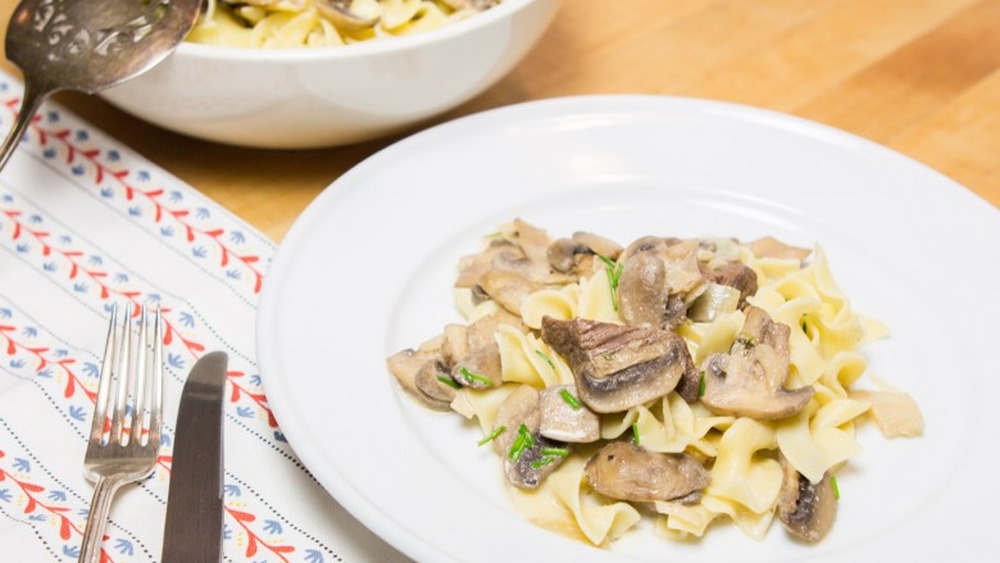 Transfer the egg noodles onto a plate or into a shallow bowl. Spoon the beef stroganoff over the noodles, garnish with more chives as desired, and dig in.
Need a side to go with this hearty fare? Try oven-roasted green cabbage and bacon for starters.