Costco Shoppers Are Loving This Vegan Mac And Cheese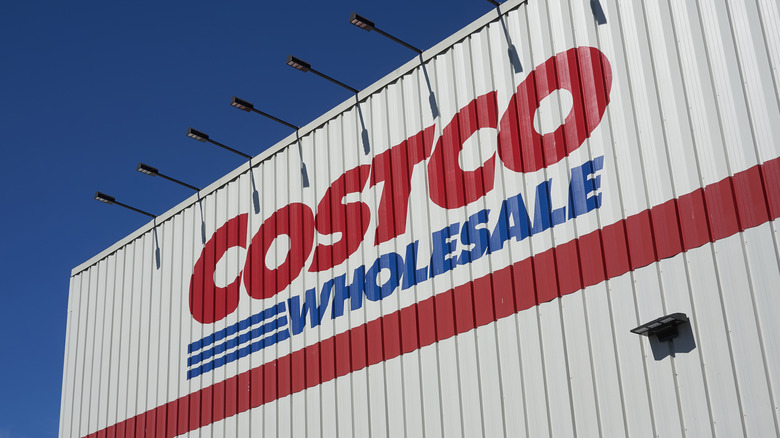 Tada Images/Shutterstock
Ask any Costco shopper and they'll tell you just how much there is to love about the massive wholesale retailer. While the chain — which has existed since 1983 and now has nearly 800 locations across the globe (via Statista) — requires a membership to get in the front doors, most would argue the annual fee is well worth it. Inside, you will find aisles upon aisles stocked with anything and everything you could need, from housewares to apparel. Perhaps the most beloved section, however, is the grocery section.
There exists some of Costco's most cult-ish items, from the $7 bottles of Kirkland wine, to the juicy rotisserie chicken, to the seemingly endless samples available at every turn. The retailer also made headlines when it released its massive 27-lb bucket of macaroni cheese in 2019 (via CNBC). The only downside to said release? Vegans weren't able to partake in the dairy-filled deliciousness. Fortunately, there's a new mac and cheese on the market — or rather, on Costco shelves. The good news? It's 100% vegan.
It's completely dairy-free
Finally! Vegans can now enjoy macaroni and cheese. Or rather, they can enjoy macaroni and cheeze. An Instagram post by Costco fan account @costcobuys revealed that the dairy-free, plant-based mac and cheese is now available at select stores across the country. Not only does it have zero meat or animal products (aka no cheese or milk), it also doesn't have any artificial colors or preservatives. It's pre-cooked, so all you have to do is take it home and heat it up.
Instead of regular cheese, it uses dairy-free shreds made with coconut oil. Fear not, though — people in the comments say it's great. "It's got a nice flavor! You definitely taste coconut, but it doesn't have that strong artificial flavor a lot of processed vegan cheese products have," one fan said, adding that their kids are obsessed. Even meat eaters are fans: "I'm not vegan and it tastes almost like the real thing — it is so good!" another person raved.