Herbed Salmon En Papillote With Grape Tomatoes Recipe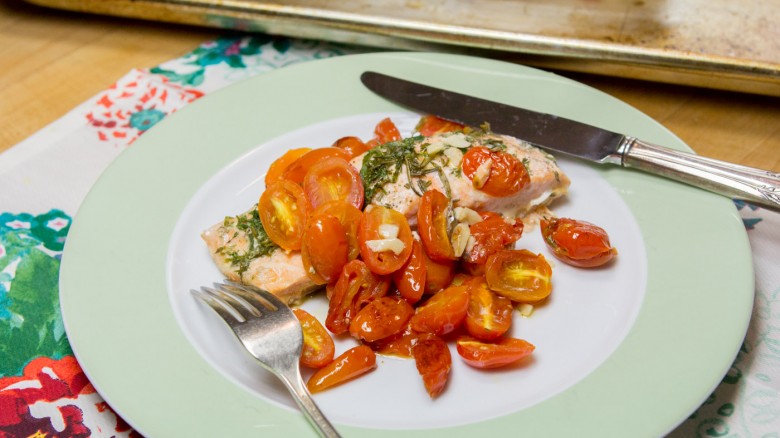 Prep time: 10 minutes. Cook time: 25 to 30 minutes. Servings: 2.
I totally get that sometimes cooking fish seems like such a luxury. Whether this feeling comes from the generally higher price tag on seafood compared to other proteins or the culinary acumen thought necessary to prepare fish properly, I can't say for sure. Either way, I'm here to let you in on a secret. Cooking delicious fish at home is a breeze, especially when you do it en papillote. This classic French technique involves cooking light proteins quite literally "in paper." It is also one of my favorite ways to prepare fish on busy weeknights when I want to eat a nutritious, well-balanced dinner without having to do tons of prep work. While fish can be intimidating to cook if you don't do it often, roasting it inside parchment paper is an incredibly simple method with lots of room for experimenting. Moreover, since the fish is cooked gently by the steam trapped inside the sealed parcels, it gets infused with a delicate fragrance from whatever herbs, citruses, spices, or vegetables you include with it.
Whether you choose red snapper, meaty bass, or beloved salmon, your fish du jour is guaranteed to turn out perfectly when roasted en papillote. Gentle steam prevents overcooking so no need to worry about messing up. Add your favorite veggies or just scatter fresh herbs all over. Seal up the neat little parcel, pop it in the oven, and wait for your kitchen to smell like a five-star restaurant in about 30 minutes. With this fish-cooking trick in your bag, you'll always be prepared to whip up a light and nourishing meal no matter how little time you have or how tired you are. Thank you, clever French cooks!
Here, lush salmon fillets are paired with minced garlic and fresh herbs for an infusion of delicate flavor. A handful of sweet grape tomatoes lends brightness with the added bonus of breaking down during roasting to create a lush olive oil sauce for pouring over your fish. I'm obsessed with the notion of getting a complete meal in one step. With this dish, you essentially prep one parchment package, yet you're rewarded with a main fish course along with a brothy serving of nutrient-rich tomatoes. The super short prep and cook times means you have plenty of extra minutes to catch up on the day's news, watch a little Netflix, or read a few pages of your book. Now that's luxury.
Ingredients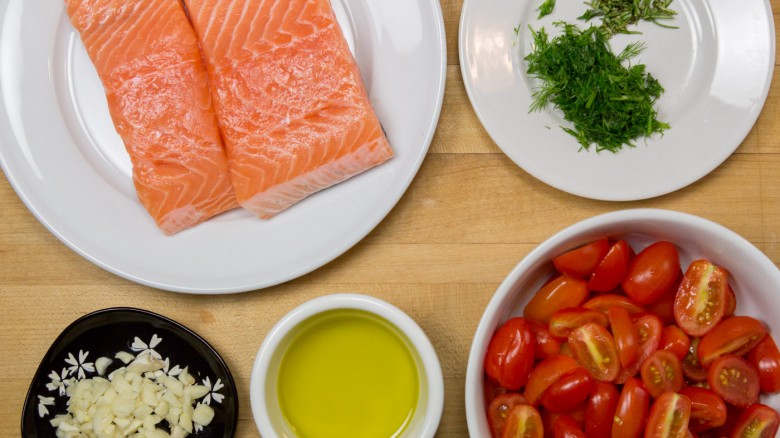 Shopping list


4 garlic cloves, minced


2 6-ounce salmon fillets


1 teaspoon fresh rosemary, minced


1 tablespoon fresh dill, roughly chopped


2 tablespoons olive oil


kosher salt


freshly ground black pepper


¾ cup grape tomatoes, halved


Equipment list


parchment paper


baking sheet


Season salmon en papillote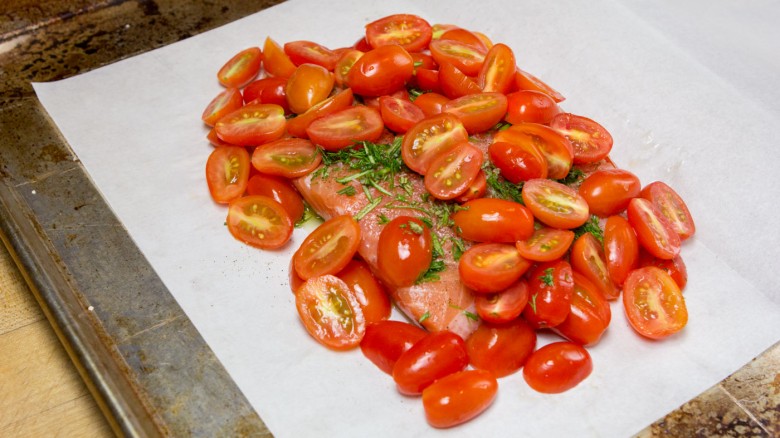 Preheat the oven to 400 degrees. Fold a large piece of parchment paper in half, then reopen. Lay it on a baking sheet. Arrange the garlic in a heap on one side of the folded parchment paper. Drizzle with the olive oil. Top with the salmon fillets in a single layer, then scatter the rosemary and dill on top. Season with as much salt and black pepper as desired. Scatter the tomatoes over and around the salmon fillets.
Assemble salmon en papillote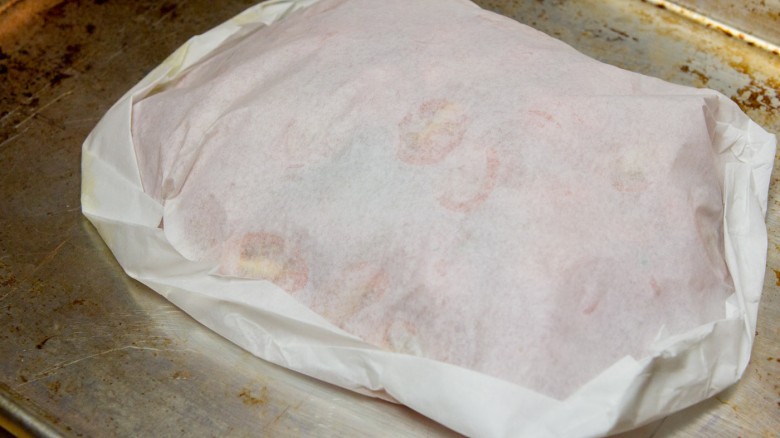 Fold the parchment paper over the salmon to close the package like a book. Fold the open edges into secure pleats to seal the pouch.
Bake salmon en papillote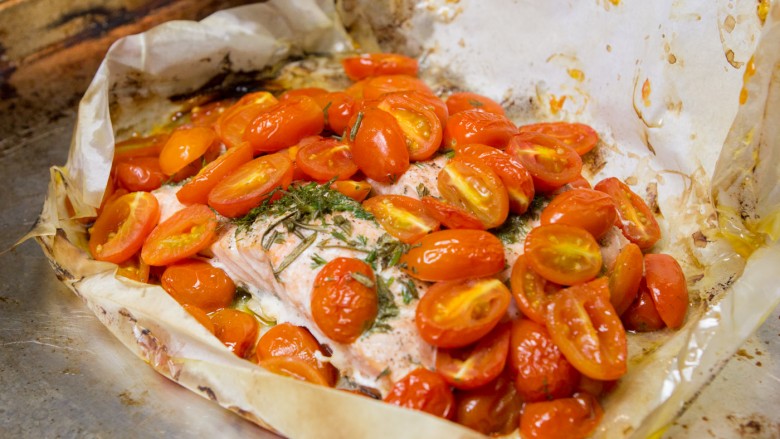 Transfer the salmon en papillote to the middle rack of the oven and roast until the salmon is opaque and flakes easily with a fork, 25-30 minutes.
Serve salmon en papillote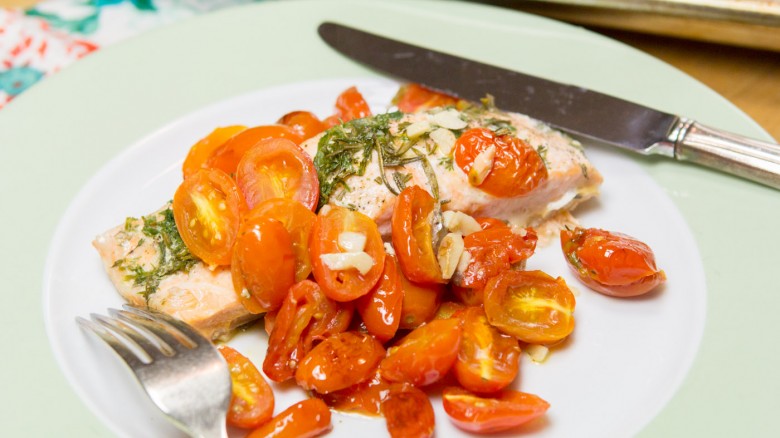 Remove the salmon en papillote from the oven and carefully open the parchment, being mindful of the hot steam. Divide the salmon, tomatoes, and remaining sauce from the parchment paper between two plates or shallow bowls and enjoy while hot.
You know what goes well with this easy French dinner preparation? An equally simple but decadent French dessert, of course. Try this recipe for two-ingredient chocolate mousse and get your fancy on.