Homemade Ketchup Recipe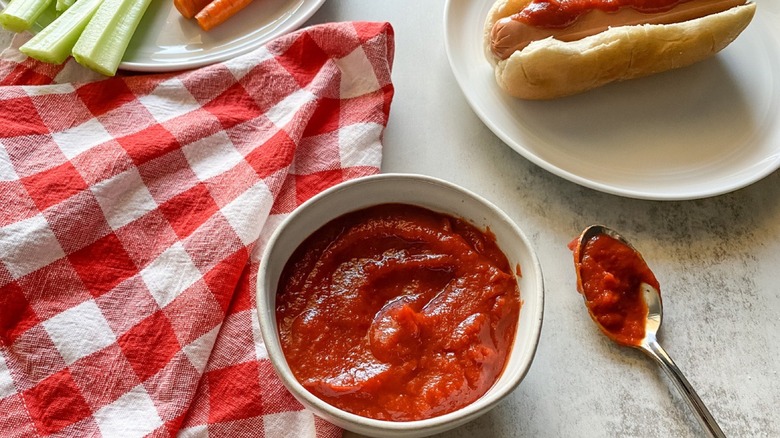 Kristen Carli/Mashed
"Ketchup is one of those condiments that is beloved likely because of its sweet and savory nature," says registered dietitian and recipe developer Kristen Carli of Camelback Nutrition & Wellness. It works on just about any savory food you can imagine, from hamburgers, hot dogs, and French fries to tuna salad (which really means you're dressing your tuna salad with Russian dressing, fyi) to steak (even Master Chef's David Burke validates your choice to eat steak with ketchup, so if you like it, then go right ahead without guilt). It can also be added to many recipes as a shortcut to easily add a bit of sweet-and-sour flavor. 
Ketchup was already popular in the U.S. before the COVID-19 pandemic hit. Now, it's so popular that ketchup manufacturers cannot seem to keep up with the ketchup demand, according to the Wall Street Journal. No worries, however, because with just three primary ingredients that you probably already have on hand in your kitchen, plus salt and pepper, Carli has come up with the easiest, simplest ketchup recipe you could possibly imagine. 
"I love to make things homemade if ever possible," Carli told Mashed. If you feel that way too, let's get started.
Gather your ingredients for this homemade ketchup recipe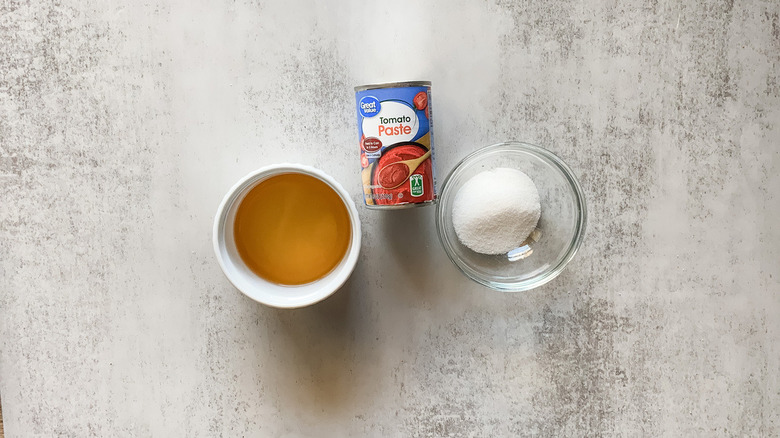 Kristen Carli/Mashed
To make Kristen Carli's amazingly simple recipe for ketchup, you will really only need three primary ingredients, and you may even have these in your kitchen without having to make a trip to the grocery store. These are tomato paste (a six-ounce can), sugar (one tablespoon), and apple cider vinegar (half a cup). In addition, to bring out the best flavor in whatever you are serving this homemade ketchup with, you will need salt (about a half teaspoon) and pepper (about a quarter teaspoon). 
Combine the tomato paste and sugar in a bowl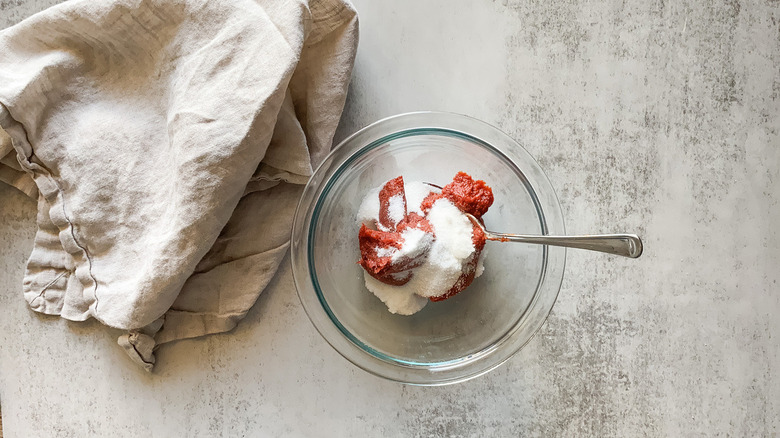 Kristen Carli/Mashed
To get this recipe for homemade ketchup going, all you will need to do is to open your can of tomato paste and then spoon its entire contents into a small- to medium-sized bowl. Next, simply add all of the measured sugar to the bowl that contains the tomato paste. And now you're ready to move onto the next step — no need to even stir yet.
Add the vinegar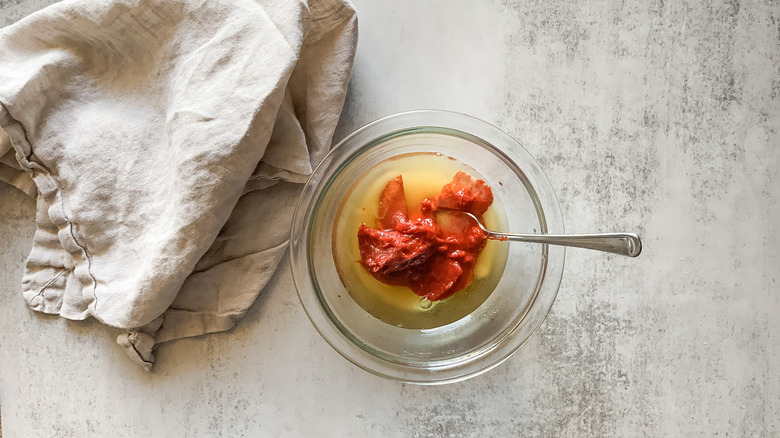 Kristen Carli/Mashed
The next step is to add your apple cider vinegar to the tomato paste and sugar mixture. Although this is a very simple step, its importance cannot be understated. Without an acid, your tomato and sugar mixture — even with salt and pepper added — would be nothing more than sweetened tomato paste. The vinegar's acidity offers a nice, sour contrast to the sweetness of the tomatoes and sugar. When it's perfectly in balance, that's when you get great ketchup. 
Once again, that's all there is to this step. You don't even need to stir yet!
Season with the salt and pepper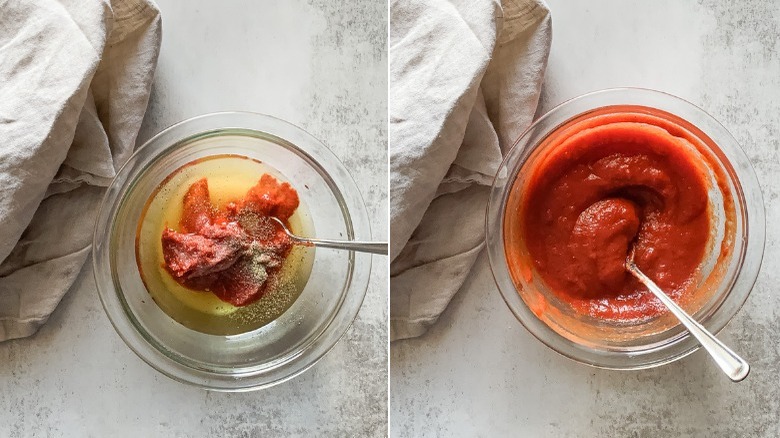 Kristen Carli/Mashed
Finally, it's time to add the salt and pepper. 
Now, at this point, we feel we should point out the fact that many versions of ketchup contain additional spices — such as onion, garlic, allspice, paprika, mustard, celery salt, cinnamon, cayenne, cayenne, cloves, and ginger, and some makers of ketchup enjoy debating whether to use whole versus powdered spices (via Made How). However, none of that is necessary for Carli's homemade ketchup recipe. Just stir all the ingredients, and you're ready to serve!
Homemade Ketchup Recipe
Make this homemade ketchup recipe in three minutes. It's the easiest, simplest ketchup recipe you can imagine and is perfect on burgers, hotdogs, and steaks.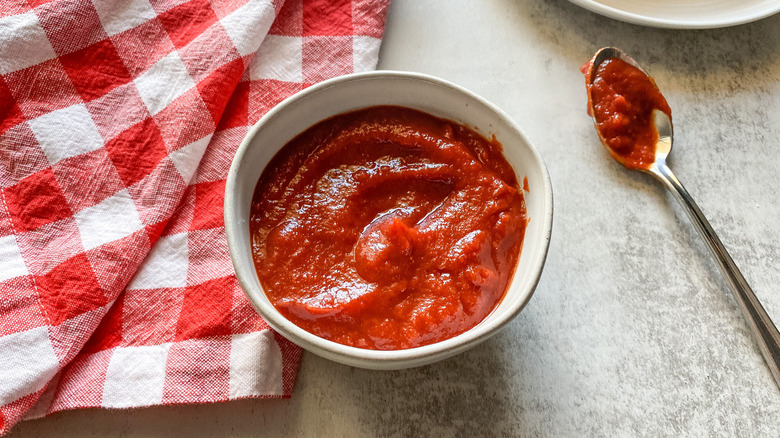 Ingredients
1 (6-ounce) can tomato paste
1 tablespoon sugar
½ cup apple cider vinegar
½ teaspoon salt
¼ teaspoon pepper
Directions
Place all the ingredients in a medium bowl.
Stir to combine.
Serve the ketchup on anything and everything!
Nutrition
| | |
| --- | --- |
| Calories per Serving | 14 |
| Total Fat | 0.1 g |
| Saturated Fat | 0.0 g |
| Trans Fat | 0.0 g |
| Cholesterol | 0.0 mg |
| | |
| --- | --- |
| Total Carbohydrates | 3.1 g |
| Dietary Fiber | 0.5 g |
| Total Sugars | 2.2 g |
| Sodium | 90.0 mg |
| Protein | 0.5 g |