English Muffin Pizza Recipe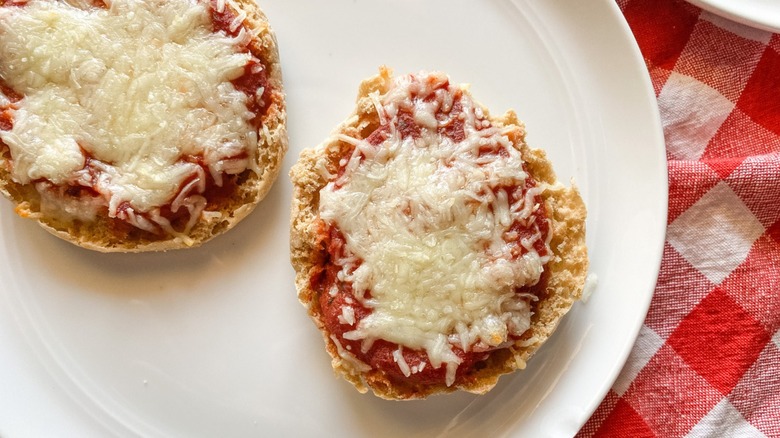 Kristen Carli/Mashed
What, exactly, does comfort food mean to you? While many people would list foods such as mac and cheese and fried chicken as comfort food classics, it could also be argued that these are only comforting if you don't have to put in all the prep work. True comfort food, many would say, is something that is not only nostalgically yummy but can be put together with minimum effort.
These English muffin pizzas not only span the generations but could not be any easier to make. They were the go-to after-school mini-meal back in the days before we had Hot Pockets, pizza rolls, and other microwavable snacks and may well have been the first dish that many pre-millennial kids prepared for themselves as soon as they were old enough to use the toaster oven. While recipe developer Kristen Carli may have access to a microwave for quick-cooking treats, she's nonetheless a fan of this simplest of snacks and acknowledges, "They were a favorite growing up." As she tells us, "These taste just like pizza!"
You'll only need three ingredients to make these English muffin pizzas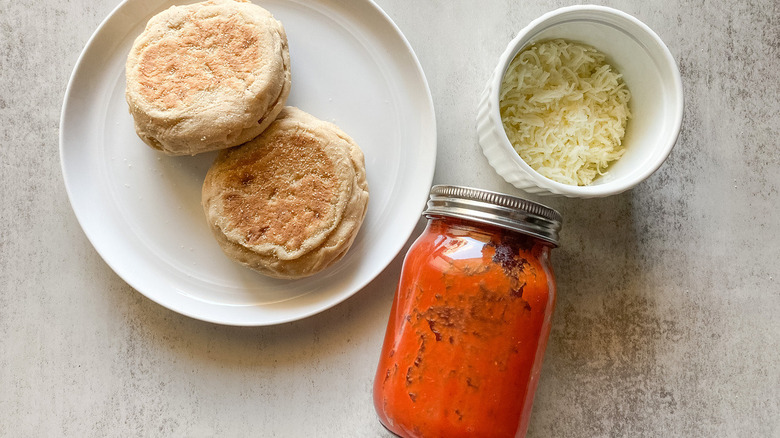 Kristen Carli/Mashed
If you need to shop for the ingredients for these super-simple mini pizzas, it shouldn't take you more than a few minutes in the store since all you really need is just pizza sauce, mozzarella cheese, and English muffins. Carli prefers the whole wheat kind of muffins as they are somewhat healthier, but if you want to get really wild, she tells us, "These [pizzas] are amazing on bagels too!" Be aware, though, that the smooth surface of a split bagel won't hold the sauce quite as well as will the nooks and crannies of an English muffin.
You can also swap out the mozzarella for a different type of cheese such as cheddar or provolone. This shouldn't present too much of a problem with such a small cheese-covered surface as you're working with here since no one's going to care too much about these alternate pizza cheeses not getting as brown and bubbly as mozzarella does.
You can easily make your own no-cook pizza sauce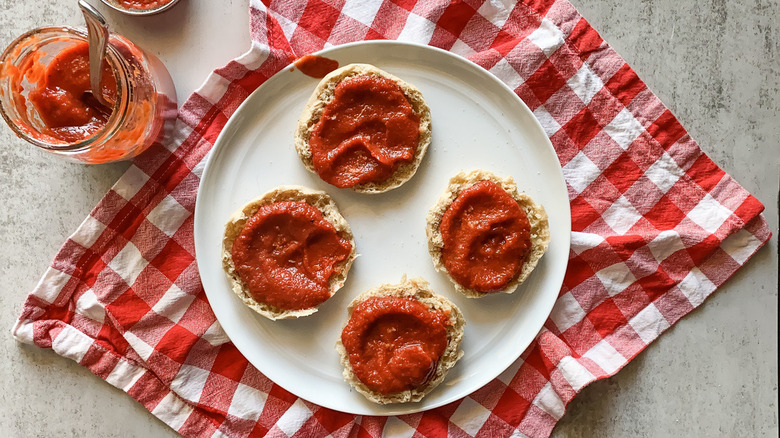 Kristen Carli/Mashed
If you already have English muffins and cheese in the fridge but no pizza sauce on hand, you may not need to make a grocery run. For these super-simple pizzas, marinara sauce will work just fine. If you have canned tomatoes in the pantry, though, you can actually make your own homemade pizza sauce in less than a minute.
Toss a clove of garlic in a blender along with a small (15-ounce) can of tomatoes, a tablespoon of olive oil, and half a teaspoon of salt, then blend until the garlic becomes one with the tomatoes (more or less), and you're good to go. If you want to take your homemade pizza sauce to the next level, though, try adding a little bit of Parmesan for an umami boost that will also make the sauce thicker.
These mini pizzas are super easy to cook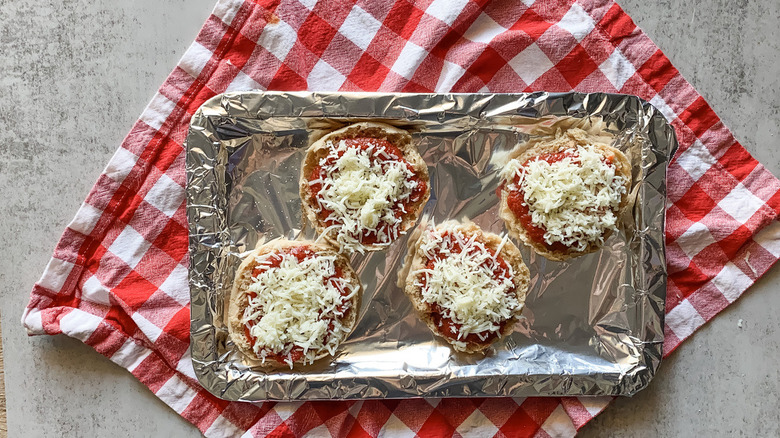 Kristen Carli/Mashed
Once you've got your ingredients all set to go, turn the oven on to 350 F. Carli says you could also use a toaster oven to cook these mini-pizzas, and this might be an especially good idea if you decide to split the recipe to make just a single serving.
While the oven is heating, split each English muffin in half. Carli says she likes to use either her hands or a fork to split them, but there will be no dire consequences if you choose to use a knife instead. Spread each muffin half with two tablespoons of pizza sauce, then sprinkle them with the same amount of shredded cheese. Line a baking pan with aluminum foil (or don't, if you'd prefer a little extra cleanup in exchange for keeping a sheet of foil out of the trash), then place the pizzas on the pan and bake them for about 15 minutes.
English muffin pizzas can be dressed up or down for a great anytime snack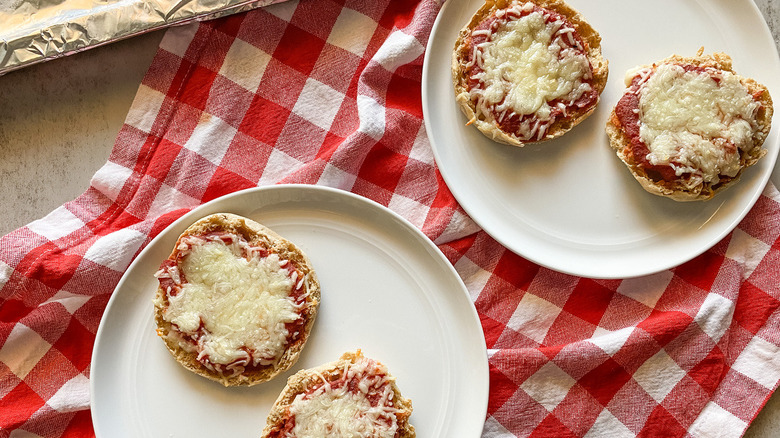 Kristen Carli/Mashed
If you want to experience these pizzas in the time-honored traditional way, you should eat them at the kitchen table with a tall glass of milk and a heaping pile of homework. If you'd prefer to enjoy them homework-free, however, it's perfectly permissible now that you're all grown up. In fact, you might even want to fix these as a midnight snack, though Carli tells us, "I love these as a quick lunch."
You could also cater to your adult taste buds by dressing up these mini pizzas. Carli says, "These lend themselves perfectly [to] any toppings: olives, mushrooms, pepperoni, etc." She also suggests they'd be "great with pesto instead of red sauce," or you could also use salsa and pepper jack in place of the pizza sauce and mozzarella for a tasty Southwestern version.
English Muffin Pizza Recipe
These English muffin pizzas not only span the generations but could not be any easier to make. They were the go-to after-school mini-meal back in the day.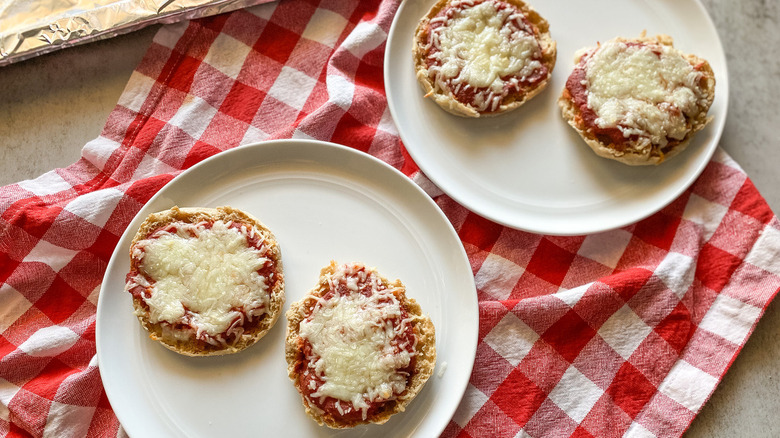 Ingredients
2 English muffins
½ cup pizza sauce
½ cup shredded mozzarella cheese
Directions
Preheat oven to 350 F.
Split the English muffins in half.
Spread 2 tablespoons of pizza sauce on each English muffin half.
Sprinkle each English muffin half with cheese.
Place English muffin pizzas on a foil-lined baking sheet and bake for 15 minutes.
Serve and enjoy.
Nutrition
| | |
| --- | --- |
| Calories per Serving | 368 |
| Total Fat | 17.9 g |
| Saturated Fat | 10.6 g |
| Trans Fat | 0.0 g |
| Cholesterol | 57.8 mg |
| | |
| --- | --- |
| Total Carbohydrates | 32.6 g |
| Dietary Fiber | 3.9 g |
| Total Sugars | 3.9 g |
| Sodium | 881.7 mg |
| Protein | 20.4 g |