Traditional Coleslaw Recipe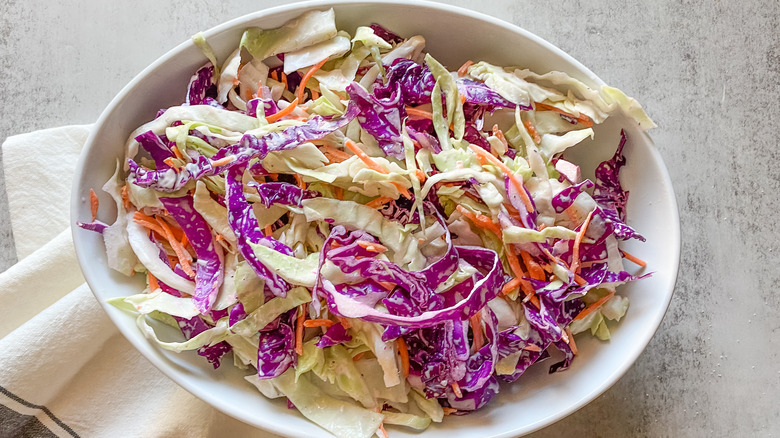 Kristen Carli/Mashed
Coleslaw is an awfully popular side dish and sandwich accompaniment in the United States. There's just something about a fresh batch of slaw that really hits the spot. Recipe developer and registered dietician Kristen Carli came up with this fantastic recipe that is equally as delicious as it is simple. She says that there are plenty of things to love about this slaw, and we agree with her. "There is nothing better than fresh, homemade coleslaw at a barbecue. It offers that little freshness," Carli says.
While the cabbage gives a nice crunch to whatever you use the slaw on, Carli especially loves the combo of vinegar and mayo, which are both standard in many coleslaw recipes. "Vinegar and mayo make for the traditional coleslaw dressing," Carli says. "This combination helps to provide a little creaminess as well as some flavor and zing!" 
The other great things to know about this dish are that it takes just a few minutes to put together and it's incredibly easy. 
Now that we have your attention, let's walk through how to make this yummy, traditional coleslaw that will please your friends and family.
Gather the ingredients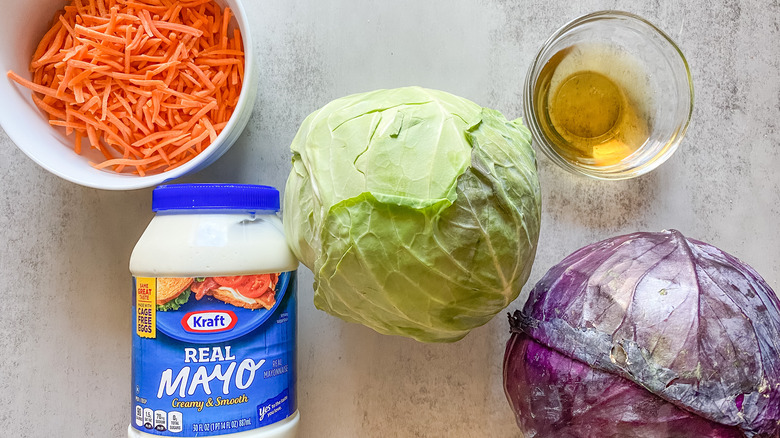 Kristen Carli/Mashed
It's time to get out a pen and paper (or your phone, of course) and make a grocery list. For starters, you will need to stop in the produce section and grab some red cabbage, green cabbage, and shredded carrots. Next, add mayo and apple cider vinegar. These items add some wonderful flavor to the cabbage, and they transform it into a coleslaw.
The last two things that you will need are salt and pepper. If you do any cooking, you should already have both at home. Now, let's get down to business! 
Add the cabbage and carrots to a bowl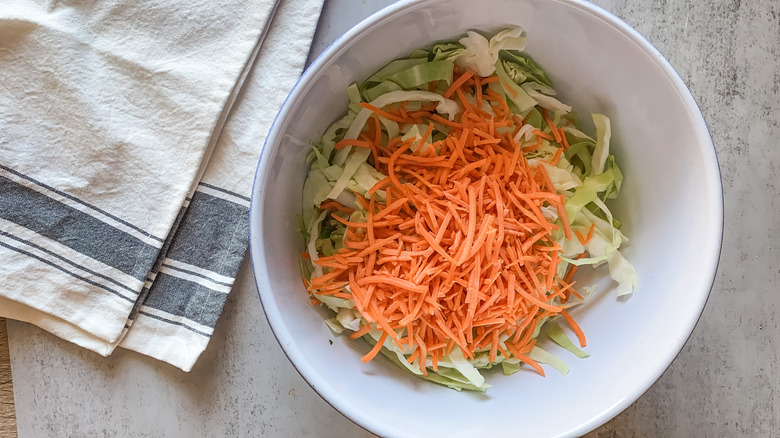 Kristen Carli/Mashed
Once you have all of the items out in front of you, it's time to begin. Start by taking out a large bowl that's big enough to fit your ingredients. First, dump in the green cabbage and the red cabbage. Interestingly enough, red cabbage and green cabbage share a similar taste, and in other recipes, one can be subbed for the other. We find the flavor of green cabbage to be a bit sweeter, but red cabbage is nice to look at and really takes this slaw to another level. 
Last but not least, toss in your shredded carrots.
Add the wet ingredients to the bowl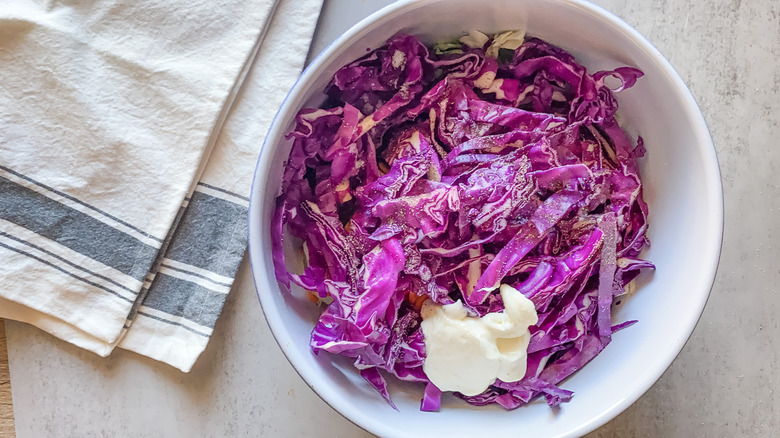 Kristen Carli/Mashed
Now that you have all of the veggies in a bowl, it's time to add the wet ingredients: the mayo and apple cider vinegar. Add those, then sprinkle the salt and pepper over the bowl to add another layer of flavor. Is there any recipe that doesn't taste even better with the help of salt and pepper? Not really!
There's just one more step and then you're well on your way to enjoying this amazing dish. See? We told you it was easy! 
Use tongs to combine the coleslaw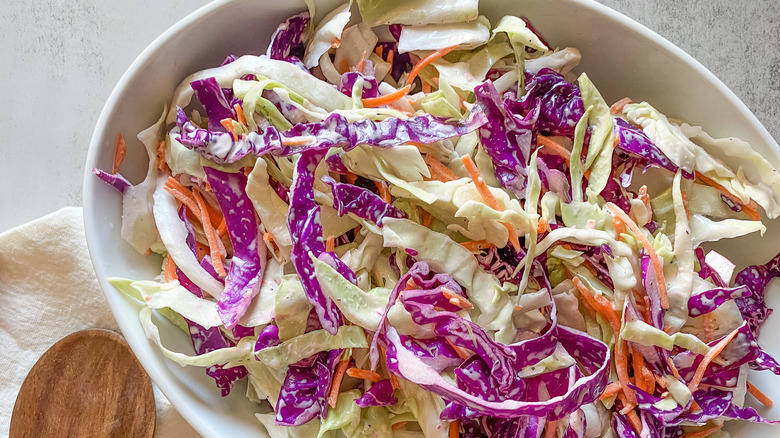 Kristen Carli/Mashed
Now that you have all of your ingredients poured into the bowl, it's time to mix them up ... and we mean it. Take a pair of tongs and give the contents of the bowl a few good tosses so that all of the cabbage and carrots are coated in mayo and apple cider vinegar. Of course, this also helps to distribute the salt and pepper. 
"Tongs will help you really mix the dressing into the veggies here," Carli shares. So, tongs are a better option than a spoon if you have them!
Refrigerate the coleslaw, then enjoy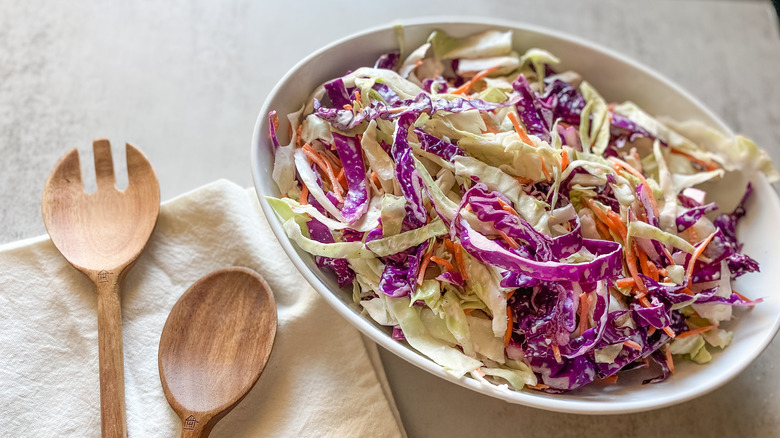 Kristen Carli/Mashed
Once you've finished mixing the coleslaw, there's just one final step that you need to take. Stick the bowl in the fridge and set your timer for 20 minutes. That's how long the coleslaw needs to chill. "The 20-minute chill time allows for the dressing to marinate the cabbage," Carli says.
The great part about this slaw is that it will go well with plenty of items and it's truly a jack of all trades. "I love coleslaw on the side of typical potluck backyard barbecue food: potato chips, hot dogs, burgers, macaroni salad, mac and cheese, potato salad, etc.," Carli shares. 
Unfortunately, leftovers will not keep well, but we don't think you will have any, anyways! 
Traditional Coleslaw Recipe
As delicious as it is simple, this traditional coleslaw recipe combines vinegar and mayo for flavor and zing. It's sure to be a barbecue side dish winner.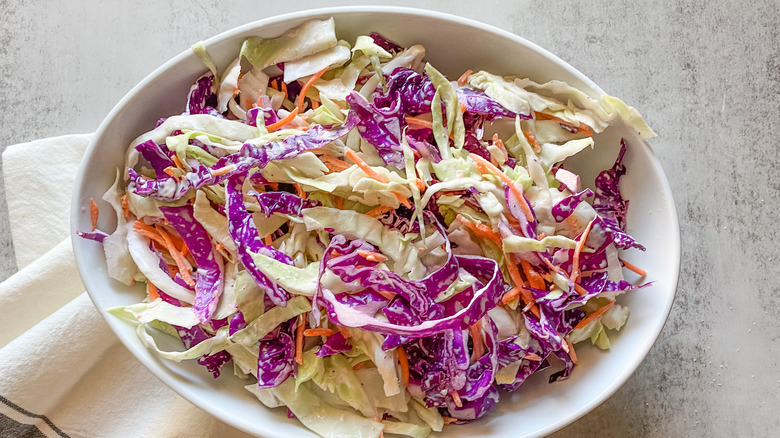 Ingredients
3 cups shredded green cabbage
2 cups shredded red cabbage
1 cup shredded carrots
½ cup mayo
2 tablespoons apple cider vinegar
1 teaspoon salt
½ teaspoon pepper
Directions
Add the green cabbage, red cabbage, and shredded carrots to a large bowl.
Add the mayo, apple cider vinegar, salt, and pepper.
Using tongs, mix the coleslaw.
Refrigerate the dish for 20 minutes before serving.
Nutrition
| | |
| --- | --- |
| Calories per Serving | 96 |
| Total Fat | 9.0 g |
| Saturated Fat | 1.3 g |
| Trans Fat | 0.0 g |
| Cholesterol | 4.5 mg |
| | |
| --- | --- |
| Total Carbohydrates | 3.5 g |
| Dietary Fiber | 1.2 g |
| Total Sugars | 1.8 g |
| Sodium | 143.9 mg |
| Protein | 0.6 g |