This Florida Theme Park Is About To Get Its First Chick-Fil-A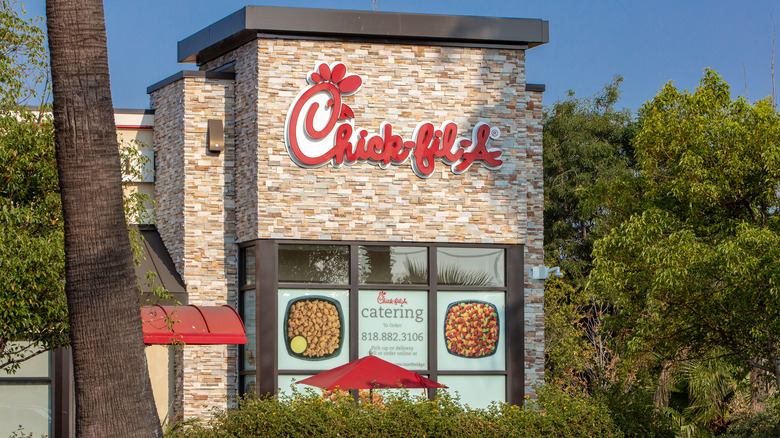 Juan Llauro/Shutterstock
It's a zoo with roller coasters. Or you can think of it as an amusement park with a safari option. Busch Gardens offers a lot of attractions that may entice you to visit the park in Tampa, Florida. Soon, fans of Chick-fil-A will be able to add one more reason to their list. Busch Gardens announced on Twitter that a Chick-fil-A restaurant is opening there sometime this fall.
Florida is a state full of theme parks, including Disneyworld and Sea World, but Busch Gardens has the distinction of being the first theme park in the state to offer its visitors Chick-fil-A as a dining option, according to Creative Loafing Tampa Bay.
"We are proud to open this new location," park President Neal Thurman said, "giving us the opportunity to revitalize an existing restaurant and provide more dining space for our guests." Chick-fil-A is taking over the building formerly occupied by the Bengal Bistro. The old restaurant was more in line with the theme of its location within Busch Gardens' Jungala. The space combines tiger and orangutan habitats, a rope-bridge area for kids, and a live entertainment venue, per a Busch Gardens Tampa Bay fact sheet.
The Chick-fil-A at Busch Gardens will be closed on Sundays
Busch Gardens Tampa Bay is open seven days a week, but the park's dining webpage indicates that visitors enjoying the park on a Sunday will need to find someplace other than Chick-fil-A if they want to fuel up between roller coaster rides and excursions to the Serengeti. All Chick-fil-A's, as a rule, are closed on Sundays. Busch Gardens has a lot of dining options, according to the webpage, including a barbecue rib joint in the shadow of a roller coaster and a bar overlooking the park's mockup of the famous African plain. Chick-fil-A will be the only fast food chain restaurant in the park.
Busch Gardens hasn't yet announced when, exactly, Chick-fil-A will open there — but it should be fairly soon. The dining webpage says the new Chick-fil-A will be open late during the park's extended Halloween event called Howl-O-Scream, which runs from September 10 to October 31 (via the Busch Gardens website).
Chick-fil-A may not have been in any Florida theme parks a year ago, but the chain still showed love to some park employees. During the first wave of the COVID-19 pandemic in spring 2020, when Orlando-area theme parks were closed, six Chick-fil-A locations offered free meals to employees of Disneyworld, Universal, and Sea World, according to News 13.