How Eggo Celebrated National Waffle Day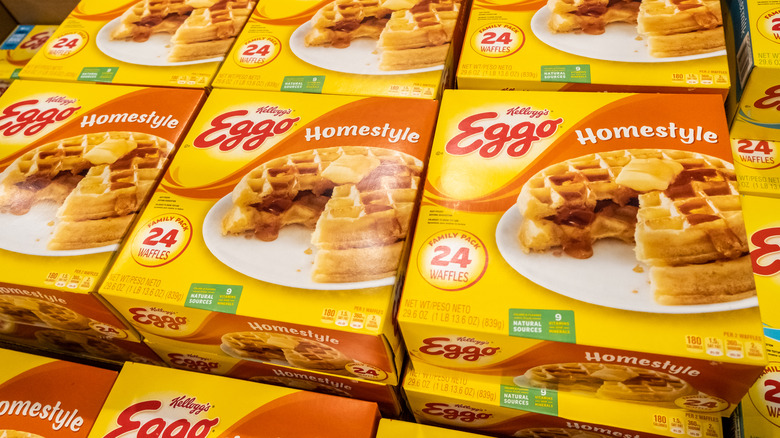 calimedia/Shutterstock
The great pancake vs. waffle debate has been going on between breakfast lovers for years. Kate's Kitchen attempted to solve the big question by quizzing readers, noting that while pancakes have advantages — soft, fluffy texture and the short stack — waffles are beloved for their "crispy, golden-brown edges, and chewy centers" as well as their ability to hold toppings in their indentations. According to Insider, the difference in appearance also lends to a difference in taste, with pancakes having some caramelization on both sides and a fluffy center due to its flat cooking and waffles having more caramelization but less fluff because heat hits it in more concentrated areas.
Despite which team you're on, waffles will always reign supreme over pancakes on one day, National Waffle Day. As Fox Business confirms, National Waffle Day falls on August 24 every year, marking "the anniversary of the first approved waffle iron patent in the U.S." While homemade waffles are delicious in their own right, no one is immune to the power Eggo waffles have over busy parents everywhere. So what did America's favorite waffle maker do to celebrate the day?
Chicken and waffles to go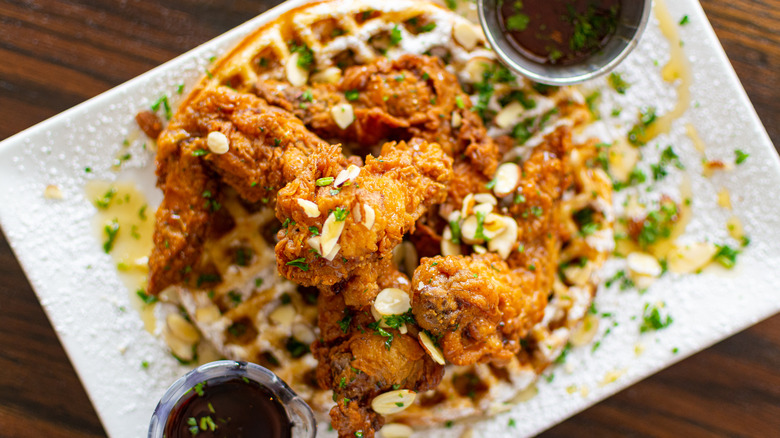 Stephano T/Shutterstock
What is a celebration without inviting some friends, right? Eggo invited their friends at MorningStar Farms' Incogmeato to join them for a special collaboration to celebrate National Waffle Day in all its glory. From 11 a.m. until 11:59 p.m., waffle lovers and vegans could enter to win a special combo package containing Eggo waffles and Incogmeato's Chick'n for a plant-based chicken and waffle combo anyone can enjoy (via Thrillist). 
"The combo pack includes Eggo's classic buttermilk waffles and Incogmeato's Chik'n tenders. If you're looking for a way to step the meal up, Incogmeato offers two recipes to try. The Honey Butter Chik'n and Waffles is for fans of sweeter flavors, while the Sriracha Chik'n and Waffles recipe is for the savory and spicy crowd," Thrillist noted. For one day only, National Waffle Day, and until supplies ran out, Incogmeato was picking winners of free product. For anyone who missed out, both Eggo waffles and Incogmeato products are available in the grocery store freezer aisle.