Dunkin's 2021 Beer Collab Is Inspired By These Popular Menu Items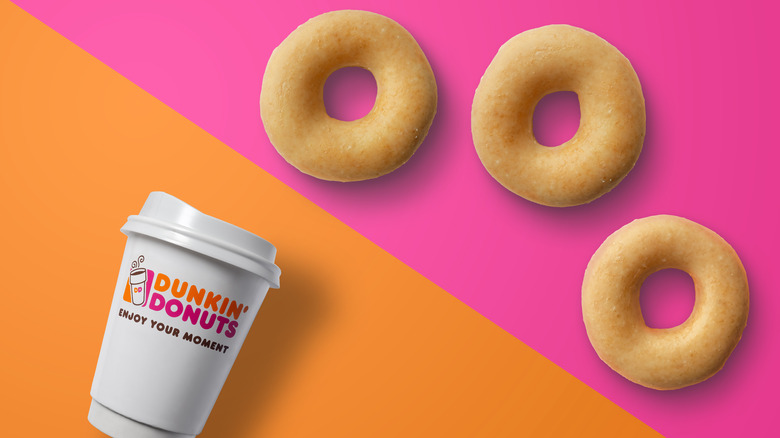 Nixx Photography/Shutterstock
You know how sometimes you're drinking an ice-cold New England IPA, and you look at the beer bottle and think to yourself, "The only thing better than drinking this beer out of a bottle would be drinking this beer out of a donut." Well, good ol' Dunkin', the donut giant sometimes known as Dunkin' Donuts, feels your pain and has slid into Harpoon Brewery's DMs for a collab. This year, the brewer from the east and the brewers of yeast will bring you four beers inspired by and made with Dunkin' ingredients — from donuts to coffee to matcha.
According to the expert of perfect pairings, Food & Wine, this is the fourth year of marriage for Harpoon and Dunkin', with nary a lovers' spat in sight. The couple began their courtship in 2018, with the release of Dunkin' Coffee Porter. One thing led to another, and in 2019, a coffee-flavored pale ale was born. The following year was triplets: a Boston Kreme Stout, a Jelly Donut IPA, and a Pumpkin Spiced Latte ale. But if you thought Harpoon and Dunkin' might have been tuckered out after all that beer-making, think again.
Dunkin' and beer, a match-a made in heaven donut-ya know
This year, according to a press release sent to Mashed, Harpoon Dunkin' Pumpkin Spiced Latte ale is back by popular demand. In a bid for biggest mouthful (and tastiest mouthfeel), it is joined by Dunkin' Blueberry Matcha IPA, a hazy, tropical blend of berries, hops, and Dunkin' matcha, with a 6.6% ABV. Harpoon will also be debuting Dunkin' Maple Crème Blonde ale, brewed with actual donuts and maple syrup for a respectable 5.5% ABV, and Dunkin' Midnight American porter, a beer brewed with Dunkin's Midnight Roast coffee and weighing in at 6% ABV (no word on the caffeine count).
As a Massachusetts-based brewery, Harpoon is taking extra special care of its Boston constituents, with a one-day only pop-up "experience" called the Dunkin' Walk-Thru at Harpoon Brewery. If your brain can't take one more compound concept, allow us to break it down for you: On September 2, between 10 a.m. and 1 p.m., you can head in to Harpoon's brewery in Boston to order a pack of the new beers to go and enjoy a cup of (Dunkin') coffee and a (Dunkin') donut while you wait. Impatient for the beer drinking to commence? Don't worry — it's a Harpoon IPA donut, filled with IPA jelly and topped with a candied malt crumble, because the love and inspiration between Dunkin' and Harpoon is consensual and completely mutual. Somewhere, Homer Simpson is shedding a single tear of joy.