Inside The Time Dunkin' Brewed Its Own Beer
Dunkin' is perhaps best known for its donuts, coffee, and sandwiches, which means straying from its stronghold in morning nosh and lattes is rare. Well, in 2018, Dunkin' decided to surprise its customers by doing something slightly — or rather dramatically — different. According to Food & Wine, while the chain tried a few experiments with a few breweries in 2017, it finally hit the bull's eye in 2018 with Harpoon Brewing from Massachusetts. The two brands decided to release the Dunkin' Coffee Porter that year followed by the Harpoon Dunkin Summer Coffee Pale Ale in 2019. Talk about veering from tradition.
The company has experimented before (see: ghost pepper donuts and its wild holiday gift merch), but this particular collaboration managed to get a lot of people talking. Redditors wondered whether something like this works, debating their contrasting views on the topic. A commentator wrote, "Is Dunkin Donuts amazing coffee? No. In fact, I never get it unless I'm in an airport and rushed, or something similar. But, is this a fun idea that some people will really like? Yes, totally." They added that some customers may even really love the beer and the concoction may work for them.
Dunkin' isn't afraid of experiments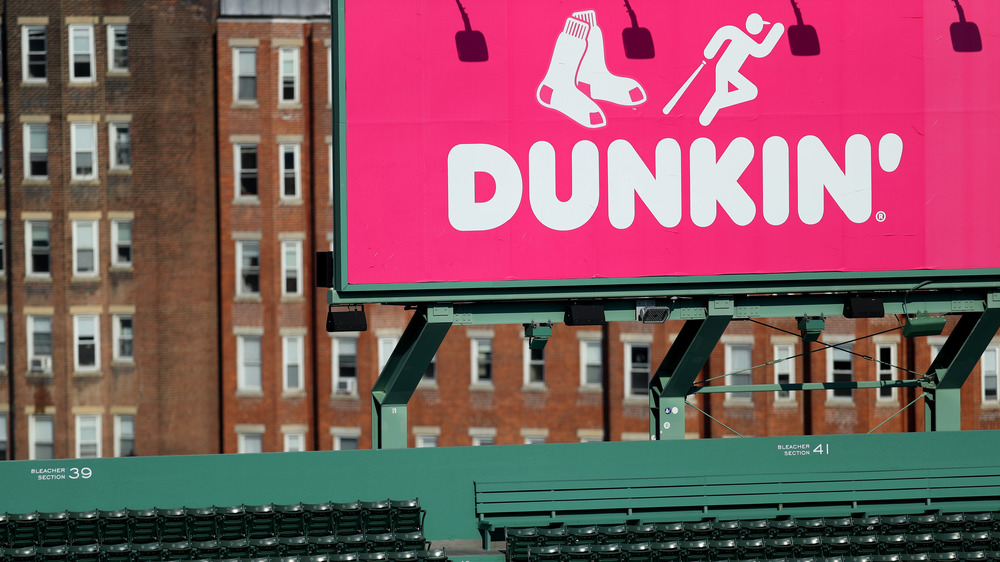 Maddie Meyer/Getty Images
In 2020, the brand decided to take things a step further by brewing donut-infused beer. It launched three new beers together, namely, the Harpoon Dunkin' Pumpkin Spiced Latte Ale, Boston Kreme Stout, and Jelly Donut IPA and offered them alongside the Coffee Porter (via Dunkin'.) While the Boston Kreme Stout had hints of chocolate to its flavor, thee brand brewed the Spiced Latte Ale with the help of coffee, pumpkin, and pumpkin pie spices. The Jelly Donut version, on the other hand, was created with donuts and raspberry purée.
"We're excited to elevate our collaboration with Harpoon this fall with the introduction of Harpoon Dunkin' Pumpkin beer and the first ever Harpoon beer made with real Dunkin' donuts," Brian Gilbert, the vice president of retail business development at Dunkin' said in a statement. "We have no doubt the new donut brews, along with the rest of this new fall lineup, will bring the same moments of sweetness and smiles our coffee and donuts have created for 70 years."
The beer inspired by donuts didn't hit the right notes with some. As per a review by Business Insider's Irene Jiang, some of the beer wasn't exactly appealing and tasted off. In fact, Jiang didn't even finish her beer. In a Reddit post, someone detailed how they were actually pleased with the new flavors. A commentator, however, disagreed and wrote that the Jelly Donut IPA wasn't impressive and tasted like medicine, just like the Stout. Oh well.