Rachael Ray's Favorite Moment From Her Show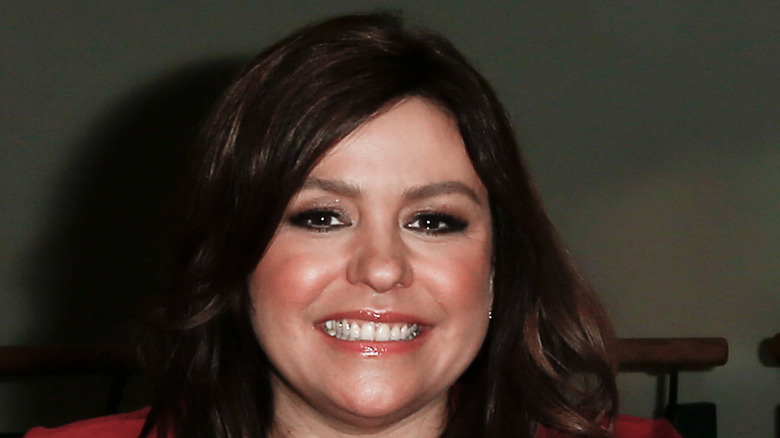 Debby Wong/Shutterstock
Rachael Ray has surely made it in the celebrity chef world. She's a cookbook author, editor-in-chief of her own magazine, has her own lines of cookware and pet food, and is the star of her own television show, "The Rachael Ray Show," which aired for the first time in 2007 (via Food Network). Ray is known for her accessible approach to cooking (in fact, she's not a classically trained chef, reports the Culinary Schools website) and her classic 30-minute meal recipes.
When the 2,000th episode of "The Rachael Ray Show" aired, the host was none other than Oprah Winfrey. Oprah had been a fan of Ray's since Ray first appeared on Oprah's own show in 2005 (via Showbiz CheatSheet). As she introduced Ray on the 2,000th episode, Oprah admitted she saw Ray's potential as a celebrity chef right away.
"On May 9, 2005, I invited Rachael on my show for the very first time, and even then, I knew it: she was the real deal. ... 2,000 episodes on her show later, turns out, I was right" (via "The Rachael Ray Show," posted on YouTube).
A vodka sauce worth millions
After that introduction which would make anyone blush, Rachael Ray came out to sit and chat with Oprah. The show was filled with other surprises for Ray, including celebrity appearances by Emeril Lagasse, who cooked an Italian meal with her (via "The Rachael Ray Show" website) and her celebrity crush, rapper 50 Cent, aka Curtis Jackson, who presented her with a bouquet of flowers (via Showbiz CheatSheet). But it was Oprah's appearance that really stood out as a highlight of the show as Ray looked back fondly on her appearance on Oprah's own show and how it kick started her career.
"There are people and words that change your life," Ray wrote on Instagram. "It was 2000-and-something, I was a ball of nerves, about to walk onto a big television studio set to make vodka sauce with Oprah. I'll say that again. OPRAH! ... Little did I know all of that was about to completely alter the course of my life."