The Truth About Gordon Ramsay's Relationship With David Dempsey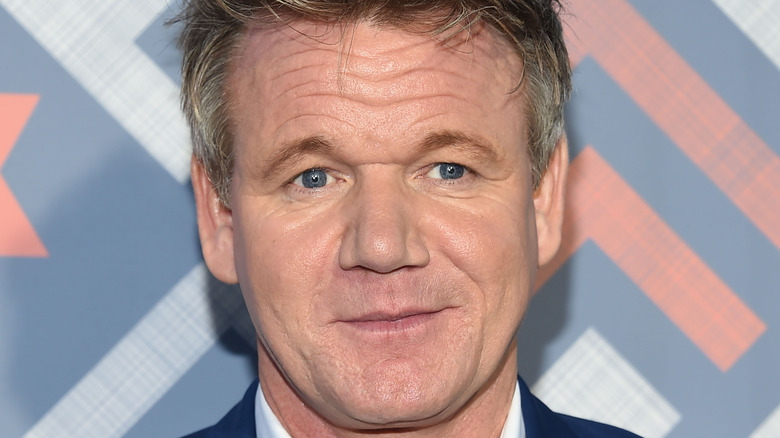 DFree/Shutterstock
Gordon Ramsay may be a famous celebrity chef and a savant with creative insults, but he's also someone who has taken many chefs under his wing. While he may not always come off as a super supportive mentor with his biting critique on shows like "Hell's Kitchen," there is a tender side to Ramsay too, one that encourages budding cooks.
One shining example is his relationship with his once head chef and protégé David Dempsey. The two — both originally from Scotland, according to Scottish Daily Record – started working together in the late '90s as Ramsay appointed Dempsey to man a couple of his U.K. kitchens. According to the article, after Dempsey saw Ramsay in the now infamous documentary "Boiling Point," the aspiring culinary star was "determined" to work for Ramsay. And their journey was one filled of highs and very devastating lows, including the ultimate passing of Dempsey in 2003.
Though the ending is tragic, the story of David Dempsey had a happier beginning, one that showed lots of promise for his culinary talents.
David Dempsey was a promising young chef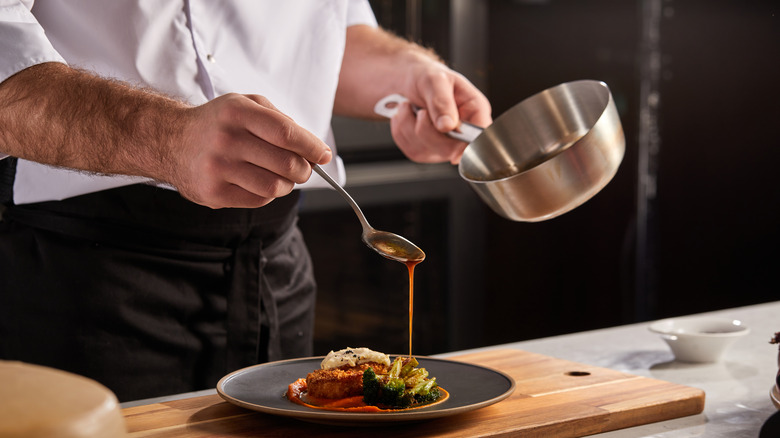 Roman Chazov/Shutterstock
David Dempsey first rose to fame in the '90s as the senior chef de partie at Raymond Blanc's three Michelin star-rated Le Manoir Aux Quat' Saisons in Oxfordshire, England (via Daily Mail). Around this time, Dempsey was discovered by Gordon Ramsay, and the chef and father of three young children soon left his post at Le Manoir Aux Quat' Saisons to work as a sous chef for Ramsay at his London flagship Aubergine (via The Caterer). Later he was given the role of head chef at Ramsay's new spot Amaryllis in Glasgow, helping the spot to earn a Michelin star (via The Scottish Sun). 
Though humble about his rapid promotion, Dempsey said at the time of his move back to his native Scotland to steer Amaryllis, "I'd always wanted to spend at least four years at Restaurant Gordon Ramsay" (per The Caterer). "I saw it as my finishing school."
By all accounts, Dempsey was a hard worker. While it didn't hurt that he was a Scot, Ramsay was clear to The Caterer that his protégé's promotion to head chef at Amaryllis was entirely based on merit. "I have always been struck by David's potential," Ramsay said in the article.
Helmed by Dempsey, Amaryllis featured a menu that would make anyone's mouth water — and many of them featured Ramsay's iconic dishes, "such as velouté of haricots blancs with roasted cèpes and grated truffle, tortellini of lobster and langoustines with fennel purée and baby spinach, and cannon of new season spring lamb with caramelised shallots, caviar aubergine and basil and rosemary jus" (via The Caterer). The restaurant's menus showcased Dempsey's range and would go on to earn a Michelin star for the restaurant.
In the article, Dempsey said of working with his mentor, "He's done more for me and my career than anybody else ever has or ever will. He's given me an opportunity that I will probably never get again."
Dempsey's tragic passing shook up Ramsay and left a lasting impression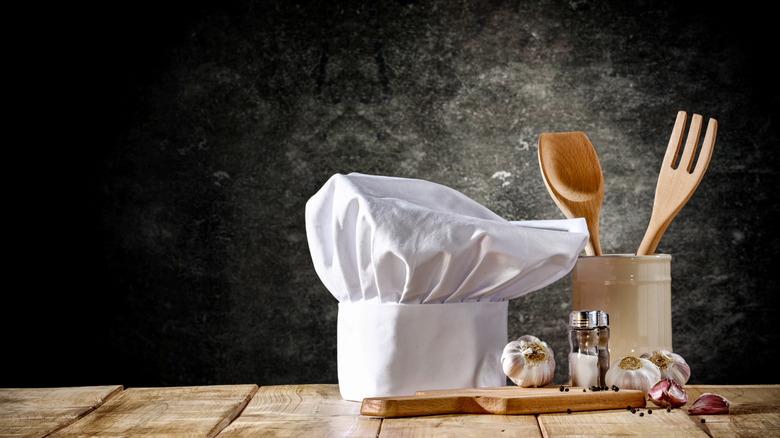 S_Photo/Shutterstock
Sadly, David Dempsey died unexpectedly at the age of 31 in 2003 as the result of a tragic accident, years after he beat Hodgkin's disease, according to Scottish Daily Record. It's been reported that Dempsey fell 40 feet from a luxury flat, sustaining fatal injuries after an alleged night of cocaine excess (via the Daily Mail). Ramsay was naturally shocked and saddened by these events, as he noted in a 2017 documentary series for ITV called "Gordon on Cocaine," saying, "I kick myself for not doing more and recognizing [David's anxiety] earlier."
An alternate theory is put forth by Dempsey's mother, Eileen, that something more sinister occurred on the night in question — she has also slammed Ramsay for his 2017 series. The grieving mother asked for an inquest into her son David's death and does not believe the claims of drug abuse, as noted by the Daily Mail.
Ramsay ended up shuttering Amaryllis, closing it a year after Dempsey's death (via Herald Scotsman). Ramsay said at the time, "I felt the place didn't deserve the star any more because David was no longer with us. David was that star." He also later told The Guardian, "He was a very talented chef, very young, passionate, dedicated, focused, and energetic. His career meant everything to him."
In a silver lining, Ramsay in recent years has been working with Dempsey's son to train him in the kitchen, according to the Daily Record. As Ramsay told the publication, "For me now, dealing with David Dempsey's son and having him training under my tutelage and watching him grow, God if only his father was here to witness that. He's missing out on a lot."
If you or anyone you know is struggling with addiction issues, help is available. Visit the Substance Abuse and Mental Health Services Administration website or contact SAMHSA's National Helpline at 1-800-662-HELP (4357).