Mountain Dew's New Flamin' Hot Flavor Has Fans Seriously Confused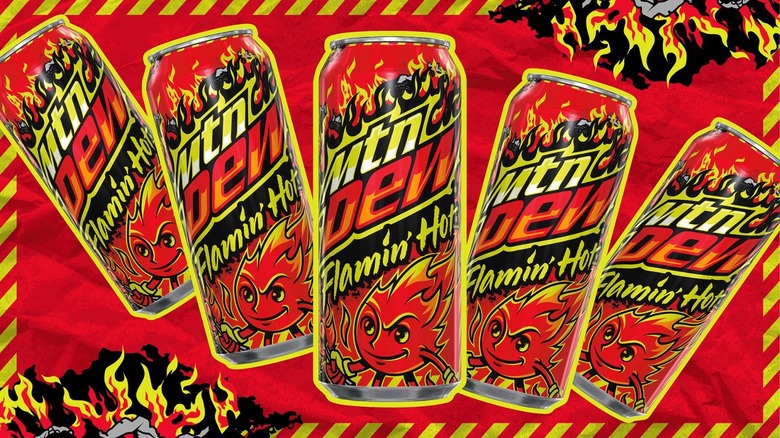 press release
No one could ever accuse PepsiCo's Mountain Dew soda brand of maintaining a low profile. Over the past month alone, fans of Mountain Dew's highly caffeinated, ever-growing selection of soft drinks have been downright and delightfully "shook" to learn that Mountain Dew is throwing its hat into the hard seltzer ring while also dropping a new "VooDew" mystery flavor that is set to debut on August 30. Now, on top of all of that hoopla, Mountain Dew has announced a totally unprecedented collaboration with fellow PepsiCo brand Cheetos, one which promises to be "killing the game" as of August 31 (via Twitter and Instagram). Today, via press release, Mashed learned that Mountain Dew is debuting "Mountain Dew Flamin' Hot," which promises the refreshment of Mountain Dew right alongside the "flamin' hot," "cult-favorite" goodness of Flamin' Hot Cheetos. Or, as the marketing prodigies over at PepsiCo put it, prepare yourselves for the "provocative" flavor of "MTN DEW meets FLAMIN' HOT." 
But what exactly is this provocative new flavor all about? Will it taste like Cheetos? Or will it, perhaps, just be orange-colored like Cheetos? Perhaps it's "orange flavored soda with a 'spicy kick' to it," as one Twitter user suggested (via Twitter). "Is this safe to consume?" an Instagrammer wondered aloud (via Instagram). And that's just scratching the surface of just how confused Mountain Dew fans are about the brand's new flamin' hot flavor.
"As a brand, DEW has a rich history of experimenting with new flavors our fans love," said Matt Nielsten, Sr. Director, Marketing, in a press release sent to Mashed.
Here's what we know; 'Dew' with it what you will...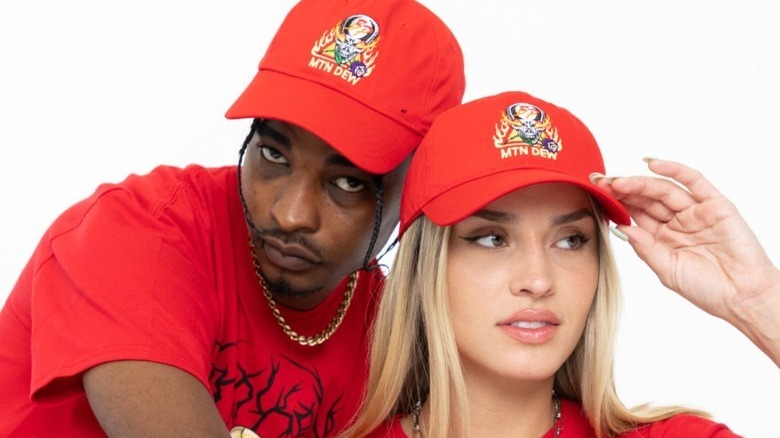 press release
"We certainly had them in mind when we developed the FLAMIN' HOT beverage," Nielsten continued. Yes, but what does it taste like? That's the part that has Mountain Dew fans so confused they've taken to social media to wonder aloud such things as whether or not it's "cinnamon flavor" or if perhaps we're looking at a very early April Fool's joke (via Instagram).
According to the press release sent to Mashed, the new "flamin' hot" Mountain Dew promises a "unique blend of spicy and classic sweet citrus flavor." While that is certainly reassuring, it doesn't exactly answer the question with any specificity. But, perhaps as consolation, there is also this: as a complement to this "extreme new flavor," Mountain Dew is partnering with the contemporary clothing brand Broken Promises to drop a "Flamin' Hot"-inspired apparel brand. Another press release, posted at PR Newswire, tells us that for the general public, the collection, which includes, in addition to the hats shown above, shirts, hoodies, sweatpants, and accessories, becomes available on September 4 at 11 a.m. EST. For subscribers on the Broken Promises app, the fun starts the night before at 11 p.m. "The limited collection drops via presale exclusively to subscribers on the Broken Promises' app on Friday, September 3 at 11 p.m. EST, while the official launch to the public is on Broken Promises' website on September 4 at 11 a.m. EST," says the press release sent to Mashed.