Alton Brown's Hilarious Response To This Unfortunate Hot Sauce Delivery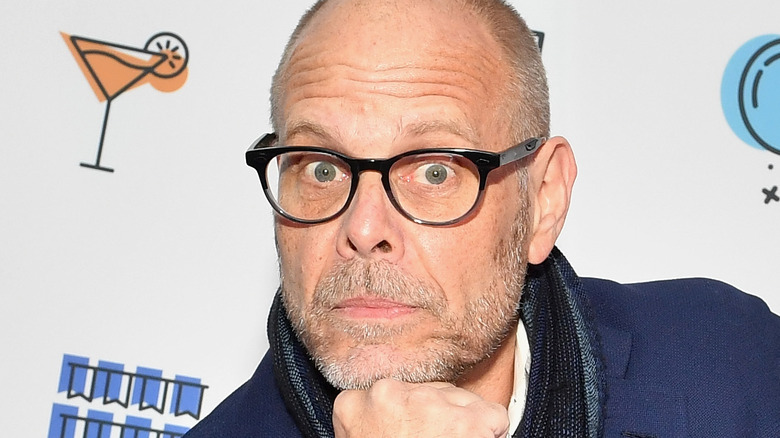 Noam Galai/Getty Images
We may receive a commission on purchases made from links.
English playwright William Congreve famously wrote, "Heav'n has no rage, like love to hatred turn'd, nor Hell a fury, like a woman scorn'd" (via Britannica). Considering the implied sexism in the quote, it is most definitely a product of its time, which happens to be 1697. Even so, the slightly misquoted "Hell hath no fury" line lives on to this today, at least in a certain product of our time: Scorned Woman hot sauce. A photo Alton Brown posted to Twitter on August 25 shows that the "Good Eats" host recently ordered a bottle of Scorned Woman from Amazon. 
Somebody had gone to the trouble of wrapping the Scorned Woman in a thick layer of bubble wrap. Even through all the packaging, however, you can see from the photo that the bottle had broken and the hot sauce had soaked the inside of the bubble wrap.
It would seem that hell hath no fury like a Twitter user scorned by a business that also happens to have a Twitter handle. Accompanying the photo, Brown wrote, "Dear @amazon, thanks for wrapping my hot sauce before you stomped on it 10 times."
This may be why Alton Brown bought hot sauce from Amazon instead of a supermarket
Amazon took some heat from Alton Brown for delivering a bottle of Scorned Woman hot sauce that somehow got smashed before arriving at the TV chef's doorstep (via Twitter). But it's not clear that Amazon's to blame. A search for "Scorned Woman hot sauce" on Amazon shows that the product is available from Amazon directly and also from a third-party seller who does their own shipping. In any case, after Brown tagged Amazon in his tweet, the Amazon Help Twitter account reached out, trying to get to the bottom of the problem.
Brown proved himself to be a real connoisseur of hot sauce during his appearance on the popular YouTube show "Hot Ones." He liked Hot Ones' own brand of Fiery Chipotle sauce so much he drank it straight from the bottle and took it home with him. Scorned Woman must be just as good — but not so good that Brown was willing to make a special trip to the supermarket for it. In that same "Hot Ones" episode, Brown was clear about his distaste for grocery shopping. He gets depressed over what he sees in other shoppers' carts. "People buy crap and a lot of it," Brown told "Hot Ones" host Sean Evans. "I worry about that stuff. ... There have been times in grocery stores where I've just left my cart and walked out."
We're guessing the store employees who had to put away Brown's abandoned groceries aren't crying over his spilled hot sauce.