The Worst Wendy's Breakfast Item According To 31% Of People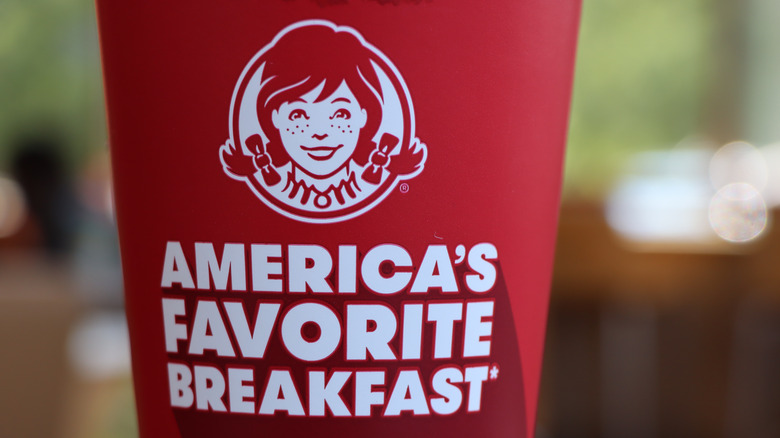 Deutschlandreform/Shutterstock
Wendy's history with breakfast is complicated. The chain first experimented with offering this meal back in 1985 to little success, and a subsequent 2007 relaunch didn't exactly pan out either (via Deseret News). The reason for these failures, according to Wendy's CEO Todd Penegor, was that both menus confused customers with too many choices. Wendy's didn't call it quits, and in March 2020, the fast food chain decided to give it another go. This time, the breakfast menu featured simpler offerings based on some of their biggest hits, including a Breakfast Baconator and a Frosty-ccino, available in chocolate and vanilla. Over a year later, Wendy's breakfast is still going strong.
Should Wendy's ever decide to downsize their breakfast menu, which item should be the first to go? If the chain needs a little consumer input, Mashed has some data for them. Out of a group of 603 participants, the group narrowed down the worst breakfast item to the following candidates — the aforementioned Breakfast Baconator; the honey butter chicken biscuit; the maple bacon chicken croissant; the sausage, egg, and cheese burrito; the sausage, egg, and cheese sandwich; and the seasoned potatoes. Nearly ⅓ of the respondents felt that they could happily live without a certain item.
One Wendy's breakfast item consumers could lose
Everyone's favorite menu item that definitely needs to stick around is the sausage, egg, and cheese sandwich — only 7.63% of the voters didn't care for it. The seasoned potatoes fell out of favor with 13.76% of respondents, while 14.43% couldn't stand the famous Breakfast Baconator. The sausage, egg, and cheese burrito repelled 15.75% of those polled, while 17.41% said thanks, but no thanks to the honey butter chicken biscuit.
The worst of the worst, according to 31.01% of Mashed's poll respondents, was Wendy's much-hyped maple bacon chicken croissant. These numbers look particularly bad, but an Impulsive Buy review sheds some light on this sandwich's unpopularity. The publication found Wendy's maple bacon chicken croissant to be too heavy and salty, while tasting like a poor imitation of chicken and waffles. After these results, a chocolate Frosty-ccino sounds pretty good.