You Can Still Eat At America's First Pizzeria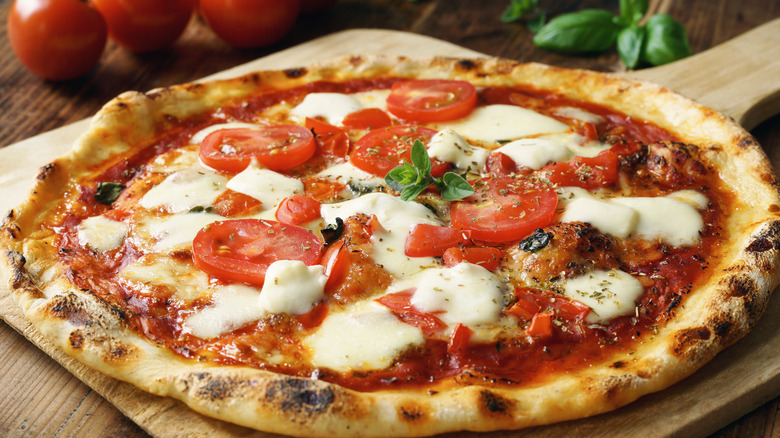 V. Matthiesen/Shutterstock
Pizza Hut, Dominos, Papa Johns — you've all heard these names before, and they might very well be the first names you think of when someone mentions American pizza. Having made its appearance in the 19th century, borne by Italian immigrants (via Pizza Planet), this doughy disc of cheese and toppings captured America's hearts and stomachs.  Folks can't seem to get enough to the pie, from the famous double-decker New York style pizza to the thick and gooey Chicago deep dish. In fact, a Simmons National Consumer Survey showed 17.67 million Americans consumed 10 frozen pizzas or more in 2020 alone (via Statista).
But in a world where pizza seems to be constantly changing to meet the demands of the public, from popular stuffed crusts to more forgotten failures such as the Pizza Hut Priazzo (via The Impulsive Buy), it's always a refreshing change to sit down and order a classic, crispy-on-the-bottom and chewy-on-top cheese pizza, just as the folks in Naples know how to make it. Fortunately, those who want a bite of a simple but delicious slice of Americana history should look no further than Lombardi's in New York City, better known as America's First Pizzeria, still serving delicious slices to this day.
The first licensed pizzeria in America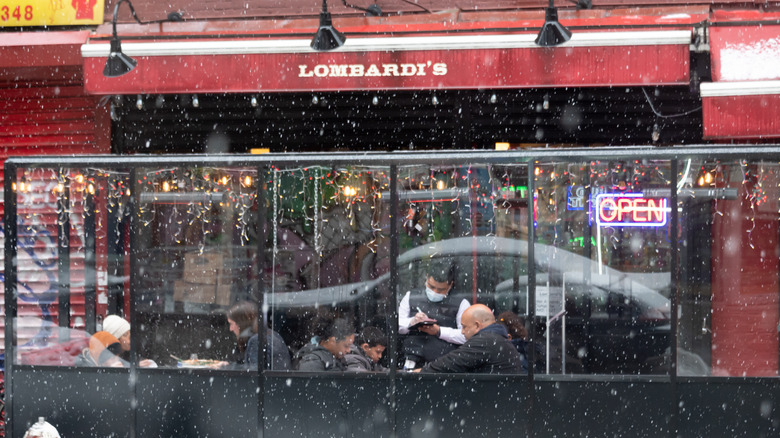 Noam Galai/Getty Images
The location that would be the famous pizzeria started as an Italian grocery store in Little Italy, operated by immigrant Gennaro Lombardi in 1895 (via SeriousEats). According to local lore, in order to use up excess dough from the day's work, Italian grocers and bakers would make and sell pizzas. Lombardi did just that, quickly gaining popularity for his remarkable slices. In 1905, Lombardi's pizza proved so popular that he applied for and received the first pizzeria license in New York City, and from there, a New York landmark was made.
The menu for Lombardi's is what you would come to expect from a normal pizza place, even one as historically old as Lombardi's (via Slice). Their famous Margherita Pizza is what most folks flock to — a coal-fired crust that is "well done," tangy tomato sauce, and huge gooey pools of bubbling milk mozzarella. Big Apple citizens and tourists praise Lombardi's and their crew of skilled pizza makers, with Chris Stang of The Infatuation describing the delicious "char" on the pizza's crust and advising you not to "sleep on" the clam pizza they serve. Stang also described it as "Little Italy meets Olive Garden."
While there is debate if Lombardi's is indeed the oldest pizzeria in America, or just one of the oldest pizzerias in America (via New York Eater), it is safe to say that if you want to try a bit of New York history, it's recommended you try Lombardi's.