If You Ever Wanted A KFC Phone Case, Now's Your Chance
Finally, the gift that nobody knew they were waiting for: A special collaboration between the fast food chain KFC and the phone case manufacturer CASETiFY is now available to die-hard fans everywhere. We're oddly excited by the new case designs, which look pretty cool. It's a fun gift for the KFC lover in your life, at the very least.
According to its website, CASETiFY started creating phone cases customized with customer's Instagram photos and has expanded to embolden their self-expression with an extensive line of vibrant and unique phone cases. The cases look awesome in mirror selfies and give you a chance to show your personality while protecting your phone with a high-quality case. The company keeps it fresh with lots of highly publicized collaborations with brands and celebrities like Sarah Jessica Parker, Pharrell, the Louvre, Nordstrom, Anthropologie, and more. They've made cases inspired by the anime "One Piece" and the artist Basquiat, and now they're partnering with KFC to make every chicken lover's dream come true.
Now you can let everyone know how obsessed you are with fried chicken, and what a huge fan of KFC you are, just by using this distinctive phone case. 
The CASETiFY KFC phone cases come in 3 designs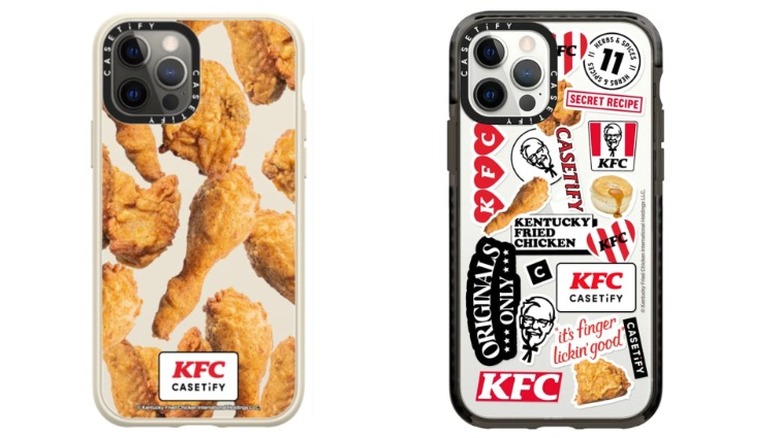 CASETiFY
The CASETiFY KFC phone cases are a part of a line of lifestyle products that were released on August 26. The line includes three phone case designs, AirPod and AirPod Pro cases, a sturdy stainless steel water bottle, and a beaded lanyard that range from $35 to $60 (via In the Know).
The case designs feature classic KFC imagery. The Stickermania case is designed to look like it is covered in stickers of KFC logos, fried chicken drumsticks, hearts with the initials of the restaurant, and of course, the Colonel himself. The Fried Chicken Medley case looks like it's covered with fried drumsticks on a white background. The third option, called It's Finger Lickin' Good, features the same red and white stripes as the KFC bucket with the slogan featured prominently in the center. They are available for the iPhone 12 Pro and Samsung Galaxy S21 (via CASETiFY). The water bottle and AirPod cases are similar to the Stickermania phone case, and the beaded lanyard has charms of fried drumsticks and the KFC logo.
The cases and other items all look really cool and add a fun touch to protecting your phone. They're clearly all must-haves for KFC's biggest fans.