Jim Beam Has Big News For Fans Of Its Whiskey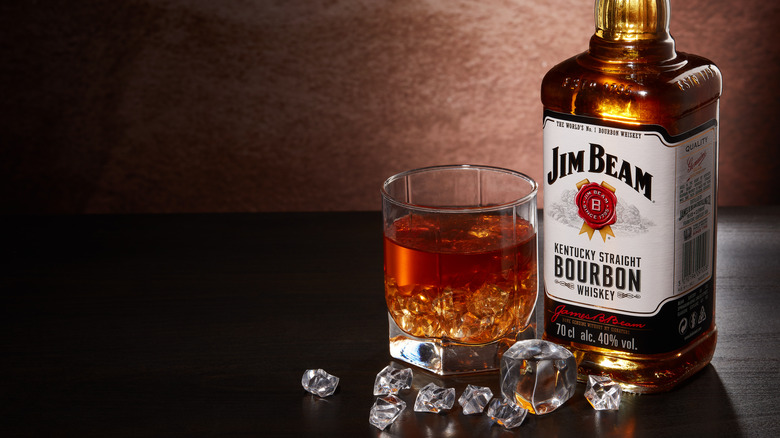 Dmitry Melnikov/Shutterstock
There are a few names in whiskey that are both recognizable and a good value, and Jim Beam fits the bill. Although the popular whiskey brand is best known for their bourbon that won't break the bank, the distillery also produces a selection of premium products, according to Whisky.com. You can get your hands on some of their finer bottles at regular liquor stores, but Jim Beam's latest exclusive deal is perfect for whiskey lovers looking for something luxurious, but convenient.
Instead of having to trek out to the liquor store, Jim Beam has designed a subscription package that delivers their bottles straight to your door, Delish reports. Aptly named Barreled & Boxed, the service will provide you with limited edition bottles you won't be able to obtain anywhere else. On their website, the whiskey producer tells the tale of how the first barrels of bourbon were sent floating down a river by Jacob Beam, the founder of the company. Nowadays the shipment has been expedited, and subscribers will receive their bottles in the comfort of their own homes. At the moment, the service is only available to residents in Kentucky and Washington, D.C., but stay tuned for expanded deliveries.
What will members receive?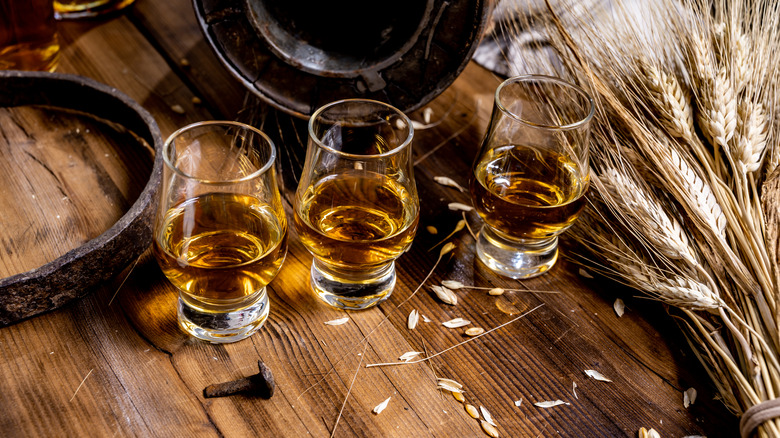 barmalini/Shutterstock
The Jim Beam Barreled & Boxed subscription box will be sent out seasonally and includes two high-quality bottles of whiskey, for a total of eight bottles a year. The Jim Beam website notes that additional perks will come with your membership, including a view behind the scenes with the distillers to learn about how they make each bottle. Not only will members have the chance to see the process that goes into their limited edition bottles, but they'll also get to do a virtual tasting with the primary distiller, Freddie Noe. For those lucky members who live in Kentucky (or are willing to travel there), a VIP tour of the distillery as well as exclusive invitations to Jim Beam events are also included with Barreled & Boxed.
If you'd like to have a taste of the service to see if it's the right fit (and we bet it is!) there are no annual fees associated with the membership. Consumers can sign up at any time as long as there are sufficient supplies, although Delish warns that there is a limit of 500 spots. According to the Jim Beam website, the price will vary between $150 and $300 per delivery depending on the bottles in question, including taxes and shipping. The first shipment consists of The Little Book Chapter 1: The Easy (Limited Rebottling) and The Little Book Chapter, two rare American blended whiskies for $270 plus tax. Hurry up and sign up for a taste of exclusivity!