D&D Fans Are Freaking Out Over Arby's Already Sold-Out Dice Set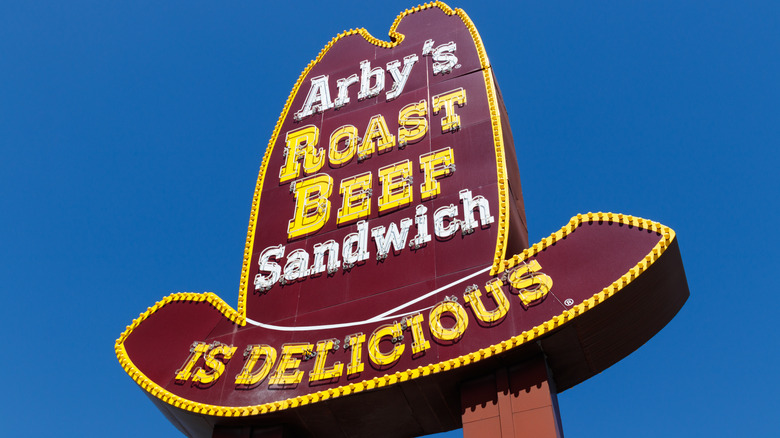 Jonathan Weiss/Shutterstock
Remember Dungeons & Dragons? While some may feel that this nearly half-century-old dice-based game may be a relic of the pre-video game era, its large and incredibly loyal fan base just keeps growing. In fact, as CNBC reports, 2020 was the game's biggest year in its entire 47-year history. Yes, people in lockdown couldn't always gather around the same table, but they still found a way to get together on Zoom and Skype to keep those dice rolling.
Even if you weren't aware of D&D's continuing ascendance, that's okay, because you know who's on top of what all the cool kids are into these days? Arby's, that's who. Not only do they got the meats, but they also have their finger on the pulse of popular culture. Case in point, they just added something fun to their merch collection: a set of Arby's-themed D&D dice (via Arby's Shop). Sadly, you can no longer purchase these, as they've already sold out.
Arby's seems to have a soft spot for the game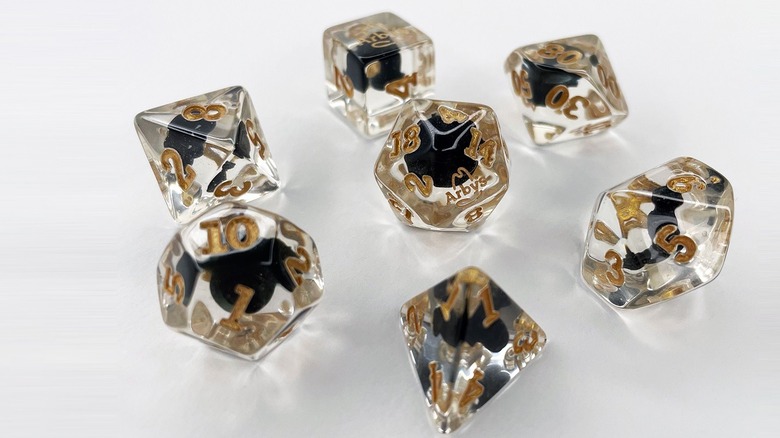 Arby's Shop
When it comes to giving shout-outs to all things gloriously geeky, this isn't Arby's first rodeo. Gamerant says the chain's paid past homage past to video games Halo Infinite and Ratchet and Clank: Rift Apart, while an 2018 Arby's tweet references Cowboy Bebop. This time, however, Arby's went beyond artwork to creating actual merch. The caption to a recent tweet announcing the dice indicates that this was due to popular demand: "You asked. And asked. And asked."
Arby's dice set, which Comicbook says is similar to one depicted in a 2019 social media post featuring a dice tower made from an Arby's cup and some straws, includes all seven dice typically used for D&D gameplay: one with 4 sides, one with 6, one with 8, two with 10, one with 12, and one with 20 sides (via Die Hard Dice). These clear dice feature a brown Arby's cowboy hat logo in the center, while the numerals are picked out in gold. As an added touch, the 20-sided and 6-sided dice each replace the numerals 20 and 6, respectively, with that same Arby's logo. The dice retailed for just $12 a set, but they sold out within two hours of being added to Arby's online store. You can, if you're interested, add your email to a list to be notified when and if the dice ever come back in stock, but they don't guarantee this will ever happen.
Arby's Twitter followers had another concern besides the dice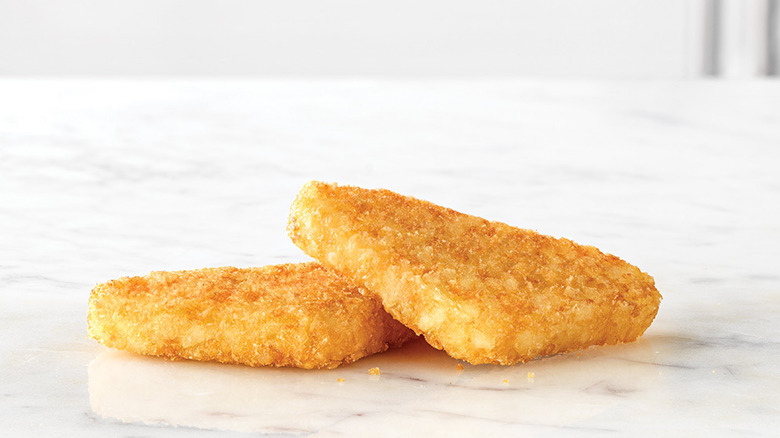 Arby's
The fact that the dice sold out so quickly indicates that they were extremely popular with some people — either that, or Arby's failed to produce a sufficient number to satisfy even a modest demand. The reactions to Arby's tweet-nouncement regarding the dice, though, told a different story. The dice, it seems, were of far less interest to Arby's Twitter followers than another pressing issue, that of potato cakes being purged from the menu a few months ago in order to make way for the crinkle fries no-one asked for. People are still pretty upset about this.
Among the comments Arby's received on the occasion of their dice drop were: "No dice on potato cakes" and "No, no, we asked for potato cakes, not dice..." as well as an emphatic, "NO ONE CARES ABOUT DICE!!! We only care about potato cakes!!!" Even D&D players seemed less than thrilled about the dice, with one saying, "I freaking LOVE dice but NOBODY ASKED FOR THIS. We ASKED for you to fix your massive MISTAKE and put potato cakes back on the menu. Now we are TELLING you. FIX THIS." Another chiming in, "Nah, as an avid DnD nerd i want my d*** potato cakes back. this legit makes me not want your cool dice." So yeah, nice try, Arby's, but no amount of sweet merch is going to make up for a menu mishap like losing those uber-popular potato cakes.