Instagram Can't Stop Talking About Duff Goldman's 'Old Bay' Cake Post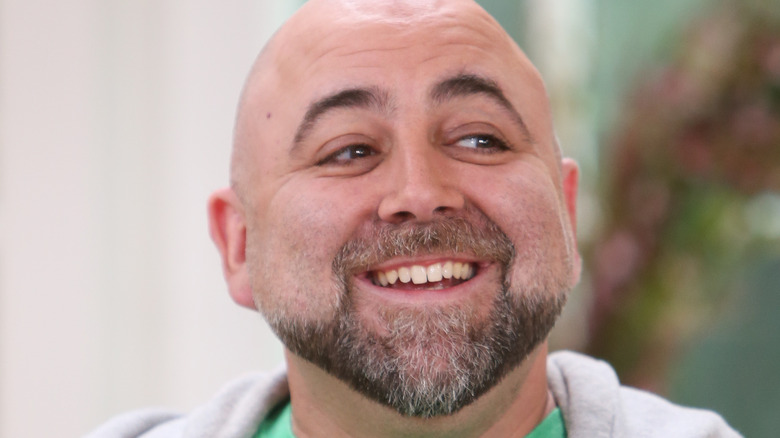 Paul Archuleta/Getty Images
If you think that baking a birthday cake with celery salt, paprika, and red pepper spice would be really gross — you're probably right. But, if you're Duff Goldman, cake baker extraordinaire, you can make even seafood seasoning look palatable in your confectionary creation. A cursory glance at Goldman's recent Instagram post might have you believe the pastry chef simply posted a close-up photo of a tin of Old Bay seasoning. After all, as Goldman's website indicates, the chef hails from Baltimore, Maryland, where seafood seasoning like Old Bay is put on the table next to salt and pepper.
But closer inspection reveals that the tin of Old Bay is, in fact, a cake. Custom made by the team at Goldman's company, Charm City Cakes, the lookalike caused quite a stir with Goldman's followers, who were almost fooled by the very convincing creation that looked just like the can of seasoning. "Makes me homesick!" one user (presumably from somewhere on the East Coast) proclaimed, while another said, "OMG you get me every time. I almost scroll [past] and I'm like, whoa that's a cake?!"
Will the Old Bay creation help Goldman beat the Cake Boss?
It's precisely that kind of creativity Goldman will need to bring to this season of "Buddy vs. Duff," a baking show that, despite how the title makes it sound, is sadly not a show featuring two golden retrievers. In the Food Network series, now in its third season and also streaming on Discovery+, Buddy Valastro, otherwise known as the Cake Boss, battles Goldman to see who has the more enviable creations. The chefs, both in their 40s, are currently tied at one win apiece after each one nabbed the best title in the respective first two seasons of the show. So this year is anyone's game as they throw the oven mitts on, go head to head, and let the ganache fly in a best-of-three matchup.
It's not just the tie that adds a bit of melodrama to this season of "Buddy vs. Duff," however. There's also the life moments that happened off-camera. Valastro suffered a nearly career-ending hand injury (sustained in a freak bowling accident), while Duff became a first-time father with wife Johnna Goldman. After such life-changing events, the men are expected to bring "a newfound appreciation for life and family" to the cake table, according to Food Network president Courtney White, per Yahoo!. "In addition to a stronger motivation to prove their incredible talents with the best cake designs these bakers have ever created in order to break their tie in this fierce cake competition," she adds. Forget Old Bay — for a contest this heated and sweaty, the guys may want to go heavy on the Old Spice, instead.