Marcela Valladolid's Daughter Ordering Room Service Might Be The Cutest Thing On Instagram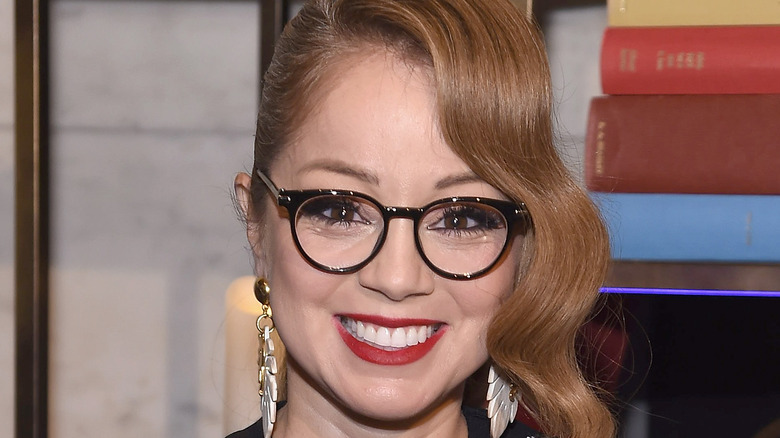 Gary Gershoff/Getty Images
Is there anything more luxurious than rolling out of bed and having a hot meal delivered straight to your hotel room without ever having to do anything more than making a quick phone call? And, is there anything more frustrating than when you're looking forward to a little self-indulgence and it doesn't go as planned? Well, chef Marcela Valladolid's daughter just made a room service call that we can probably all relate to a little too well.
The Food Network star certainly has experience teaching kids about food. According to the Food Network website, after returning from the Escoffier Cooking School in Paris, Valladolid went home to Tijuana, ran a catering company, and taught children about the culinary arts. Judging by the caption of her Instagram post, however, Mom may be somewhat to blame for her daughter's call not going quite as smoothly as expected. Valladolid wrote, "So listen, I told her it was 4:30 already, which is when they open room service." The video clearly shows a clock displaying 4:29 during the call, which might be why the hotel kitchen wasn't quite ready for the oh-so-cute call from Valladolid's daughter. The resulting phone call that was captured on camera was well worth the confusion.
How to influence people with cuteness overload
Dressed in a yellow and white polka dot dress and a giant yellow ribbon holding back her blonde locks, Marcela Valladolid's daughter was all business while using her hotel room phone (via Instagram). With a polite, "May I talk to the restaurant?" Valladolid's daughter kicks off the endearing exchange, but when the person on the other end of the phone tries to explain she needs to call back in 3 more minutes because the restaurant isn't open yet, the child won't budge .
With a pointed index finger, Valladolid's little girl says, "But, our clock already passed 3 minutes." At this point, her mother tries to get her to end the conversation and call back later, but her daughter says, with widened eyes, that she wants to order food. "I'm going to tell you that I waaaaant — because I'm going to say what food I want," she explains into the phone. Mom tries once more to end the call, but the child triumphantly gets in her order: "I want chicken nuggets and french fries." 
This is definitely a girl who knows what she wants and is on her way to a promising future, as Valladolid wrote in the caption: "I see lawyer. Or Supreme Court judge. Or president of the Estados Unidos." She certainly has the people's attention! Many users were amused as they melted from the absolute cuteness. One charmed viewer chimed in with "Kudos for this adorable child." Another commenter declared, "That's the best thing I've seen all day."