We Tried The Viral Muddy Bites And This Is How It Went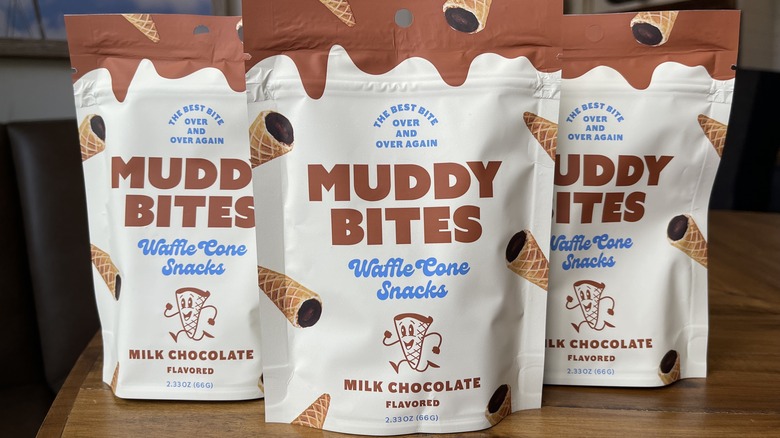 Carly Caramanna/Mashed
We're never one to rush through a delicious ice cream sundae cone, but let's admit it: the best bite is that last bite. You know the one. The very bottom tip of the crunchy cone that is filled with delicious, milky chocolate. Well, two young friends sought out to make everyone's sweet fantasy a reality.
You've probably seen Muddy Bites all over social media or even tried to order them yourselves (good luck with that one btw). The stroke of genius all began in 2018 with two 22-year-olds, Jarod Steffes and Tyler Devos, who had a life-long obsession with the bottom of a sundae cone. Although their first go around at Kickstarter left them defeated, the two didn't give up and eventually shifted gears leading them to secure the much needed dough the second time. The online store launched in 2019 and they've since produced over 5 million bites and now have a team of over 40 people. With all the hype surrounding the treat, we figured it was only our due diligence to try it out — it is our job after all. 
There are 14 bites in each bag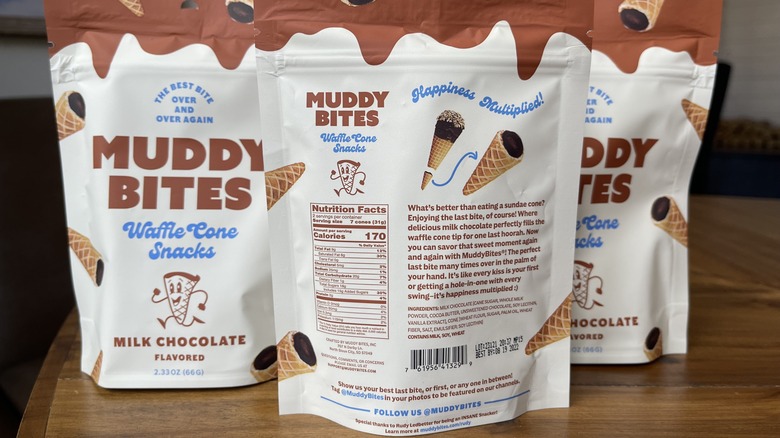 Carly Caramanna/Mashed
So, here's the scoop. Muddy Bites are currently sold in pretty memorable packaging (complete with an adorable cartoon waffle cone) that's just small enough where you can throw it into your bag when you're on the go. Let's be honest, our days would be much brighter if we walked around with these on hand at all times. There are 14 bites in each bag and every bag of Muddy Bites weighs approximately 2.33oz. Muddy Bites are now available in two varieties: milk chocolate and dark chocolate, but our fingers are crossed that we will be seeing even more flavors in the future (is it too early to petition for a red velvet, or maybe a mint chocolate chip? Just saying.) Impressively, every Muddy Bite is made in-house by their team, and completely by hand. 
Their website notes that Muddy Bites are not gluten-free, vegan, or Kosher certified. According to the nutrition facts label, their milk chocolate is made with cane sugar, whole milk powder, cocoa butter, unsweetened chocolate, soy lecithin, and vanilla extract. The cone is made from wheat flour, sugar, palm oil, wheat fiber, salt, and soy lecithin. All fairly straight forward ingredients!
How much do Muddy Bites cost?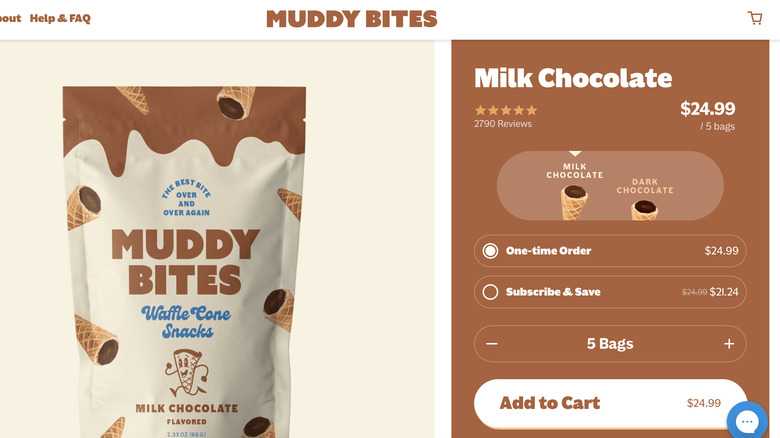 Muddy Bites
So, here is the deal. You want the convenience of easily popping the end of the waffle cone in your mouth? It's going to a bit of a blow to your wallet. Muddy Bites are available in orders of a minimum of 5 bags setting you back $24.99, that's around 10 servings in total as each bag contains 2 servings. If you never want the chocolatey fun to end, they even offer a subscription service. As part of this service, you can choose to receive your shipment every two, four, or eight weeks, and the price of the five bags will drop down to $21.24. 
With each bag costing around $5, the price seems to be relatively in line with other trendy snacks items, such a those found at Trader Joe's or Whole Foods. Each waffle cone snack comes in at just over 35 cents, making for a rather affordable treat, when you do the math, assuming you don't eat the entire bag in one sitting. We won't judge if you do.
Overall, the cost isn't crazy. It just seems that way because you have to buy so many at once.
Where are Muddy Bites available?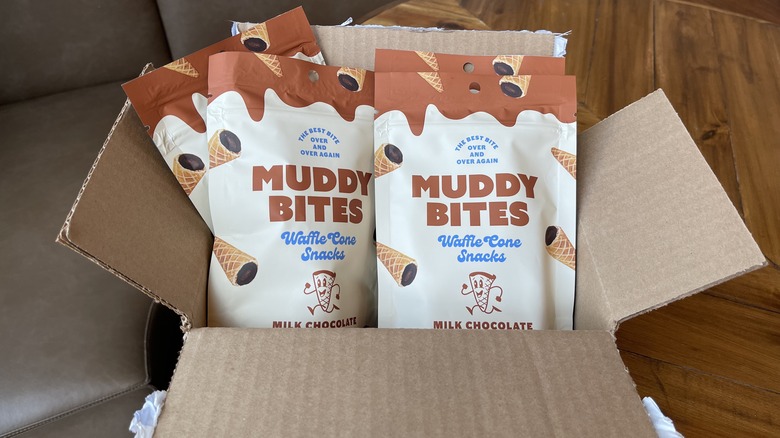 Carly Caramanna/Mashed
Good news for all the couch potatoes out there. You never have to leave your house to secure the perfect bite. While they are not yet available in retail stores, they do ship throughout the United States, with international on the horizon. They are in high demand so expect a longer than usual wait time, and are known to be completely sold out from time to time.  Flavor expansion plans are in the works as well as retail distribution. According to their website, they are actively in conversations with Walmart, Target, Costco, 7-Eleven, and more with plans to be in stores the end of 2021. We'll be waiting with bated breath! 
Shipping is free on all orders over $30, and Muddy Bites uses FedEx to ensure your cones arrive quickly and melt-free. There's no use in crying over spilled milk — or in this case melted chocolate — as their customer service team is on hand to help with any issues in the shipping department. Our order arrived without any issues to the packaging or product. 
You can indulge without all the guilt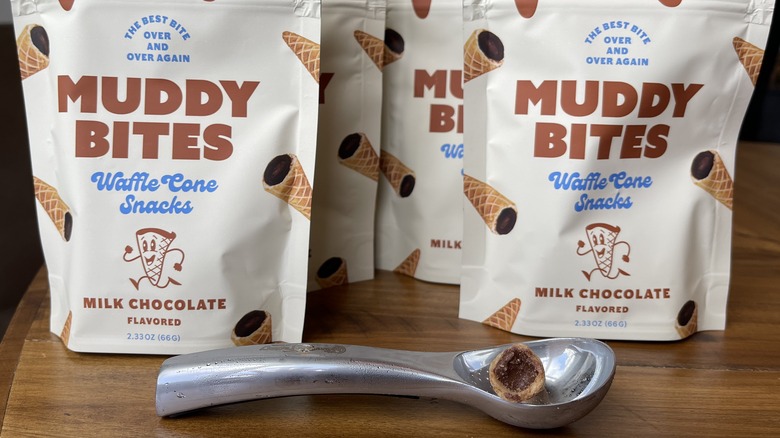 Carly Caramanna/Mashed
One of the most appealing things about this snack is that you can indulge in just one waffle cone snack for when the chocolate craving arises. The resealable bags make it easy to save your treats for a rainy day, or even just later on in the day. Each Muddy Bite is just over 20 calories, enabling even mindful dieters to partake a taste of sugary goodness. 
According to the nutrition label, the milk chocolate variety comes in at 170 calories per seven cones, with a total of 9 grams of fat, 6 grams of saturated fat, 20 grams carb, and 18 grams of sugar. There's also a little protein boost in the form of 2 grams per serving. The dark chocolate variety comes in at 160 calories per seven cones, with a total of 10 grams of fat, 6 grams of saturated fat, 20 grams of carbs, 15 grams of sugar, and 1 gram of protein.
So how do Muddy Bites taste?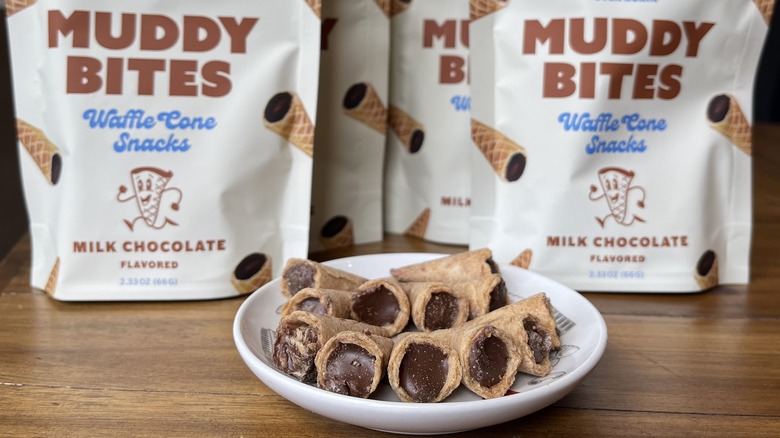 Carly Caramanna/Mashed
When our order of Muddy Bites finally arrived, we couldn't have been more ecstatic. But, after all that suspense, how did they hold up against our high (and maybe even lofty) expectations? They are good — we will say that.
After all the hype they've received (and the fact that we had to wait a full month for them to arrive), we were waiting for our life to somehow forever be changed. It wasn't that sort of cathartic experience. The waffle cone is wonderfully fresh giving way for a nice crunch. Paired with the milky chocolate, it does, indeed taste just as you would expect — like the end of a waffle cone. We think they're a great pantry staple to have on hand when you're craving a little sweet treat without all the guilt of scarfing down an entire ice cream sundae cone. 
While we appreciate the entrepreneurship and the fact that this is a homegrown operation, at the current price point (around $2.50 per each serving) it's a tad bit hard to justify no matter how deep our cravings are, especially since you have to buy so many at once. If we could pick up just one bag on a grocery run, we might give these another shot. Until then, though, we'll save our money.