Krispy Kreme Has Good News For Football Fans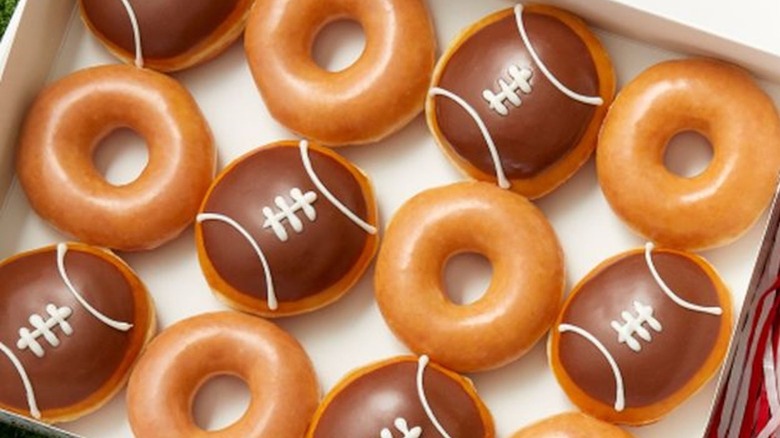 Krispy Kreme
Touchdown! And the crowd goes wild ... for doughnuts. Just in time to kick off the 2021 football season, Krispy Kreme is bringing back its limited-time Football Doughnuts, according to Brand Eating. But you have to act fast to score these sweet treats. They're only available at participating locations across the country, and they're only on offer through September 6. Yep. That's right. Krispy Kreme's fan-favorite Football Doughnuts are available for one week only, and the clock is ticking. 
Thrillist says the football-themed doughnut consists of a yeast shell. That means it's light and fluffy, like a glazed doughnut without the hole (via Chowhound). The poufy shells are dipped in chocolate icing, then decorated with white icing stripes to look like delicious little footballs. Buy them individually or pick up a Krispy Kreme Football Dozen consisting of six Football Doughnuts and six original glazed doughnuts. What's not to like about that?
What's is a Krispy Kreme Football Doughnut?
Krispy Kreme announced the return of its limited-time Football Doughnuts on Instagram. Within two days, the post garnered more than 15,000 likes and dozens of comments, including a few suggestions. "Please don't be filled," begged rachrich423. (Don't worry, they're not.) On the flip side, love_capitals commented, "You should fill them with jelly. I love your glazed raspberry." (Sorry love_capitals. Maybe Krispy Kreme will consider your suggestion for next season.) Several comments referenced the classic line "Laces out!" from the movie "Ace Ventura: Pet Detective." 
At least one commenter refused to be deterred from their autumn quest for all things pumpkin, not even by a chocolate-covered Football Doughnut. Clearly, jcharriss is keep an eye on the (pumpkin) ball: "When do pumpkin spice doughnuts come out?" We don't have an answer for that yet, but we're betting Krispy Kreme will let us know when pumpkin is back on the roster.