Easy Nutella Mug Cake Recipe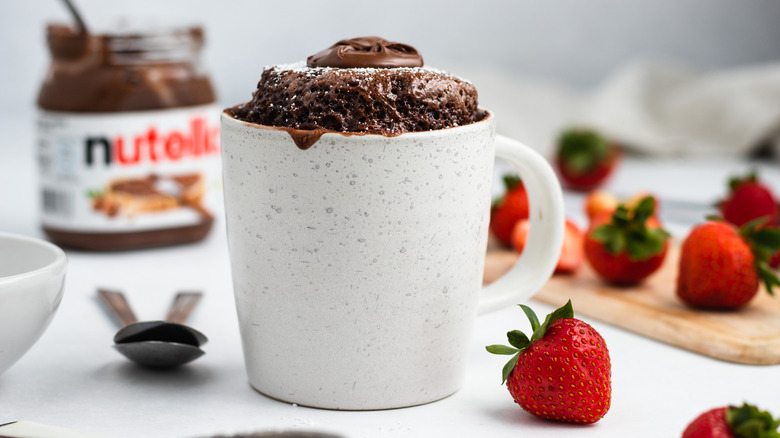 Catherine Brookes/Mashed
Say, do you have a sweet tooth that's hankering for a few bites of fresh, moist cake? And do you have less than seven minutes of spare time before you need to get on the road, onto that Zoom call, or onto the couch for your favorite show? (Meaning the two or three shows that still air at a specific time rather than via streaming, that is.) 
Then you're in luck, because, in fact, six minutes is all you need to whip up a delicious little cake from scratch when you follow this recipe from chef and recipe developer Catherine Brookes of Blue Sky Eating.
Well, six minutes ... and a mug and a microwave. 
Mug cakes are great because of how quick they are, of course, and the fact that they come out tasting great, but also don't underestimate the charm factor. Sure, the primary reason to whip up a Nutella mug cake might be the ease, but they also make great desserts for dinner parties or family gatherings where you want something that will stand out, satisfy, and be quite simple in terms of prep — not to mention how serving individual little cakes is also a great way to keep things sanitary in our pandemic-minded world!
Gather your ingredients for this Nutella mug cake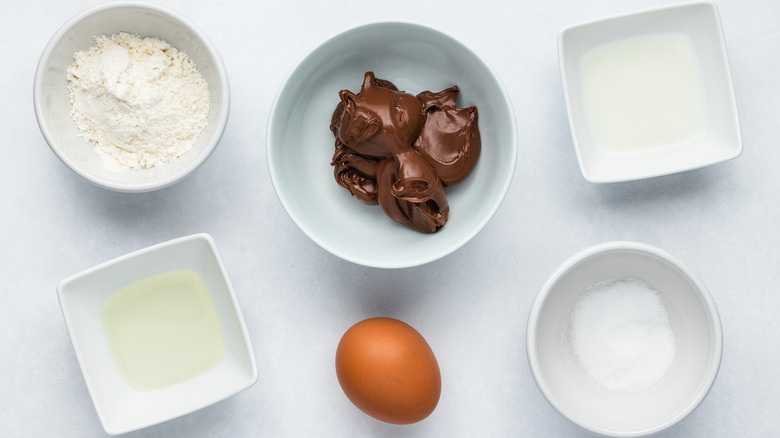 Catherine Brookes/Mashed
Okay, so we said all you need for this charming and easy little single-serve mug cake was six minutes, a mug, and a microwave, but that's leaving out one little aspect of the recipe: the ingredients. Those are, fortunately, all pretty basic. In fact, assuming you keep Nutella in the house, you probably won't need a grocery store run for this one at all.
The recipe calls for Nutella, sugar, vegetable oil, milk (a non-dairy milk works fine, Brookes says, though Nutella already has dairy in it, fyi), baking powder, and all-purpose flour. And for optional toppings, you might want some powdered sugar, fresh strawberries, and an additional dollop of Nutella.
Crack the egg and stir in the sweet stuff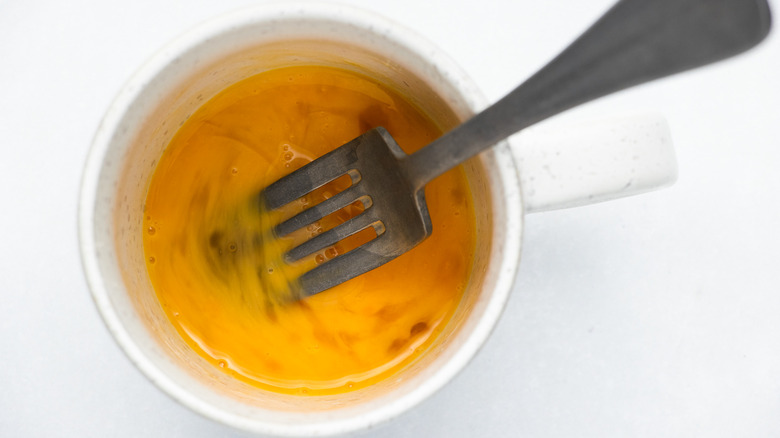 Catherine Brookes/Mashed
If you'd like, you can start the recipe off by lightly greasing the inside of a coffee mug, which can help the cake come out cleanly later, but it's not really necessary. And then you need a second mug to mix the batter. Also, most people like to eat their mug cake right out of the mug anyway.
So, crack the egg into an un-greased mug and whisk it with a fork until the yolk and whites are well combined. Next, pour in the sugar and spoon in the Nutella, and mix again until these ingredients are blended into the egg.
Add the rest of the ingredients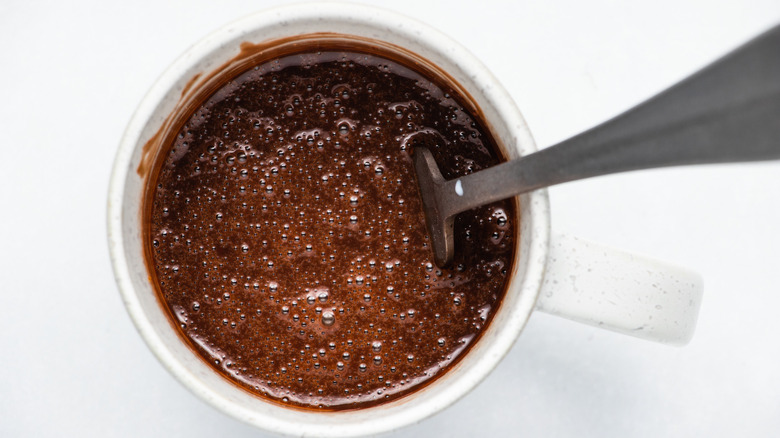 Catherine Brookes/Mashed
Add the oil, milk, and baking powder to the egg, sugar, and Nutella mixture and stir everything well with that fork to combine these ingredients. 
Now, add the flour and gently mix everything — with a spoon this time, ideally, as too much of the batter will get stuck in the tines of the fork — and stir until all of the ingredients have just combined. Be sure not to overmix in this step, as it will affect the sponginess and moistness of the finished cake, which will be finished in a minute or so. 
Microwave your mug cake, top it, then enjoy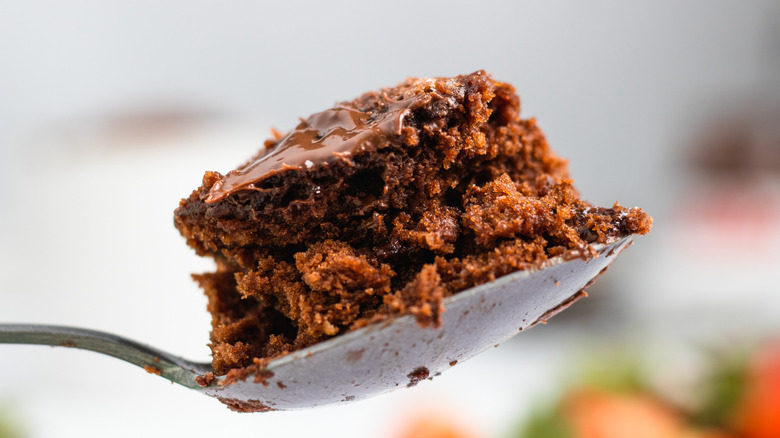 Catherine Brookes/Mashed
Now it's time for some cooking! Microwave your mug cake on full power for 60 to 90 seconds. It's best to start with 60 seconds, then add that additional half minute if it's still in semi-liquid form — just keep an eye on it during the second zapping, and if it needs the whole time, set the timer for longer the next time you make one.
Serve your Nutella mug cake with a sprinkle of powdered sugar, extra Nutella on top, and fresh strawberries. Yes, those toppings are optional, but they're well advised!
Easy Nutella Mug Cake Recipe
Do you have a sweet tooth, but less than seven minutes of spare time? You're in luck! This easy Nutella mug cake recipe is simple, delicious, and quick to make.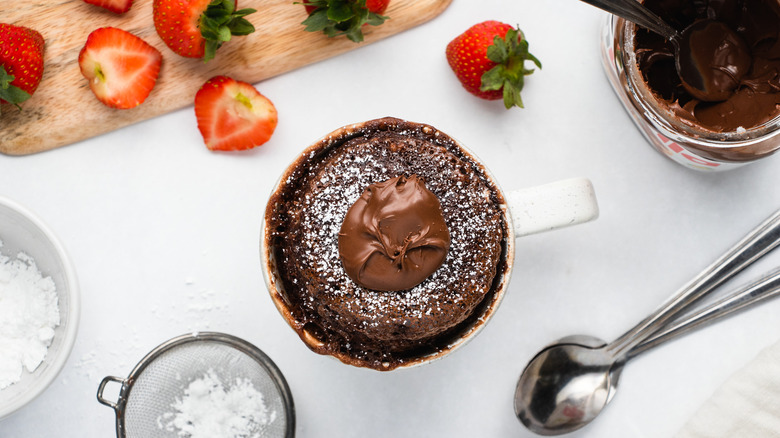 Ingredients
1 large egg
2 teaspoons sugar
5 tablespoons Nutella, plus more for topping if desired
2 teaspoons vegetable oil
1 tablespoon milk
¼ teaspoon baking powder
3 tablespoons all-purpose flour
Optional Ingredients
Powdered sugar, for serving
Fresh strawberries, for serving
Directions
Crack the egg into your mug and beat it with a fork.
Add the sugar and Nutella and mix again.
Add the oil, milk, and baking powder and mix to combine.
Add the flour and gently mix with a spoon until just combined.
Microwave the mug on full power for 60 to 90 seconds.
Serve the mug cake with a sprinkle of powdered sugar, extra Nutella, and fresh strawberries if desired.
Nutrition
| | |
| --- | --- |
| Calories per Serving | 781 |
| Total Fat | 42.3 g |
| Saturated Fat | 28.8 g |
| Trans Fat | 0.1 g |
| Cholesterol | 187.5 mg |
| | |
| --- | --- |
| Total Carbohydrates | 85.1 g |
| Dietary Fiber | 5.6 g |
| Total Sugars | 59.4 g |
| Sodium | 206.7 mg |
| Protein | 14.2 g |