Costco Has Good News For Fans Of Its Massive Chicken Pot Pie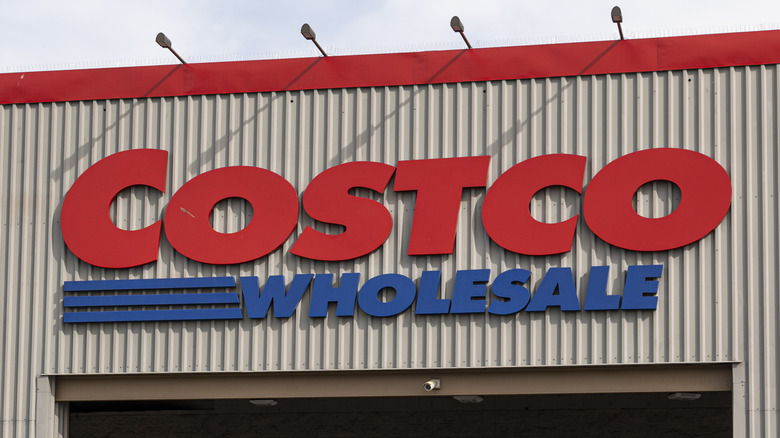 Bloomberg/Getty Images
As the leaves begin to change colors, the pumpkin spice flavors are not the only favorite fall foods returning to store shelves. Always a Costco favorite, its massive chicken pot pie has been spotted in one of the warehouses. Posted by the TikTok account, @costcohotfinds, a video shows that the fan-favorite is back. The 5-and-a-half-pound pot pie was priced at $3.99 a pound. But the per-pound price might vary by location, as the cost of items changes across Costcos (via the Costco website). Regardless of the potential difference in cost, given the size, this offering looks like it could easily feed a family for under $25.
For those unfamiliar with the giant pot pie, it combines Costco rotisserie chicken, carrots, peas, and an herb sauce in a flakey, dough crust (via Costco Fan). Since everything is prepared, the home cook just has to heat it in the oven for around 90 minutes at 375 F. From the looks of it, the resulting meal is a hearty one. Whether eaten on its own or served with a salad, this dinner could be the perfect comfort food on a chilly day.
Has the Costco chicken pot pie recipe changed?
Recently, some Costco guests have questioned if the iconic chicken pot pie has changed its recipe. Some Reddit users reported that the taste was too salty. Although salt preferences vary from person to person, it might just be one person's opinion influencing the table. Then again, for all we know, the person who made the pot pie might have been a little aggressive with the salt in some batches. Regardless, one person's palate may not match everyone's preferences.
At the same time, there is something to be said for convenience. Sometimes making a pot pie from scratch isn't possible, and that scenario means giving up control of the ingredients. But, at least the Costco chicken pot pie didn't make the Eat This, Not That! list of unhealthiest Costco food choices. If the choice is between the Kirkland Pot Pie and Marie Callender's frozen version, consider skipping the frozen. That food choice is both high in fat and sodium. 
In the end, pre-made food comes with a caveat served with each bite. It might be seasoned to someone else's taste. The other option is to make the dish from scratch. Just be careful when adding salt.