Why Some Customers Feel Restaurants Are Falling Off In Cleanliness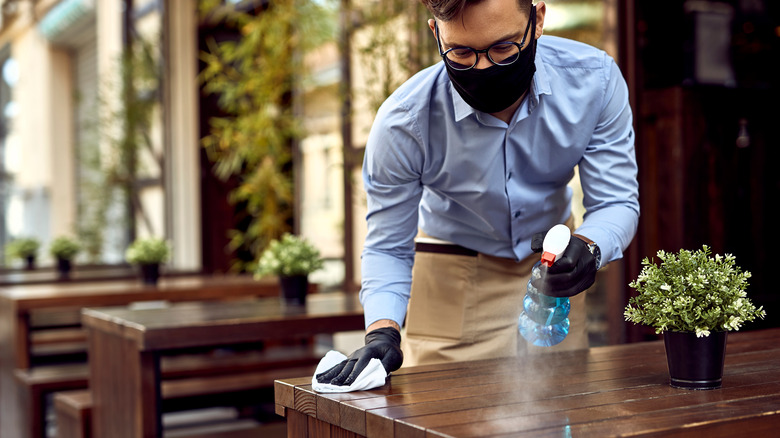 Drazen Zigic/Shutterstock
While the majority of restaurants have completely overhauled sanitation practices in the face of the COVID-19 pandemic, a new set of data indicates that many food service operations have begun backsliding when it comes to overall cleanliness.
According to a report in Nation's Restaurant News, new numbers produced by a food service satisfaction metric called The Restaurant Guest Satisfaction Snapshot (RGSS), which utilizes an algorithm to crunch customer data from over 190 brands, indicate that while restaurant business has been on the up-and-up overall, certain sanitation protocols may be falling by the wayside.
The rating system indicated that there were some net positives across the restaurant industry in recent months. Same-store sales grew by 8.1% in July, marking the fifth consecutive month of sales growth for restaurants and hitting a three-year industry high in overall sales growth.
The majority of guests also had a positive opinion of the food served to them over this period, with over 50% of reviews pulled from social media and online ratings considered to be positive. Over half of reviews also had a positive opinion of the service they experienced in July. However, when it came to the restaurant conditions, the results were not so positive.
Restaurant cleanliness ratings are slipping as the Delta variant spreads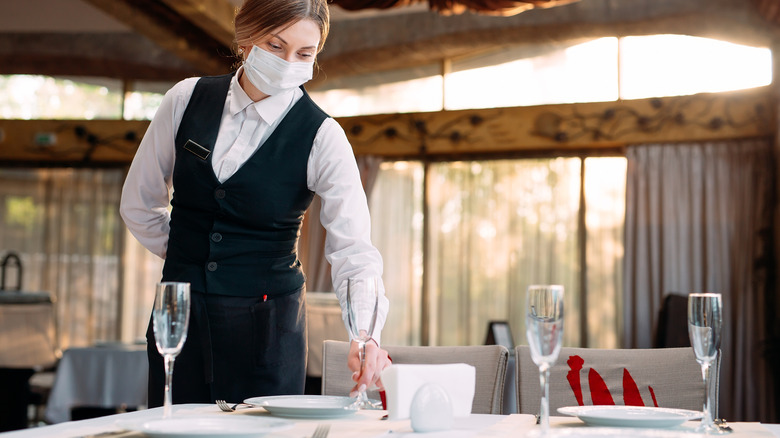 David Tadevosian/Shutterstock
The customer satisfaction metric that fell most significantly according to the most recent RGSS data was for overall "ambiance," which takes into account the cleanliness of the establishment, reports Nation's Restaurant News. Guests noted that the lower "ambiance" rating, which dropped at both full-service and limited-service brands, was influenced most significantly by a decline in "cleanliness" across the board.
Overall, satisfaction with restaurant cleanliness dropped by 13% from the last quarter. This rating reflected the hygiene of high-touch restaurant items such as cutlery, tableware, and bathrooms, as well as the condition of the tables and floors.
Some of the worst performing restaurant markets when it came to the "ambiance" rating were Miami, which fell to the bottom of the list of Florida's major food areas based on their reviews, and the San Francisco-Oakland metro area, which had one of the lowest net ratings for "food," "service," and "intent to return." These lower ratings could be a result of an industry-wide uptick in restaurant traffic and sales over the last quarter, which has put more strain on understaffed restaurants to keep up the level of sanitation guests have come to expect since the onset of the pandemic. As a whole, guests considered the current level of hygiene to be in line with pre-pandemic cleanliness expectations. However, as the highly transmissible Delta variant of the COVID-19 virus continues to spread rapidly across the country, restaurants will likely have to step up their hygiene game to ease diners' worries about the current precarious state of pandemic dining.