Pringles Just Got A Spooky New Look For Halloween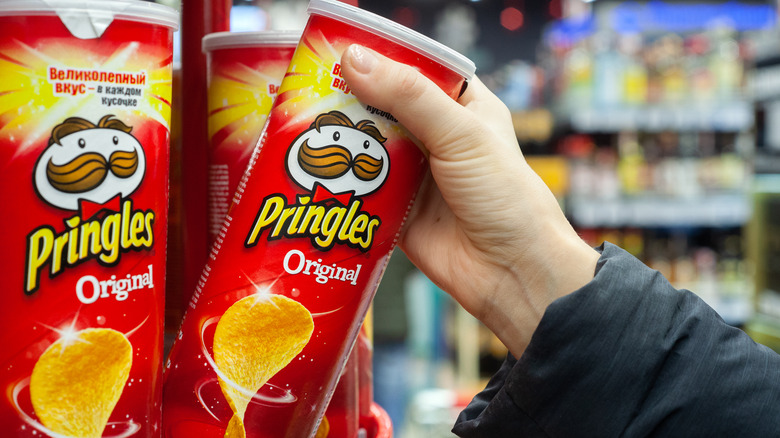 8th.creator/Shutterstock
Who doesn't love snacking on a can of Pringles? Known for their iconic saddle-shape and the famous mustachioed man on the can, Pringles reign supreme in the potato chip category. Ironically, while Pringles are commonly considered potato chips, these delicious savory snacks only have 42% potato content, the remainder being wheat starch and flours combined with vegetable oils, an emulsifier, salt, and seasoning. 
Originally named "Newfangled Potato Chips," by its creator Proctor & Gamble, this snack staple is now sold in 140 countries around the world (via Delish). While Pringles' fans can find a whopping 29 flavors in the snack aisle at their local grocery store, the brand has invented over 100 different flavors. Although we'll always have a soft spot for its original creations, this company has dished up funky varieties such as Bangkok Grilled Chicken Wing and Blueberry & Hazelnut (per Mental Floss). But with the arrival of September, Pringles is already gearing up for our favorite fall holiday — Halloween. 
Pringles will be killing the trick-or-treating game with their glow-in-the-dark cans
If you always been more of a savory than a sweet person, this Halloween will be your time to shine. According to PR Newswire, Pringles is releasing new limited-edition glow-in-the-dark cans for their two most famous flavors. Pringles Sour Scream & Onion and Original illuminated containers will be taking over the trick-or-treating scene this year. Even fun-sized candy bars can't compete with a whole can of Pringles.
"We're thrilled to give the classic taste of Pringles crisps a fun seasonal spin and bring some unnecessary genius to Halloween with our new Glow-in-the-Dark cans," said Gareth Maguire, senior director of marketing for Pringles. "This spooky take on our fan favorite Sour Cream & Onion and Original flavors is a great way to give our fans something to get excited for this Halloween season." Starting in September, these limited addition cans will be available for purchase nationwide. So it's probably best to stock up now to ensure that you are the go-to house this year on October 31st.