This Viral TikTok Hack Is The Perfect Use Of Summer Tomatoes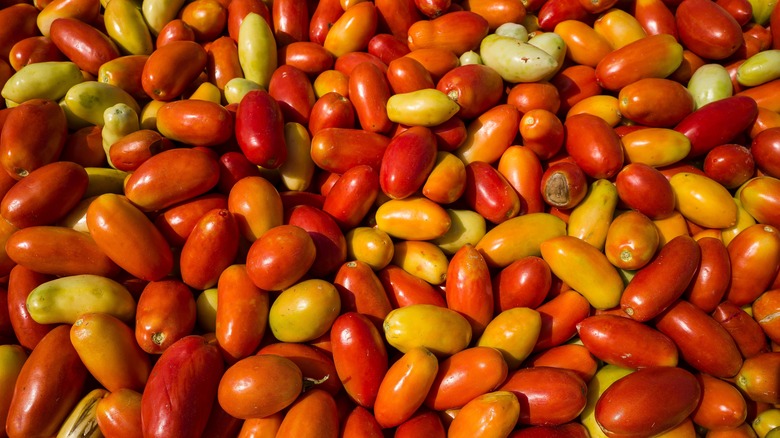 Fabrizio Villa/Getty Images
If you're anything like us, you love buying, cooking with, and eating seasonal produce. There's no comparison between a crisp apple in season to an apple out of season, or fresh local strawberries and imported berries, or sweet corn when it's in season compared to other times of the year. Buying local and in-season produce is also usually a bit cheaper, too, since farmers are trying to sell out all of their crops during the limited time that they're ripe. 
Maybe you have a garden, or maybe you're just a tomato lover, but summer tomatoes are the absolute best, and everyone always seems to have a few too many during the summer months. Whether you're sick of tomato sandwiches, tired of gazpacho, or just looking for a new and fresh way to enjoy some of those delicious tomatoes, this TikTok hack is a great way to use up a bunch of tomatoes without losing any of their amazing flavors.
This tomato spread is perfect on toast for a snack or meal
TikTok user @whatsgabycookin came up with an excellent use for all those summer tomatoes, and it's surprisingly simple. In the video that she posted, she dumps a whole bunch (like, a lot) of cherry tomatoes in a large, shallow pan. Then you add some olive oil, 10-15 strands of saffron, a little salt, and allow those bad boys to simmer over medium to medium-low heat for about 30 minutes. That's it!
If you don't have saffron, no worries. Feel free to get creative with whatever spices suit your fancy. This spread can be refrigerated for up to two weeks and is perfect to spread on toast for an easy snack. The result is "exactly as you'd expect tomato spread to taste: tangy and refreshing," according to PopSugar. If you want to go beyond toast, you could also add this to pasta dishes, rice bowls, or omelets. If you've got a ton of tomatoes that need to be used, this is a super easy and yummy way to use them.