You Can Only Get These Two Burger King Big Mouth Burgers In Japan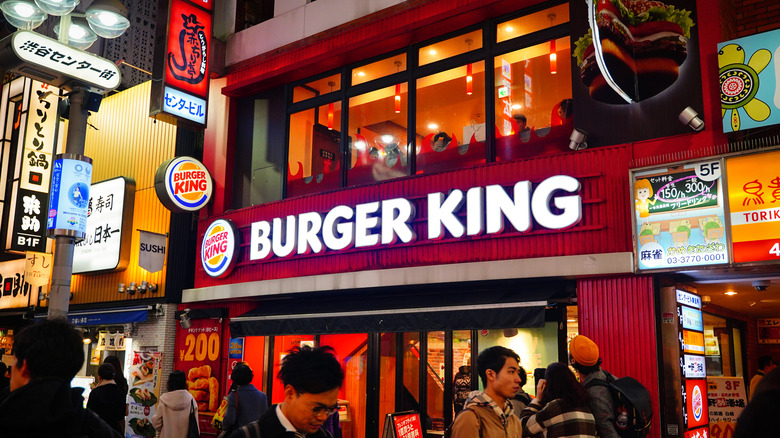 Champhei/Shutterstock
Burger King's Triple Whopper Sandwich might be meaty, but the fast-food chain's new Big Mouth burgers are giving it a run for its money. Available exclusively in Japan, the Big Mouth burger comes in two varieties, the Cheese & Cheese Big Mouth and the Super Spicy Big Mouth (via FoodBeast).
Much like the Triple Whopper, the Big Mouth burgers feature three flame-grilled beef patties, however, instead of being topped with melted American cheese, they're topped with jalapeño cheese sauce. In addition to the jalapeño cheese sauce, the Super Spicy Big Mouth also contains Yarapino hot sauce, which Chewboom explains gives the sandwich a "unique flavor and sharp spiciness." The Cheese & Cheese Big Mouth, on the other hand, gets its heat only from the jalapeño in the cheese sauce, which is complemented by even more cheese: three slices of cheddar cheese, as well as a three-blend shredded cheese.
Neither of the Big Mouth burgers are filled out with lettuce or tomatoes, since apparently meat and cheese is enough of a mouthful on its own.
Could Burger King's Big Mouth burgers be coming to the U.S.?
If the thought of this spicy triple-decker cheeseburger gets your stomach growling, unfortunately, the only way to get your hands on one is if you visited Burger King Japan between August 27 to September 9, during the Big Mouth burgers' limited two-week run. Burger King Japan is known for their experimental burgers, and while they have been known to make international headlines, they usually remain exclusive to Burger King Japan (via The Travel).
But that doesn't necessarily mean a U.S. version of the Big Mouth burger is off the table. Burger King Japan's black bun burgers were brought to the U.S. due to popular demand (via Delish), so who's to say it couldn't happen with another one of their limited edition items? And since spicy burgers have yet to make it to the U.S. Burger King menu at all, this would certainly be in a grand way to introduce them. In the meantime, however, it seems you'll have to settle for a good old Triple Whopper.