Lentil And Spinach Salad Recipe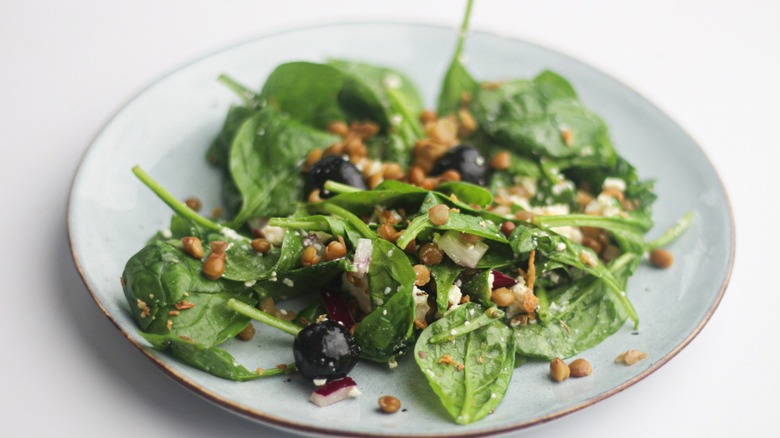 Susan Olayinka/Mashed
Lentils are an often under-estimated legume. Stop a dozen people on the street and ask them to name a lentil recipe, and 11 of them aren't likely to come up with anything more than lentil soup, if that. Well, this is doing lentils a tremendous disservice! Not only do lentils have a ton of nutritional benefits, with the Harvard School of Public Health noting their potential to lower blood sugar, improve cholesterol levels, and possibly even protect against breast cancer, but they are a lot more versatile than people give them credit for. Lentils can be used in curries, chili, and pasta dishes, and they are especially good in salads.
As The Flexible Fridge's Susan Olayinka tells us, "I remember last year during my lunch breaks, I always used to go to this Greek restaurant [where] they serve [lentil and spinach] salad, and it was actually amazing, so I thought I had to recreate it myself." This Mediterranean-inspired recipe is the result of her experimentation, and while we can't say how it compares to the original, we've got to agree with Olayinka's assessment of "amazing."
Gather the ingredients to make this salad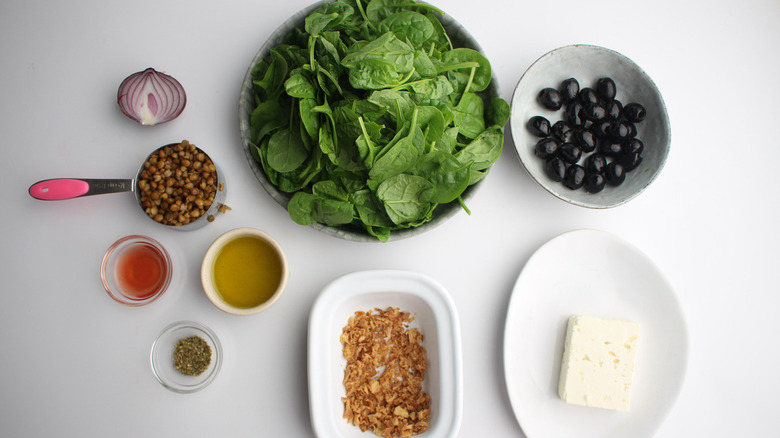 Susan Olayinka/Mashed
This salad requires a variety of vegetables. Two of these veggies fall under the heading of fresh produce: the red onion and the spinach. You'll also need some green lentils, of course, as well as some crispy fried onions and some black olives. Olayinka used the whole kind of olives, but sliced ones would also work if you prefer these.
You're also going to need some feta cheese as a salad topper, and for the dressing, you'll be using extra virgin olive oil, red wine vinegar, and dried oregano.
The green lentils will need to be cooked before you make the salad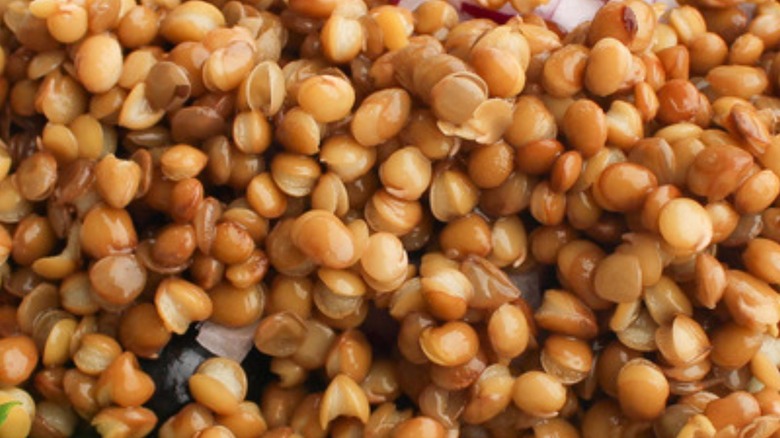 Susan Olayinka/Mashed
Before you can assemble the salad, you'll need to cook the lentils. Olayinka is using green lentils here, a good choice for use in a salad as they retain some firmness when cooked. Red lentils, on the other hand, tend to become mushy, so they're better for soups and other dishes where their texture doesn't play such a significant role.
Rinse a quarter cup of raw lentils in a sieve, then put them in a pot with a cup of cold water. You can also add a small dried bay leaf or a garlic clove if you wish. Bring the lentils to a boil, then turn down the heat to a very low setting, cover the pot, and let the lentils simmer for 20 minutes or until they're tender. Drain the lentils and let them cool. This will provide you with the half-cup of cooked lentils you need for this recipe.
Prepare the toppings and dressing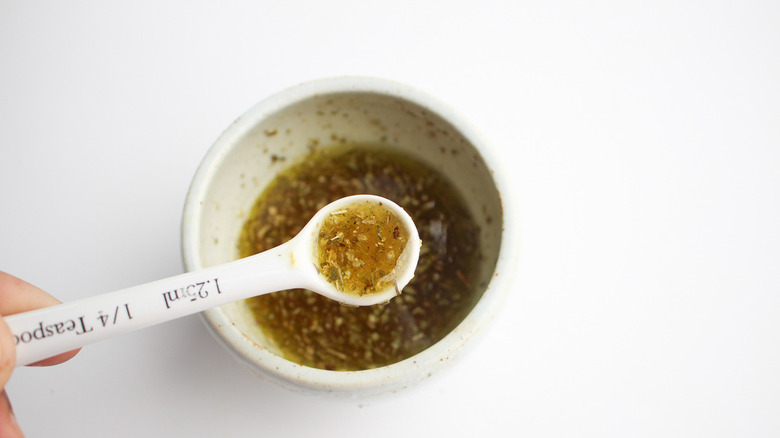 Susan Olayinka/Mashed
Peel and dice the onion or at least the half that you'll be using in this recipe. If you bought a chunk of feta cheese, as Olayinka did, you'll also need to crumble it yourself. If you bought the pre-crumbled kind, you can skip this step, of course.
To make the salad dressing, mix the oil with the vinegar and oregano, whisking until they're well combined. You can also use a salad cruet with a stopper and shake all of the ingredients together.
Toss and dress the salad before serving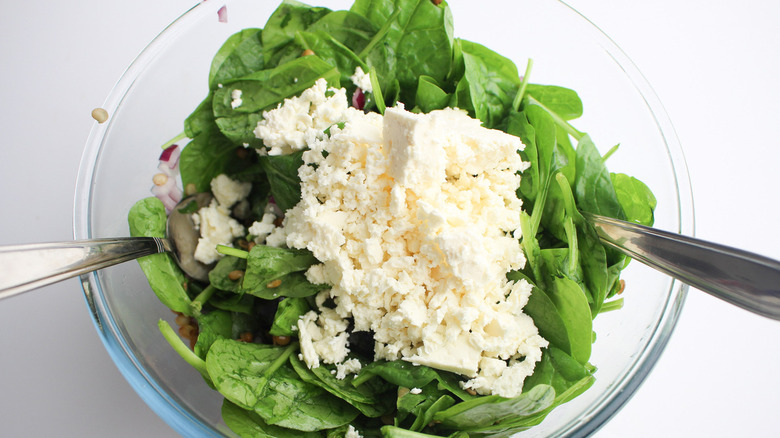 Susan Olayinka/Mashed
Fill a large salad bowl with a layer of spinach leaves, then start piling on the toppings. Add the red onions, the crumbled feta, the olives, the cooled lentils, and the crispy onions, then toss all of the ingredients together until they're thoroughly mixed. Drizzle the vinaigrette dressing over the salad, then toss it once more.
Olayinka says this salad is "pretty balanced," as it contains not only healthy greens and veggies but also protein from the lentils and cheese. She says you could add some carbohydrates to turn this salad into a complete meal, and she suggests that you could "serve this in a wrap with some meat." Olayinka also adds that this lentil/spinach salad "pairs amazingly with grilled chicken," as that combo used to be one of her go-to meals.
Lentil And Spinach Salad Recipe
Lentils can be used in curries, chili, and pasta dishes, and they are especially good in salads just like this one. Give this fresh recipe a try.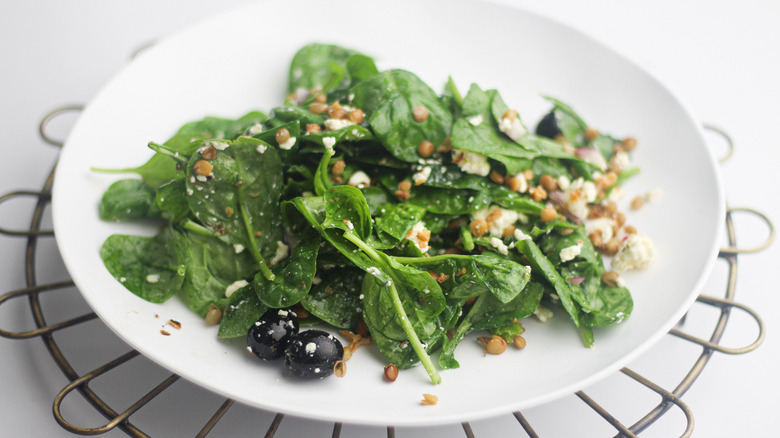 Ingredients
½ red onion
½ cup feta cheese
2 tablespoons extra virgin olive oil
1 tablespoon red wine vinegar
½ teaspoon dried oregano
5 cups raw spinach
½ cup black olives
½ cup green lentils, cooked
¼ cup crispy fried onions
Directions
Dice the red onion and set it aside.
Crumble the feta cheese and set it aside.
Mix oil, vinegar, and oregano and set the dressing aside.
Layer the spinach, red onion, feta cheese, olives, lentils, and crispy fried onions in a bowl.
Toss the salad and sprinkle it with dressing right before you serve it.
Nutrition
| | |
| --- | --- |
| Calories per Serving | 266 |
| Total Fat | 15.0 g |
| Saturated Fat | 4.7 g |
| Trans Fat | 0.0 g |
| Cholesterol | 16.7 mg |
| | |
| --- | --- |
| Total Carbohydrates | 24.3 g |
| Dietary Fiber | 4.5 g |
| Total Sugars | 2.1 g |
| Sodium | 362.5 mg |
| Protein | 10.4 g |