The Pioneer Woman Cuddling Some Furry Friends May Be The Cutest Thing On Instagram Today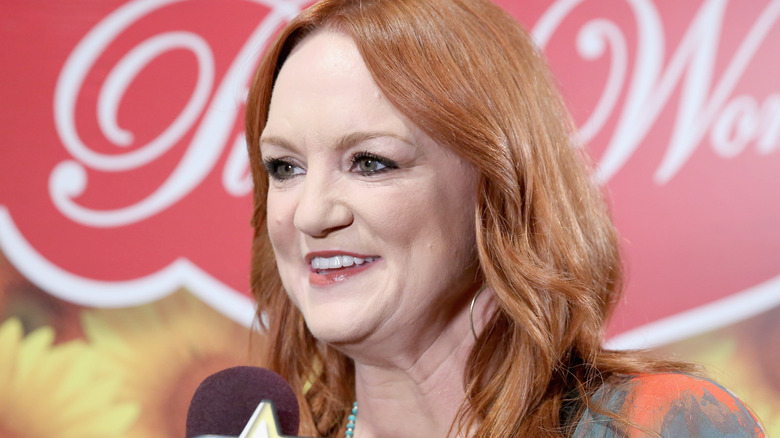 Monica Schipper/Getty Images
Yesterday, Ree Drummond, better known as The Pioneer Woman, showed that despite the remoteness of celebrity, certain experiences remain universal. She made an Instagram post that showed her posing with two dogs. One, a large dog, has its paws in her lap. The smaller pup of the two sat nearby, watching from the side.
"If I ever come over to your house and you can't find me for a while, just look for your dogs," she wrote in the caption. "Dogs are my favorite people! No offense to my friends and family. Okay bye!" While a preemptive apology was included, it was unnecessary for her fanbase. As of writing, almost 90,000 people have liked her photo. Most of the comments identified with the spirit of the post with either a series of heart emojis or writing a variation of "me." "I literally have to remind myself to greet the humans first before I greet the dogs when I visit people," one wrote. As it would seem, most like dogs better than people.
Dogs of the pioneer
On The Pioneer Woman's website, there is a 2020 blog post all about the Drummond dogs. Most of them are Basset hounds. "I've loved bassets all my life," Drummond explains. "Their excess skin, floppy ears, droopy eyes, and hilarious personalities keep me entertained and make my heart leap." The Drummond dogs don't stop there: the family also owns two yellow labs (Lucy and Duke) and Walter, a German Shepherd. In fact, her Bassets have become regular features on her Instagram account, such as this picture of Fred and Paige snuggling and this video of them galumphing through a field.
Neither of the dogs in the post, however, are included in this list. Now, they could be recent additions. Alex Marie Drummond, Ree's daughter, seems to be familiar with them, calling them Missy and Riley in a comment. But a quick look at who is tagged in the post reveals that Ree Drummond, her sister Betsy, and their longtime friend Cyndi Kane had a get-together, which implies that the furry friends belong to one of them. Either way, Drummond reminds us that any day we get to hang out with dogs is a good one.