How Duff Goldman Really Feels About His Harry Potter Cake History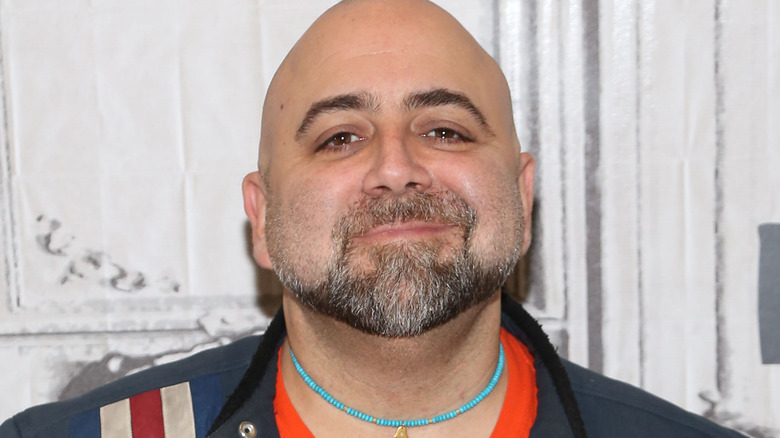 Manny Carabel/Getty Images
Pastry chef Duff Goldman has had a lot of cool job opportunities come his way over the years, one of the most impressive being his longstanding relationship with the Harry Potter franchise. Goldman and his extremely talented team at Charm City Cakes have been making cakes for "Harry Potter" premiere parties for almost as long as the series has been around, per Grub Street. So when the final installment was slated to hit theaters in 2011, Goldman knew this was his last chance to truly capture the essence of the franchise while also paying respect to the cast and crew who turned the magical series into a global phenomenon.
The night of the "Harry Potter and the Deathly Hallows: Part 2" premiere was a full circle moment for Goldman, who decided to create a Hogwarts-themed cake as a nod to the Hogwarts cake he had made for his very first Potter premiere many years prior. This time around, he went bigger, brighter, and better. "This is a great way for us to get closure, because Harry Potter kind of made us get better at what we do," he told Grub Street. "And so looking at the cake we made tonight versus the one that we made for them the first time, it's amazing to see how much better we got."
The Hogwarts-themed cake had over 120 LED lights and a smoke machine.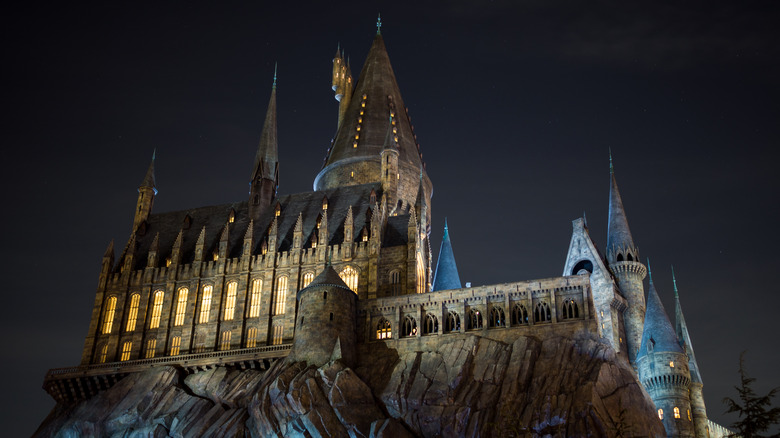 Woramet Muangsiri/Shutterstock
The reimagined cake Duff Goldman made for "Harry Potter and the Deathly Hallows: Part 2" featured a "totally destroyed" version of Hogwarts as an homage to the movie scene where Voldemort and his villainous posse vandalize the wizarding school, nearly burning it down to rubble (via Grub Street). To pull this off, Goldman and his team used over 120 LED lights (all set on different timers) and built in a smoke machine to make Hogwarts look like it's literally catching on fire.
In case you were wondering, yes, the cake was edible. However, in order to feed everyone at the premiere party and in a timely fashion, they made several ready-to-serve cakes beforehand. Those cakes were pumpkin-chocolate chip, cardamom-pistachio, peanut-butter-chocolate, carrot, and strawberry shortcake flavored. Suffice to say, moviegoers had plenty of cake to choose from. The Hogwarts cake on display was made from pound cake, and took two full weeks to make. According to Food Network, Rupert Grint, who plays Ron Weasley, cut the first slice.