Nearly 40% Agree This Sandwich Shop Has The Worst Quality Chicken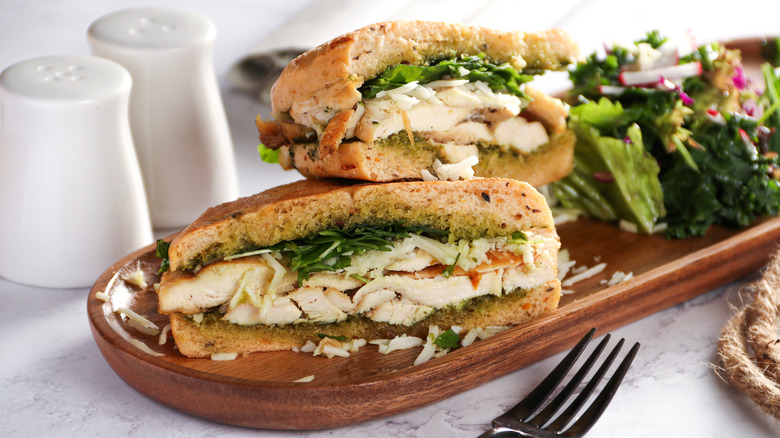 MOUTASEM PHOTOGRAPHY/Shutterstock
You might associate the words "chicken sandwich" with fast food warfare. Chains such as Chick-fil-A and Popeyes have famously entered the sandwich battle arena. But even more beef-centric brands like Burger King and McDonald's entered the fray. But what might get lost in all this fast food focus is that classic sandwich shops can be a surprisingly good option for a quick chicken sandwich on a busy day. After all, sandwiches are their bread and butter, possibly with delicious chicken wedged between two slices.
With so many eateries offering their unique take on the classic dish to customers, it's important for sandwich shops to ensure that the quality of the meat is top-notch. Unfortunately, not every place can be rated as the best source for high-quality chicken. So Mashed conducted a survey with 657 respondents in the U.S. who were asked to pick the sandwich shop they thought had the worst chicken in terms of quality. Here's what we found.
Subway lost this round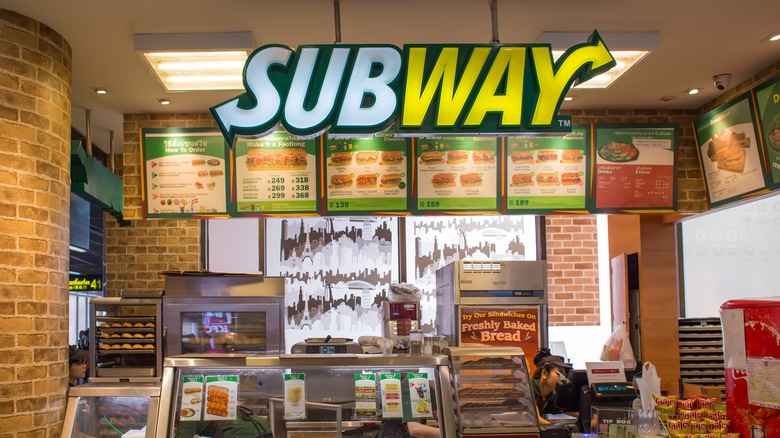 Settawat Udom/Shutterstock
The Mashed survey included popular sandwich shop options. Perhaps the biggest name got the biggest chunk of the vote, as 39.88% of the respondents chose Subway as the place with the worst quality chicken. The remainder of the votes went to Blimpie (20.09%), Quiznos (12.79%), Jimmy John's (8.83%), Penn Station (7.91%), Jersey Mike's (6.70%), and Firehouse Subs (3.81%).
Subway chicken has received negative attention in the past. According to the CBC, in 2017, DNA tests requested by CBC Marketplace indicated that a Subway's roasted chicken may only have around 53.6% chicken DNA while the chicken strips had just 42.8%. The tests suggested the rest could mostly be soy. Subway disputed those claims in a statement claiming that the recipe for the chain's chicken calls for no more than 1% soy protein. "We will look into this again with our supplier to ensure that the chicken is meeting the high standard we set for all of our menu items and ingredients," it added.
A Redditor said that they weren't taken aback by the DNA claims because they thought Subway's chicken "doesn't really have the texture of good chicken." The matter escalated as Subway tried unsuccessfully to sue the CBC. The chain provided its own evidence in court that its chicken contained 1% soy (via Vice). Either way, it seems like customers still reckon that Subway can do better when it comes to the quality of its chicken.