Instagram Rains Heart Emojis Over Photo Of Padma Lakshmi 'Twinning' With Daughter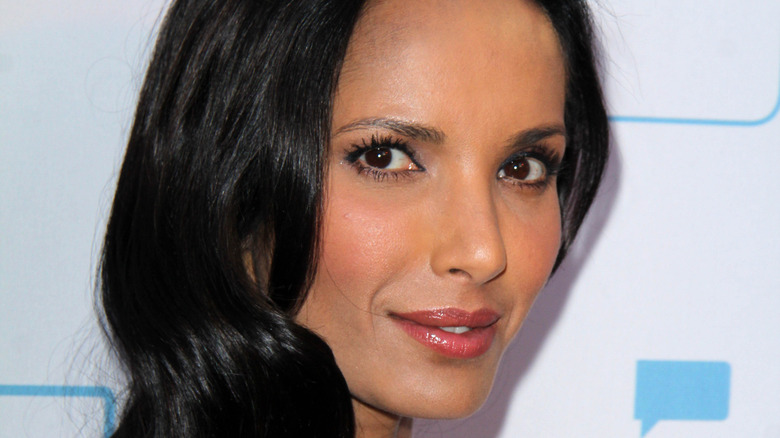 Kathy Hutchins/Shutterstock
Stop the digital presses, social media: we may have a new Internet trend on our hands. The bad news? Only two people in the world can participate in this one. The good news? Those two people are Padma Lakshmi – celebrity chef, activist, and all-around interesting person – and Lakshmi's 11-year-old daughter, Krishna Thea. The mother-daughter duo has (perhaps inadvertently?) now appeared in at least two Instagram posts in which they are wearing matching outfits (via People).
An embarrassing fashion faux pas? Uh-huh, honey. Lakshmi captioned her recent post, a photo of herself and her mini-me, dressed in black and en route to a movie premiere, with the unapologetic "Twinning & winning before the @shangchi premiere [sparkle emoji] #littlehands #tbt #shangchi." In a time when it may feel like the world is (literally) on fire, this is intentional sweetness and innocence at its finest, and we are here for it. The best part is that it's not the first time Lakshmi has made it rain heart emojis in the sunny world of Instagram. Not long ago, Lakshmi and her daughter graced the Internet with their matching presence in a throwback post of the pair wearing studded black jeans, captioned, "Twinning & winning with my girl."
Twinning and winning with positive messaging
For Lakshmi, a former model and current author of a children's book about food, the positive portrayal of body image is as important as the messaging that accompanies it. As she recently told Us Magazine, "I have a tween girl now, and it's very important how we talk about our bodies." Lakshmi added, "We want to be careful about the language we use on social media, on billboards, all media."
If the comments on Lakshmi's Instagram post are any indication, the images and language she is putting out into the world are much appreciated and received with the intention Lakshmi talks about. While the recent photo garnered plenty of comments about how glamorous the Lakshmi ladies look, many of Lakshmi's followers are simply awed by the way Krishna Thea is looking up at her mom in the photograph. "Wow, Padma," says one user. "To see her love for you is very special, and opens my heart." Another says, "She loves you so much" and yet another reads, "I love the way she's looking at her mom. Pure unadulterated love. There's nothing like it." 
No doubt Lakshmi, who is a single mother (via Yahoo! Life), committed to raising Krishna Thea with a confident, healthy sense of self, enjoys the comments about how happy the two of them look, even more than how great they look. And that's the kind of trend the Internet needs right now.