Sunny Anderson Made This Bobby Flay-Inspired Upgrade To Her Burger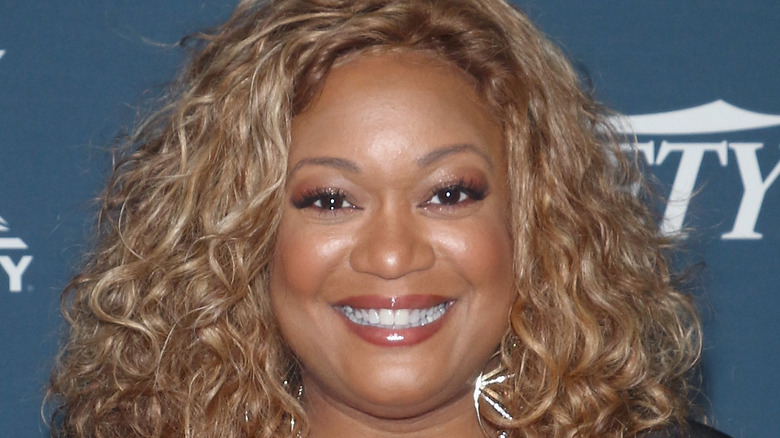 Jim Spellman/Getty Images
Sunny Anderson may be on a constant mission to find someone that can put Bobby Flay in his place on his hit Food Network series "Beat Bobby Flay," but that doesn't mean that the chef doesn't hold a special place in her heart. As Showbiz Cheat Sheet points out, the host of "The Kitchen" is actually very pro-Flay, and often shows her admiration for the New Yorker on social media and even through her clothing. Therefore, it should come as no surprise that Anderson pulled a page right out of her pal's book when curating the recipe for her Spicy Green Goddess Burgers, which call for the same unique ingredient that Flay adds to many of his own burgers: Potato chips.
"Just know that I think when it comes to a burger, @BobbyFlay is correct as usual, there's no more perfect match than tater chips on top of a burger, not alongside," Anderson wrote in an Instagram post on Saturday, September 4. The 46-year-old explained that there was a particular potato chip out there for any type of burger, and when it comes to her Spicy Green Goddess Burgers, jalapeño-kettle chips are the best choice (via Food Network). "I mean, it's meat n potatoes with texture, what's not to like?" she said.
Fans love the idea of 'crunchifying' burgers and sandwiches
Fans of Sunny Anderson certainly seemed to approve of the Bobby Flay-inspired upgrade to her Spicy Green Goddess Burgers. "Love the addition of potato chips," one follower commented on her Instagram post, while another said that they were great on "EVERY sandwich," not just burgers. A third fan praised the topping as well, though took a small issue with Anderson giving Flay all the props for the idea. "My brothers and I used to put chips on our turkey or ham sandwiches back in the dan and then burgers later! Give me some credit Bobby! Lol!" user krystalklearpro wrote.
Flay himself even admits that he isn't the inventor of potato chip-topped hamburgers. However, Eater says that he has trademarked both the terms "crunchify," a.k.a. the practice of putting potato chips on top of a burger," and "Crunchburger," which is what he calls the creation at his Bobby's Burger Palace restaurants. So we suppose he does deserve a little bit of credit. As for why he's so keen on the pairing, Flay explained to TODAY that "there is nothing better than getting a mouthful of juicy burger and salty, crispy potato chip in one bite." We're not sure about you, but that definitely sounds delicious to us and certainly explains why Anderson borrowed the technique for her Spicy Green Goddess Burgers.