Oktoberfest Fans In Ohio Have Something To Smile About This Year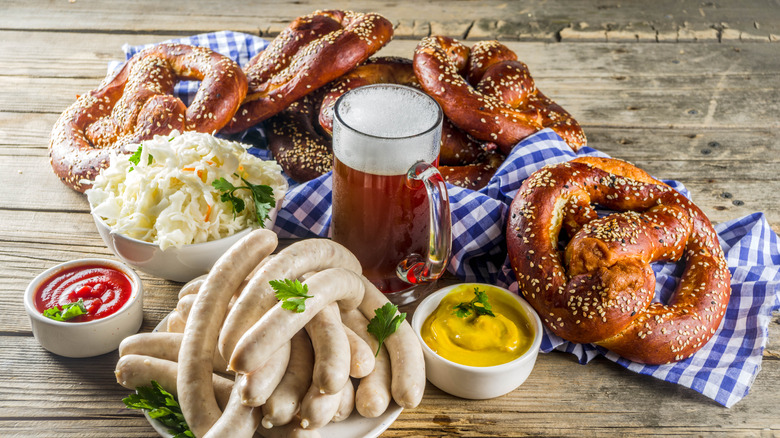 Rimma Bondarenko/Shutterstock
Oktoberfest, the traditionally 16-day festival, first began in 1810 and takes place in Munich, Bavaria each year (via Bustle). During this period, more than six million people gather in Munich to celebrate Oktoberfest through music, entertainment, food, and of course, plenty of beer.
Although a German festival, Oktoberfest is popular in the US, too, with pretty much each state having its own version of the festival. Last year was a bit of a bummer for Oktoberfest fans in Ohio, though. Due to COVID-19 and the restrictions placed on public gatherings, Cleveland canceled its 2020 celebration (via Cleveland 19). Thankfully, this year, the Cleveland Oktoberfest is back and will be ongoing for two weekends.
The first weekend kicked off at Cuyahoga County Fairgrounds over the Labor Day weekend, but the event will continue the following weekend (i.e. September 10 and 11). Clevelanders can buy one-day tickets for $15, a two-day pass for $20, or a one-day pass with a sausage platter from Sausage Autobahn (that includes a Five Star Bratwurst sandwich), for $25 (via The Cleveland Oktoberfest website).
Fans can expect plenty of bratwursts, schnitzel, and Oktoberfest-approved beer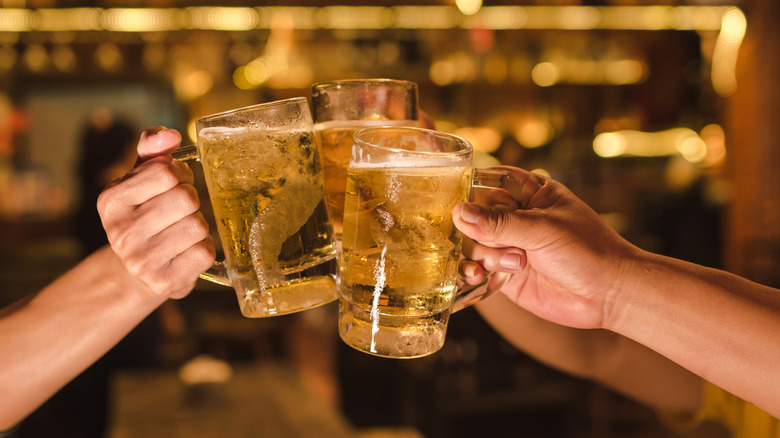 BELL KA PANG/Shutterstock
The two-weekend Oktoberfest is expected to attract 100,000 fans and has a packed schedule of fun activities for guests (via Cleveland 19). There will be wiener dog races, band performances, a Miss Oktoberfest contest, as well as fireworks. Local beer breweries will also get a chance to show off their best German and non-German brews at the festival's microbrew competition.
As with most Oktoberfest celebrations, beer and food are a huge attraction. Per the website, the beer at Cleveland Oktoberfest will be supplied by Paulaner, a Munich-based brewery that happens to be one of the six breweries that are allowed to pour at the official Oktoberfest in Munich (via the Paulaner website).
Per the website, the Cleveland Oktoberfest will also have food tents from both local Celevalnd-based German eateries, as well as outside vendors selling a mix of traditional and non-traditional German delicacies. Fans can expect to find a variety of German sausages, of course, as well as other food items like sauerkraut, cabbage and noodles, sausage sandwiches, German potato salads, pierogis, and potato pancakes. The festival will also have American fair classics like cotton candy, hot dogs, corn dogs, pretzels, candy apples, and pizzas. All in all, Oktoberfest fans in Ohio can expect a fun weekend of beer drinking and sausage eating!