Grilled Sweet Potato Wedges Recipe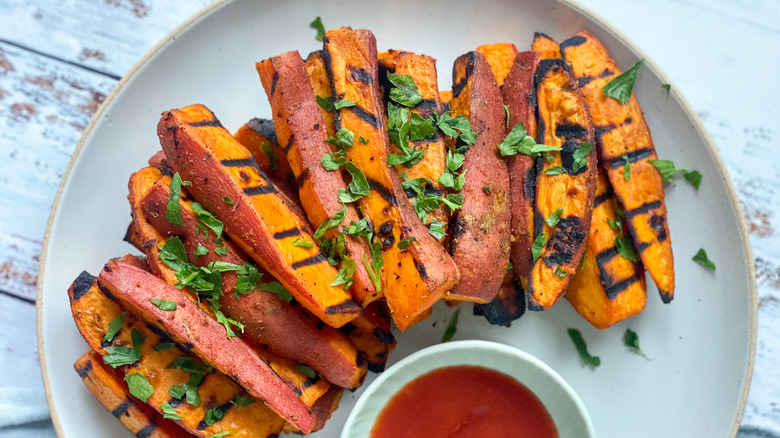 Hayley MacLean/Mashed
The grill can be used to make a myriad of recipes, but few things are better than grilled sweet potatoes. Recipe developer Hayley MacLean came up with this fantastic recipe which is a perfect main course or side dish for vegans and vegetarians, and also a great accompaniment to protein-heavy entrees, such as steak, burgers, and chicken. Really, they go great with anything.
"What I like most about this recipe is the great char that forms on the sweet potatoes while grilling them!" MacLean raves. "They take on a wonderfully smokey flavor that just can't be obtained through other cooking methods. Plus, because of they way they are cooked they are nice and soft on the inside while staying crispy on the outside — the perfect combo!"
She suggests serving them at an outdoor gathering (or any gathering, for that matter). "These sweet potato wedges would be perfect at any barbecue! They grill up right alongside some burgers or hot dogs and make a great substitution for regular French fries," MacLean shares. "Plus, having a variety of dipping sauces available makes them suit almost any taste!"
Gather the ingredients to prepare grilled sweet potato wedges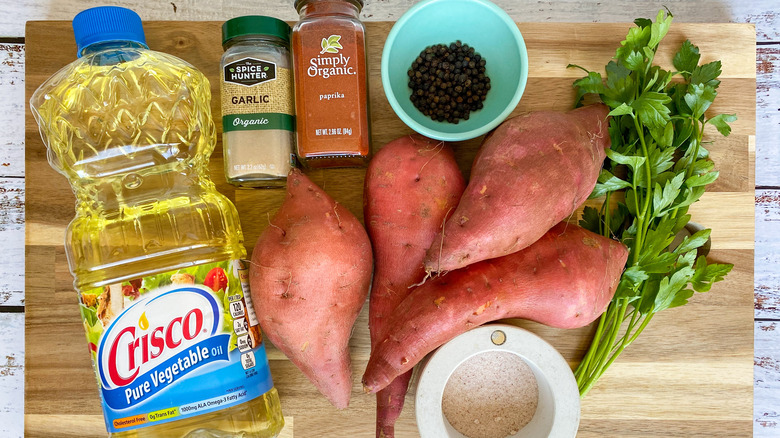 Hayley MacLean/Mashed
The first order of business is to gather all of the ingredients necessary for this dish. For starters, you will need a few medium sweet potatoes cut into wedges. Each potato should make about eight wedges. You also need some vegetable oil, so the potatoes will brown on the grill.
The remaining ingredients are spices that will give the sweet potatoes a flavor boost: paprika, garlic powder, salt, and black pepper. Finally, you'll want some fresh parsley for garnish. Now, let's get to cooking! 
Preheat the gas grill, oven, or grill pan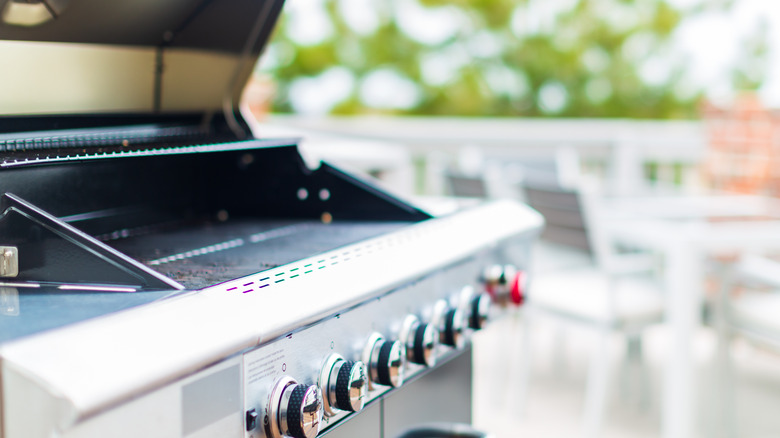 Arina P Habich/Shutterstock
Preheat your grill before doing anything else. MacLean prefers to use a gas grill. "[For this recipe], I ignited the burners, set the heat to medium-high, and closed the lid until it was at about 350 F so it gets nice and hot before you're ready to throw the potatoes on." If you're using an oven, preheat to 400 F so the potatoes will get a nice brown color. You can also use a cast iron grill pan that, according to MacLean, "would allow for some great grill marks too!"
Regardless of heating source, it's crucial to preheat ahead of time since it needs to be hot to cook the potatoes properly. It may seem like a hassle to have to wait, but trust us, it's worth it. 
Parboil the potatoes in a large pot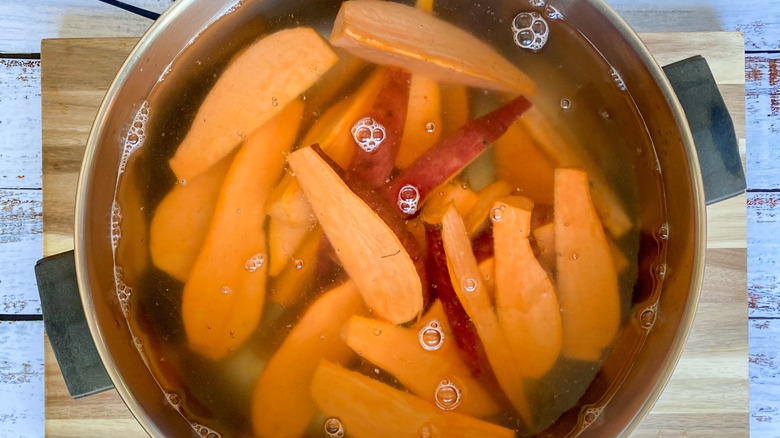 Hayley MacLean/Mashed
Place a large pot on the stove. Add salt and enough water to cover the potatoes. Cook over high heat. Once you see bubbles start to reach the surface of the water, that means it's time to add the sweet potatoes. Remember, you should have cut them into wedges ahead of time, which will help them to cook a little faster. Cook for two to three minutes until the potatoes are tender.  
Coat the potatoes with the spices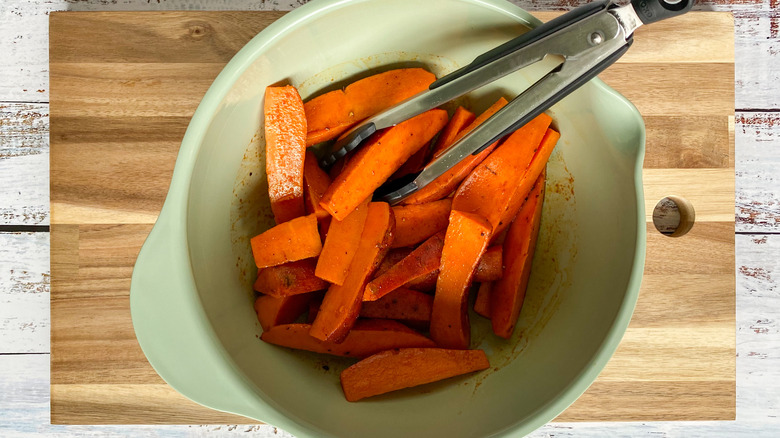 Hayley MacLean/Mashed
Once the potatoes are done, remove from heat and drain the water. Be careful when you handling the sweet potatoes and water because both will be really hot. In a large mixing bowl, add the vegetable oil, which will help the spices stick to the potatoes. Add the potatoes, paprika, garlic powder, salt, and black pepper. Give everything a few good tosses to coat the potatoes. Now, they're ready for the grill.
Grill the potatoes, serve, and enjoy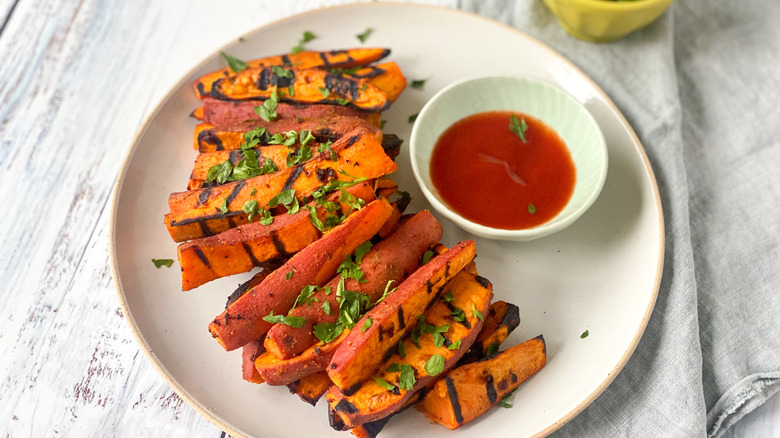 Hayley MacLean/Mashed
By now, the grill should be hot and ready for the potatoes. Place the sweet potatoes on the grill grates. Cook for three to four minutes on each side. If using an oven, MacLean recommends cooking on each side for about 10 minutes. Same for a grill pan. 
Once the potatoes are done, remove them from the heat, transfer to a plate, and serve. MacLean shares that these are best served immediately. You can pair it with a dipping sauce of your choice, such as ranch. But MacLean loves to keep it simple. "I love serving these with just ketchup," she says. "Its sweetness goes perfectly with the sweet potatoes!" To spice things up a bit, MacLean says "a chipotle or garlic aioli can be used for dipping, and both are quite tasty."
As for leftovers? If there are any, they will be good for three to five days covered and stored in the fridge.
Grilled Sweet Potato Wedges Recipe
The grill can be used for a myriad of recipes, but few things are better than these grilled sweet potato wedges. They make an ideal side or satisfying entrée.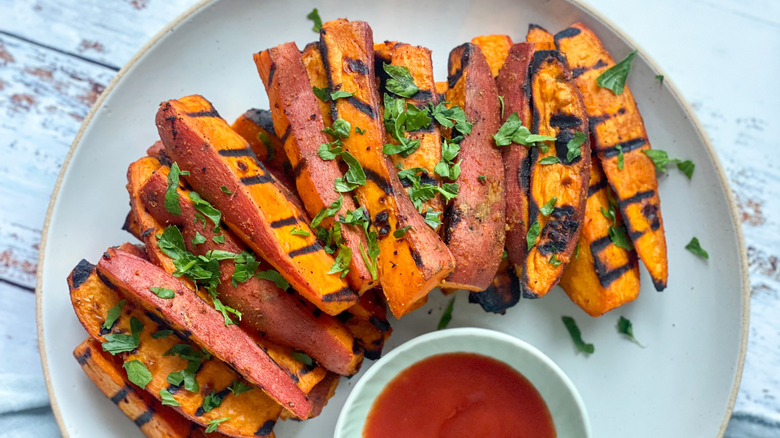 Ingredients
4 medium sweet potatoes, cut into wedges
2 tablespoons vegetable oil
½ teaspoon paprika
½ teaspoon garlic powder
½ teaspoon salt
¼ teaspoon black pepper
2 tablespoons fresh parsley, minced
Directions
Preheat the grill on medium-high heat.
Bring a large pot full of salted water to a boil. Add the sweet potatoes and boil for 2 to 3 minutes until tender.
Remove the potatoes from the water, and toss with the vegetable oil, paprika, garlic powder, salt, and black pepper.
Place potatoes on the grill and cook for 3 to 4 minutes per side.
Serve immediately with dipping sauce of your choice.
Nutrition
| | |
| --- | --- |
| Calories per Serving | 141 |
| Total Fat | 5.7 g |
| Saturated Fat | 0.4 g |
| Trans Fat | 0.0 g |
| Cholesterol | 0.0 mg |
| | |
| --- | --- |
| Total Carbohydrates | 21.5 g |
| Dietary Fiber | 3.3 g |
| Total Sugars | 4.4 g |
| Sodium | 260.0 mg |
| Protein | 1.8 g |