Simple Banana Avocado Smoothie Recipe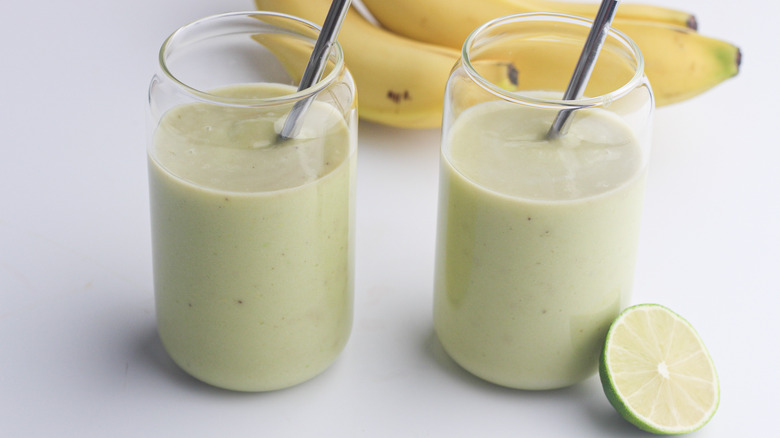 Susan Olayinka/Mashed
It's easy to find complimentary adjectives to describe this smoothie designed by chef and recipe developer Susan Olayinka of The Flexible Fridge. Delicious comes to mind, as does filling, quick and easy, and healthy. It's a bit more difficult to define the smoothie, though. Is it a meal replacement option for breakfast? Is it a sweet treat for a healthy dessert? An afternoon snack to get you through the end of the work day?
In a word, yes. Olayinka says it can be all those things indeed. And as these smoothies are remarkably quick and easy to make, you may well find yourself enjoying them in myriad capacities throughout the week. The one thing to watch for? The perfect banana ripeness, as that's where all of your sweetness comes from. An under or over-ripe banana can throw off the flavors. "Just make sure that the bananas don't have too many black spots on them," Olayinka says. "I find that when it's just about to approach the black spot stage, it's better in terms of the sweetness. [And] with regards to the avocado, just make sure that it's not too hard and it's not too soft."
All good? If so, let's get to blending.
Gather the ingredients to prepare this banana avocado smoothie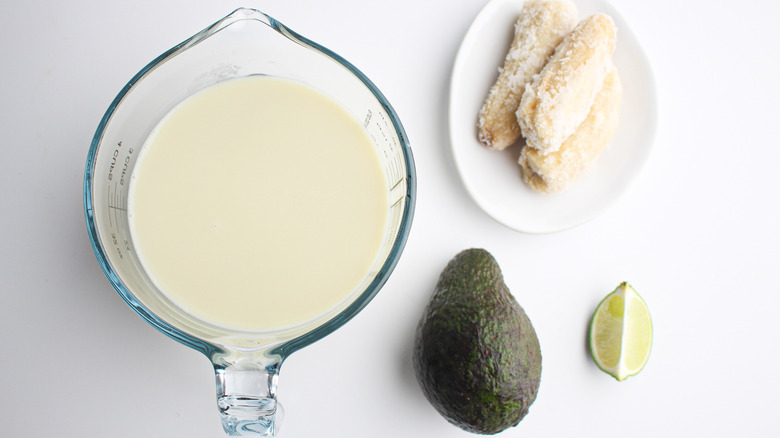 Susan Olayinka/Mashed
This smoothie calls for just four ingredients: frozen bananas (make sure you give them at least two or three hours in the freezer), fresh avocados, milk (dairy milk or a nondairy option are fine), and a bit of lime juice. That's it!
You can store those perfectly selected bananas in the freezer for a number of months without them degrading, but when it comes to selecting good avocados, that's always a bit trickier. Olayinka says, "I always take the 'pip' at the top out, and if it's nice and green [underneath], you are good to go!"
Blend all the ingredients until smooth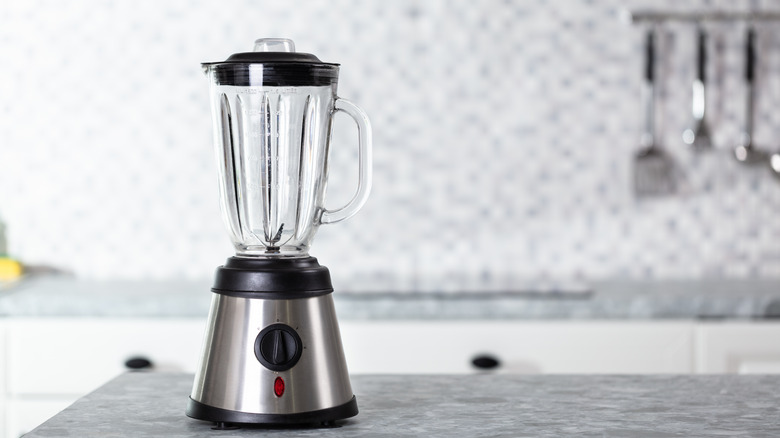 Andrey_Popov/Shutterstock
You thought the ingredient list for this avocado smoothie was pretty simple, eh? Well, the rest of the recipe will continue to be refreshingly simple. 
Scoop the flesh out of the avocado and discard the pit, then put that lovely green stuff into a blender. Place the remaining ingredients into the blender as well (best to go frozen banana chunks first, then lime juice, then milk) and then blend everything on high speed for 30 seconds. And that's it! You can now serve and enjoy your smoothies in whatever glassware you'd like.
The health benefits of this smoothie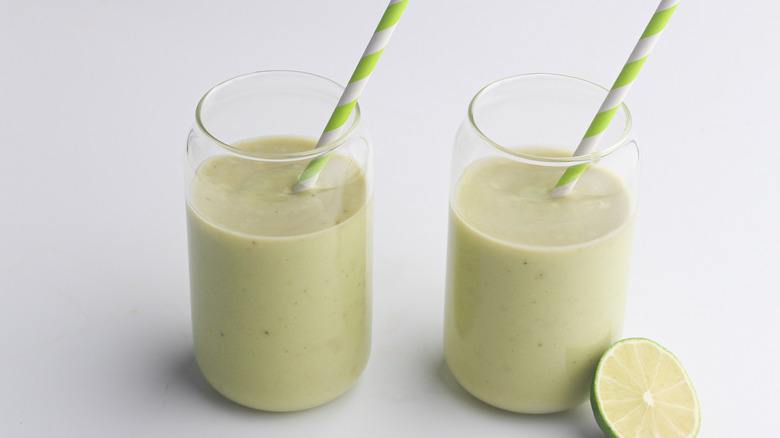 YARUNIV Studio/Shutterstock
You know bananas and avocados are both good for you, but do you know some of the specific reasons why? They're worth noting, because they're pretty impressive.
According to Healthline, bananas are great source of vitamin B6, a good source of potassium, vitamin C, copper, and magnesium, and they deliver a good dose of fiber with almost no fat per serving, as in less than half a gram of fat per a 118 gram banana.
On the other hand, avocados do deliver a lot of fat, as in 15 grams per a 160 calorie serving, but they are healthy fats. Avocados are low in saturated fat and are cholesterol-free. They are also a great source of folate, vitamin K, vitamin C, and they pack in some potassium and vitamin E, too.
Simple Banana Avocado Smoothie Recipe
Four ingredients create this delicious and incredibly healthy banana avocado smoothie. Whether for breakfast or midday nosh, this recipe is always a good idea.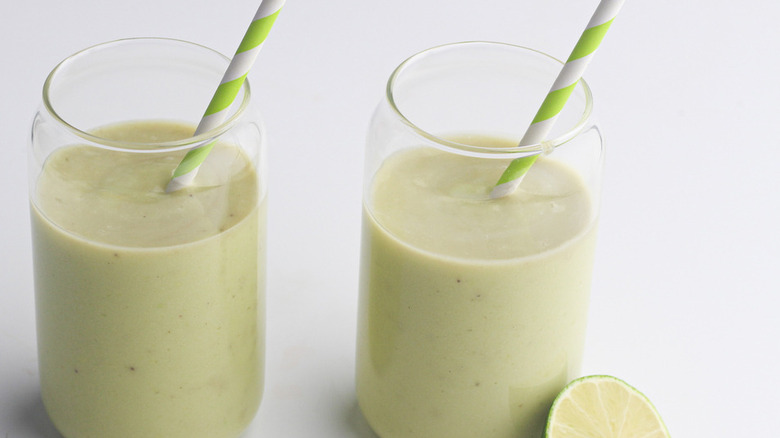 Ingredients
1½ cups of milk
1½ frozen bananas
1 avocado
¼ lime
Directions
Place milk, frozen bananas, avocado, and lime juice into blender.
Blend on high for 30 seconds.
Serve smoothies in jars or glassware.
Nutrition
| | |
| --- | --- |
| Calories per Serving | 352 |
| Total Fat | 21.0 g |
| Saturated Fat | 5.6 g |
| Trans Fat | 0.0 |
| Cholesterol | 18.3 mg |
| | |
| --- | --- |
| Total Carbohydrates | 38.1 g |
| Dietary Fiber | 9.2 g |
| Total Sugars | 20.7 g |
| Sodium | 86.8 mg |
| Protein | 8.8 g |