Easy Savory Oats Recipe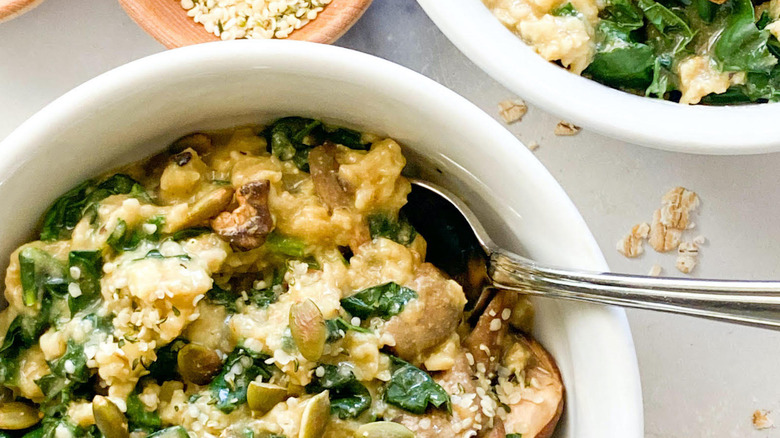 Miriam Hahn/Mashed
Savory oats make for a delicious vegan meal and a perfect breakfast. "I have it almost every morning," says wellness coach and recipe developer Miriam Hahn, who regularly features her healthy and flavorful recipes on her Instagram. This savory oatmeal recipe combines vegetables, seeds, and oats, which make this dish ideal for anytime of day. It's simple and quick, and with just a few ingredients, you can create a dynamic flavor and texture profile blending crunch with cream. Flavor and simplicity aside, you can't say enough about the health aspects of the meal. 
These easy savory oats were created with the perfect blend of everything you need to start even the most active day on the right foot. Plus, Hahn made sure every ingredient is the highest quality. This dish is an excellent option to start the day or "it could be eaten for lunch and dinner," as Hahn says, adding, "This will last all week in a sealed container. I always make extra and just reheat leftovers." 
Pull together your savory oats ingredients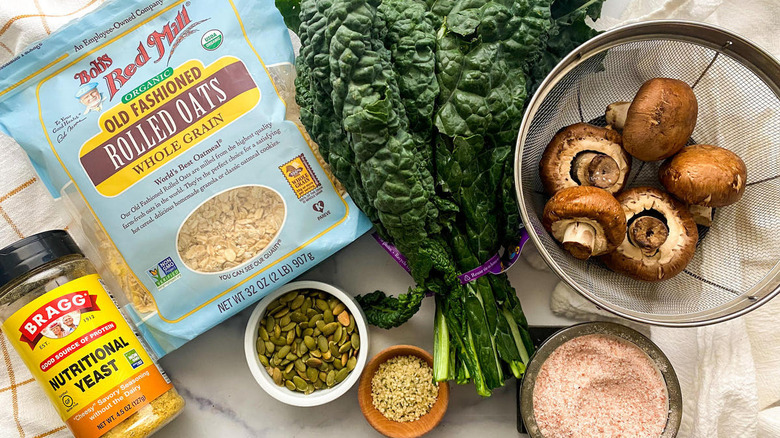 Miriam Hahn/Mashed
One of the more attractive aspects of this savory oats recipe is how simple it is. The ingredients are all basic plant-based edibles found at almost any store. Since oats are the key ingredient in this recipe, Hahn says it's important to chose a high quality. She recommends using organic oats, as the non-organic variety is generally heavily-sprayed with pesticides. "I also never buy instant oats. They are more processed and don't have as much fiber. 
Slice the kale and mushrooms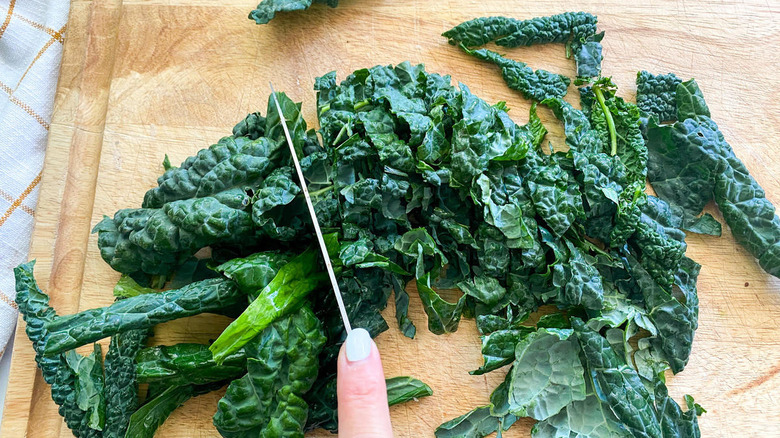 Miriam Hahn/Mashed
To prepare this dish, first cut the leaves from the stems of the kale. Cut the leaves into thin strips with a sharp knife. While kale stems can be cooked, for this recipe, we just want the leaves so the kale will blend more easily with the rest of the oat mixture. This is the most prep you'll need to do for this recipe. Rejoice! 
Cook the savory oats mixture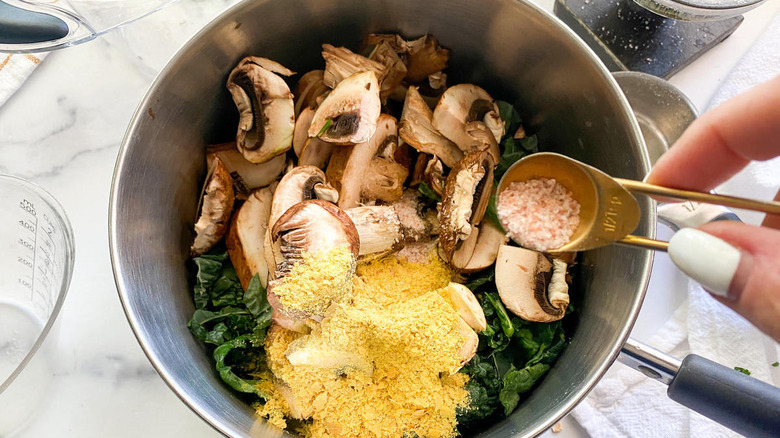 Miriam Hahn/Mashed
Place the kale and mushrooms (any mushroom will work in this recipe, but Hahn likes white, bella or crimini) in a medium pot, along with the oats, nutritional yeast, and salt. "Himalayan pink salt has over 75 minerals in it and is minimally processed," explains Hahn. "Regular table salt has been bleached which removes the minerals and is also full of anti-caking agents. I love using natural salts in my cooking and as a wellness coach, I always share with my clients the ingredients they can easily swap out for more nutrition." 
Finally, fill the mixture with 1 ½ cups of water. Bring the blend to a boil, then drop to simmer for 8 minutes.
Cook the pumpkin seeds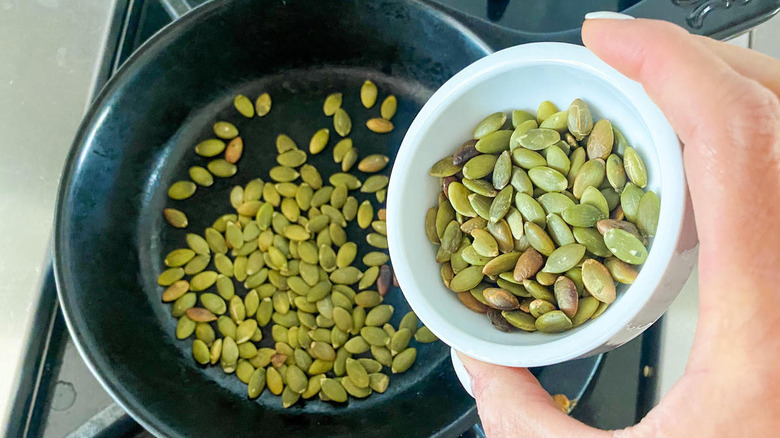 Miriam Hahn/Mashed
Once the mixture is simmering, turn your attention to the pumpkin seeds. Place them evenly spaced in a dry pan and cook on medium-high for about 4 minutes, shaking pan frequently, until the seeds start snapping. You should keep a close eye on the cooking seeds as these can burn easily. Once they are snapping, remove pan from the heat.
Put the finishing touches on your savory oats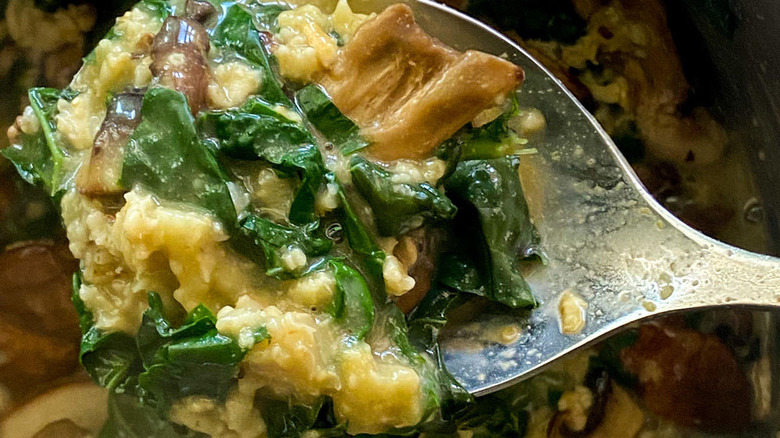 Miriam Hahn/Mashed
When the oats have finished cooking, remove them from the heat, and sprinkle with pumpkin seeds and hemp seeds. While this recipe calls for both hemp and pumpkin seeds, "any type of seeds will work," according to Hahn. "I often will use sesame or sunflower seeds. A crunch is nice with this [dish], and all seeds are highly nutritious." 
The crunch sets off the soft mixture of oats and vegetables in this savory oats recipe, making it all a perfect mixture. Now, the savory oats are ready to be served and enjoyed.
Easy Savory Oats Recipe
Ideal for anytime of day, this easy savory oats recipe combines the creaminess of oatmeal with the crunch of veggies and nutrient-dense pumpkin and hemp seeds.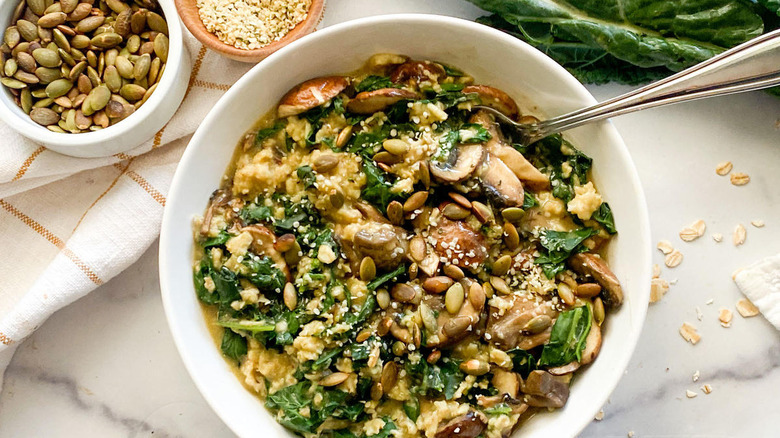 Ingredients
½ bunch dinosaur kale (about 2 cups)
1 ½ to 2 cups mushrooms, sliced
½ cup rolled oats
1 ½ cups water
2 tablespoons nutritional yeast
¼ teaspoon salt
2 tablespoons raw pumpkin seeds
2 teaspoons hemp seeds
Directions
Remove leaves from kale and cut into thin strips. Discard stems.
Combine the kale, mushrooms, oats, water, nutritional yeast, and salt in a medium pot. Bring to a boil, then lower to simmer and cook for 8 minutes.
Meanwhile, add the pumpkin seeds to a dry pan. Cook on medium-high heat, shaking pan frequently, for about 4 minutes, or until seeds start snapping.
Remove from heat and set aside.
When the oats are finished, remove from heat, transfer into bowls, and sprinkle with pumpkin seeds and hemp seeds.
Serve and enjoy.
Nutrition
| | |
| --- | --- |
| Calories per Serving | 214 |
| Total Fat | 7.9 g |
| Saturated Fat | 1.1 g |
| Trans Fat | 0.0 g |
| Cholesterol | 0.0 mg |
| | |
| --- | --- |
| Total Carbohydrates | 24.2 g |
| Dietary Fiber | 8.9 g |
| Total Sugars | 3.0 g |
| Sodium | 313.7 mg |
| Protein | 17.0 g |