Fans Of Jack In The Box's Cluck Sandwiches Will Want To Know About This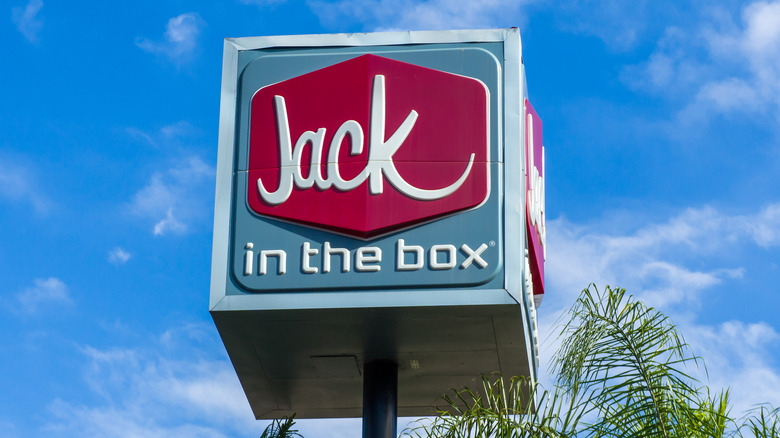 Ken Wolter/Shutterstock
Jack in the Box is a brand that claims to be there for "those who live outside the box," according to the company website. It has a plethora of menu items for those who enjoy experimenting with new food options and want to try something unconventional. Started back in 1951, the company has more than 2,000 restaurants in the U.S. and Guam and is constantly looking to grow. Also, there are scores of food items available for customers to feast on including but not limited to sandwiches, burgers, rolls, and tacos.
A Redditor praised Jack in the Box and wrote, "I rock with Jack, ultimate bacon cheeseburger is fire, curly fries are great, and they're always rolling out new menu items which I respect, even if they don't always hit." If you're a fan of the brand too, there's some good news for you. Jack in the Box has just released two new menu items for fans of its Cluck Sandwich, which was released in late 2020.
There are two new Cluck Sandwich options available
According to a report by Chew Boom, Jack in the Box is set to treat its fans with two new sandwich options this season. Say hello to the BBQ Cluck Sandwich and the BBQ Cluck Deluxe Sandwich. While the former has an "all white meat chicken fillet" with crinkle-cut pickles and BBQ sauce with a brioche bun, the latter also has a brioche bun, a chicken fillet, bacon, BBQ sauce, American cheese, and panko onion rings. Exciting news, huh? Plus, both dishes can be enjoyed with the intriguing Jack in the Box mystery sauce.
Customers can choose to order these menu items on their own or as a combo with fries and a beverage. Here's the best part: They're affordable options with the BBQ Cluck Sandwich available at $5.79 while its Deluxe counterpart can be bought ta $7.79. Choose a combo and you'll be paying as little as $6.99. Hurrah!