Masked Singer Season 6 Will Feature Some Epic Food Characters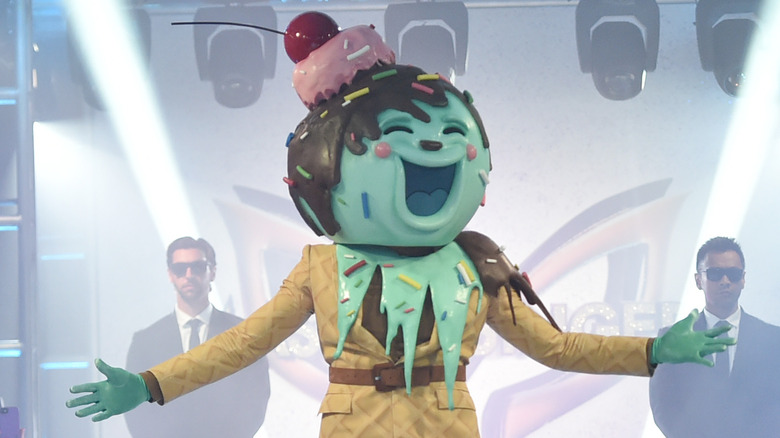 Alberto E. Rodriguez/Getty Images
Food loving fans of the buzzy mystery competition show "The Masked Singer" will have a new set of costumed crooners to root for as the upcoming season of the FOX hit will feature a few confectionary costumes that may just give you a sweet tooth. 
Since its debut in 2019, the hit Fox reality show has drawn in millions of viewers each week by adding a playful twist to the average televised singing competition (via TV Series Finale). Celebrities — from established singers, to professional athletes, to TV stars — belt out covers of popular songs in an attempt to be crowned the winner, all while wearing elaborate costumes that hide their identities. The panel of judges, and the audience at home, attempt to guess the hidden identities while voting out the singers one by one.
In anticipation of the upcoming sixth season of the hit competition show, Entertainment Weekly revealed the new lineup of costumed contestants that will be vying for the "Masked Singer" crown — including two particularly sweet costumes that could potentially get food-lovers voting.
Foodies will be rooting for these confection-themed costumes on The Masked Singer
The first of the food-focused contestants of "The Masked Singer" will be Cupcake, sporting a rainbow cupcake liner, thigh-high green boots, sprinkles, and glittery drips of frosting. The second dessert-themed contestant will be Banana Split, a two-part costume that will apparently be worn by a duo, with one sporting a banana mask and yellow suit, and the other wearing a glittering silver costume accentuated by scoops of Neapolitan ice cream and globs of chocolate fudge. The other, non-food related characters for the new season include Hamster, Queen of Hearts, Mallard, Dalmatian, and Bull (via Entertainment Weekly).
While there have been dozens of masked characters put on display over the previous past five seasons of the show, the number of food-related costumes has been relatively scarce. Past foodie-friendly costumes have included Ice Cream (worn by Youtube star Ninja), Egg (figure skater Johnny Weir), Mushroom (singer Aloe Blacc), Taco (host Tom Bergeron), Pineapple (actor Tommy Chong), and Banana (rockstar Bret Michaels).
The two-night premiere of Season 6 of "The Masked Singer" will air on September 22 and 23 on Fox.