The Heartwarming Way Denny's Is Responding To Hurricane Ida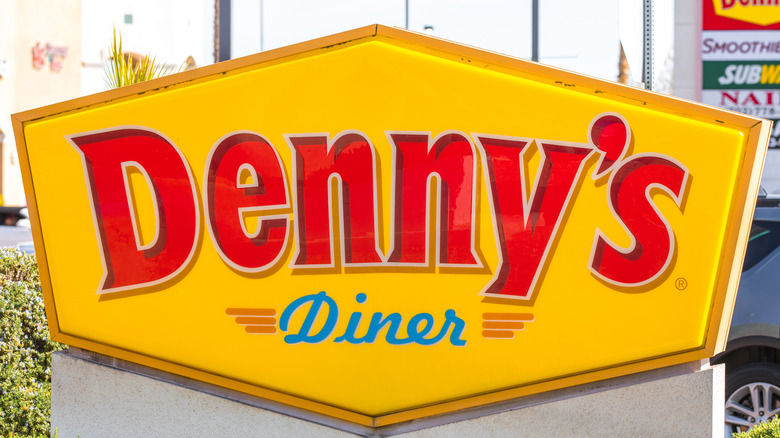 RYO Alexandre/Shutterstock
A week after Hurricane Ida reached Louisiana soil, over 598,000 residents were still without power and some may not have their electricity restored for over three weeks, according to CNN. It has been a devastating time for many living in the areas affected by the hurricane, but one restaurant is trying to provide a little bit of comfort – in the shape of warm pancakes – during this difficult time.
According to National Restaurant News, Denny's Corp. deployed its 53-foot mobile relief diner to LaPlace, Louisiana, a destination that was affected by Ida. The truck was designed for serving free, cooked pancake breakfasts in times of emergency, and according to the outlet, it was used to serve 1,500 hot meals this Labor Day. Denny's chief marketing officer John Dillon explained: "We see the devastation in local communities impacted by Hurricane Ida and the mobile relief diner allows us to do what we do best by going out into local communities to offer a hot and comforting meal during a time when they could really use it the most." As it turns out, Denny's has a history of helping out in emergency situations.
Denny's has used a mobile relief diner before
In 2018, during the wake of Hurricane Florence, Denny's first revealed its mobile relief diner as it was preparing to head to the Carolinas. According to a press release from the company, the truck had an initial test run in Northern California to feed communities affected by wildfires. The company pointed out that the traveling kitchen "works with local officials, disaster relief organizations, and local franchisees and store operators to identify the areas most in need."
Prior to the current iteration of the mobile relief diner, Denny's had a different kitchen on wheels that was sent to feed communities affected by Hurricane Harvey in Houston and Hurricane Irma in South Florida, according to the company. The truck has also been used more recently for other humanitarian purposes. According to National Restaurant News, before leaving for Louisiana to support residents that were affected by Hurricane Ida, Denny's used the truck to serve more than 400 Opa Locka, Florida residents Hearty Grain pancakes and turkey bacon in partnership with Health in the Hood, a Miami-based not-for-profit organization that develops community gardens in food deserts.
The truck was even used as part of Denny's recent hiring efforts. According to National Restaurant News, the truck traveled along US 66 in July bringing awareness to the 20,000 open positions the company had at the time. Apparently, the 53-foot vehicle worked as an attention-getter. According to the outlet, Denny's received 13,000 applications after the week-long tour. Talk about a Grand Slam!