Nearly 26% Of Shoppers Said This Product Isn't Worth Buying At Whole Foods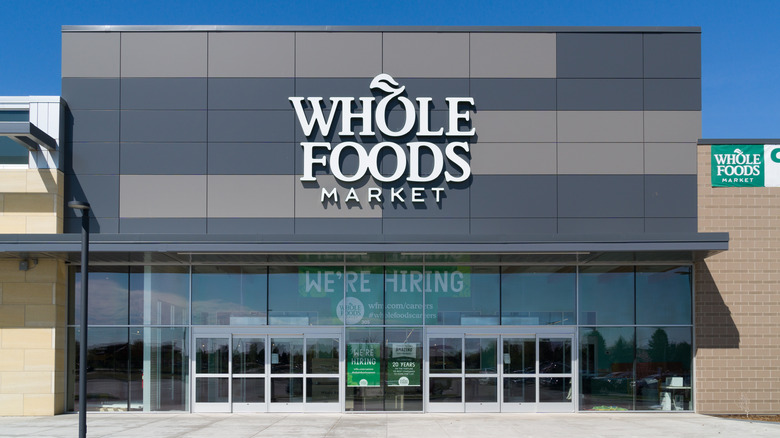 Ken Wolter/Shutterstock
Ever since Whole Foods opened its first store in Austin, Texas, back in the 1980s (via the Whole Foods website), the specialty grocery store has garnered quite the cult following. According to its thousands of fans, there are tons of reasons to shop at what Twitter has dubbed "Whole Paycheck" (via HuffPost) thanks to its famously high price tags. Maybe it's the beloved salad bar, with its plethora of unique offerings, from stuffed grape leaves to roasted red peppers (pre-COVID, of course). Or maybe it's the wide assortment of all-natural, vegan, gluten-free, locally made, or fair-trade goodies you can find in every aisle.
However, there are some things at Whole Foods that don't live up to the hype — and that don't validate spending a few extra bucks. Mashed polled over 600 people across the United States on what one product they believe isn't worth buying at the national chain. While the results were scattered, there was one thing that over a quarter of the survey respondents agreed wasn't worth the price.
Many respondents would skip the vitamin section at Whole Foods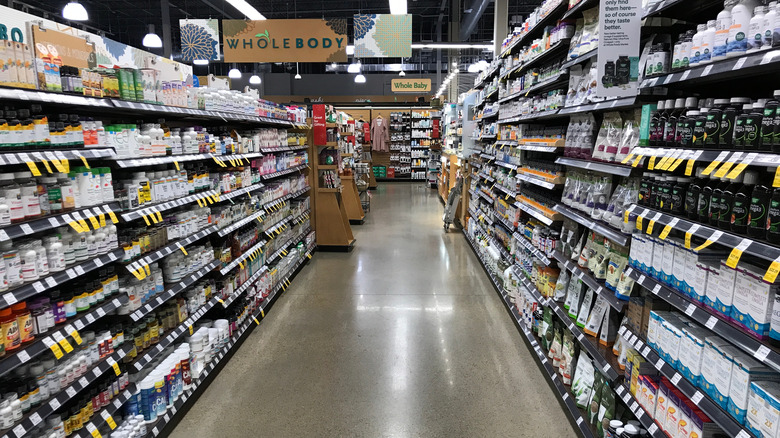 Jeff Bukowski/Shutterstock
One of the most robust aisles at Whole Foods is the vitamins and supplements section. However, 25.87% of poll respondents say vitamins are the one thing not worth shopping at the grocery store. While we can't say why based on the survey results, if a 2015 article is any indication, the reason might involve a whole paycheck or several. 
 A writer at Refinery 29 found the vitamin section to be one of the most expensive areas of the store, saying, "Do you want to give yourself 1000% of your daily riboflavin, or do you want to send your kids to college?" Showbiz Cheat Sheet wrote in 2017 that vitamins at Whole Foods could run up to $70 a bottle, and many are brands or types you can find for much less in bulk at places like Costco.
As for the other things people don't think are worth buying at Whole Foods? Gluten-free foods came in second, with 20.40% of respondents dubbing it a no-no. It was followed by coffee with 18.41% of the votes and then deli meats with 16.58%. Meanwhile, 11.44% of people said they'd skip Whole Foods' fresh meat, while nuts came in last with just 7.30% of the votes.