Casey's Just Stepped Up Its Breakfast Game With These Grab-And-Go Items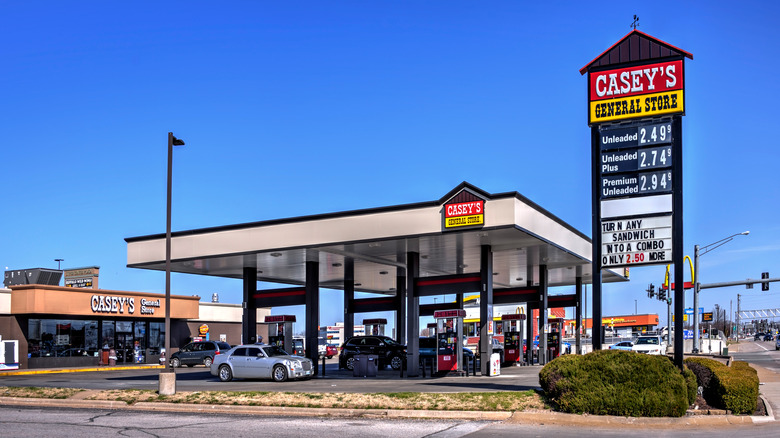 damann/Shutterstock
The popular Iowa-based convenience store chain Casey's, which has locations stretching across the Midwest and Southern United States, has been a longtime source of pizza, baked goods, donuts, and more for customers on the move. Since its first store opened in 1968, Casey's has become a huge force in the convenience store industry, with over 2,300 locations across 16 states (via Casey's). Now, the chain is expanding its food offerings in a major way, with a morning menu sure to delight early birds.
In a press release shared by Business Wire, Casey's, the third-largest convenience store retailer and fifth-largest pizza chain in the United States, unveiled its all-new breakfast lineup, which has been developed by Head Chef Farrokh Larijani and features a selection of grab-and-go breakfast items that will be available for purchase at all of the company's locations.
In celebration of the new breakfast menu and National Coffee Day, the convenience store chain will be offering a free small coffee with any purchase for customers using the Casey's Rewards system to order their items from September 26 to October 2.
Casey's breakfast menu is full of portable morning options
Casey's new breakfast menu offerings include the Signature Handheld sandwich, with made-from-scratch dough, eggs, sausage or bacon, and two types of cheese, the Loaded Breakfast Burrito, with eggs, shredded potatoes, bacon and sausage crumbles, and cheese rolled in a flour tortilla, and the Loaded Breakfast Bowl, with eggs, bacon, sausage, shredded potatoes, and cheese (via Business Wire). The chain is also debuting a "bean-to-cup" on-demand coffee brewing process that will give customers the opportunity to brew a hot cup of coffee from six flavors of beans ground on the spot.
Of the new menu and celebratory offerings, Michelle Wickham, Casey's VP of Prepared Foods, said, "Our goal with the new lineup is to make our guests days better with fresh coffee and a warm, delicious breakfast that fits easily into their morning routine."
In response to a series of Instagram posts announcing the new breakfast menu, commenters showed their support for the items. One customer commented, "Tried the bacon, egg, and cheese handheld and the loaded breakfast burrito this morning. Both were great." Another wrote, "What a delightful breakfast you people have for us. I had handheld bacon and loved it!"