The Michael K. Williams And Anthony Bourdain Moment That's Giving Us All The Feels
One became famous on TV by playing a cold-blooded killer with a moral code. The other achieved television fame by always, always being himself. It was quite a meeting, arranged for the very last episode of "Anthony Bourdain: No Reservations," in 2012. Bourdain was a chef from New Jersey who made a name for himself in Manhattan. If he was going to do Brooklyn for that final episode, then he would need a real Brooklynite to show him around. Enter Michael K. Williams, whose death earlier this week at the age of 54 shocked his many fans (via The Washington Post). "We always say, 'Brooklyn's not a borough. It's a blood type,'" Williams tells Bourdain as the two walk through Williams' old neighborhood (via Discovery+).
Bourdain admitted he didn't know Brooklyn from Mars, but Williams knew it inside and out. The borough's blood type was shared by a great many cultures that each brought their own foods: Italian, Russian, Caribbean, and others. Williams' mom was from the Bahamas, and he told Bourdain about a typical dinner at his childhood home in East Flatbush: "peas and rice, fried fish, potato salad, mac and cheese."
Bourdain and Michael K. Williams ate together on No Reservations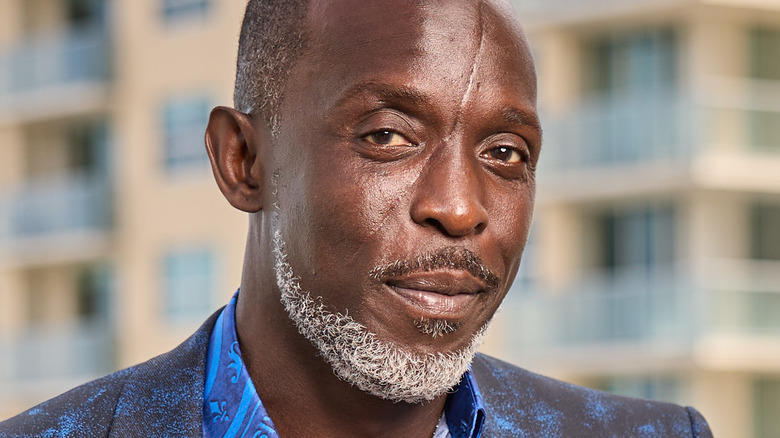 Rodrigo Varela/Getty Images
During the very last episode of "No Reservations" (via Discovery+), Anthony Bourdain and Michael K. Williams sit down for a meal at Gloria's, a Caribbean/West Indian eatery in Brooklyn's Crown Heights neighborhood. They share rice and peas, oxtail, curry goat, macaroni and cheese, and greens called callaloo (via Esquire). Bourdain shows genuine appreciation for oxtail, a dish that comes from cultures that didn't have access to the best parts of the cow. "The cheapest-ass piece of meat has proven, once again, to be the best," Bourdain says.
For his part, Williams is able to explain to Bourdain how all the changes Brooklyn has experienced over the past couple decades — some might call it "gentrification" — have been good things. "A lot of neighborhoods that used to be really bad are now beautiful," Williams says. "There's a certain part of the grit that I do miss, but you know, it's time to grow up, I guess."
Williams almost could have been speaking about himself. Of all his roles, Omar from "The Wire" affected him the most — too much, by his own account. As he told NJ.com, during the years Williams was playing Omar, he was sneaking off to binge on cocaine in Newark drug dens. "I suffered from a huge identity crisis," Williams said in 2012. "I was more comfortable with Omar's skin than my own. That was a problem."
Michael K. Williams and Anthony Bourdain seemed like kindred spirits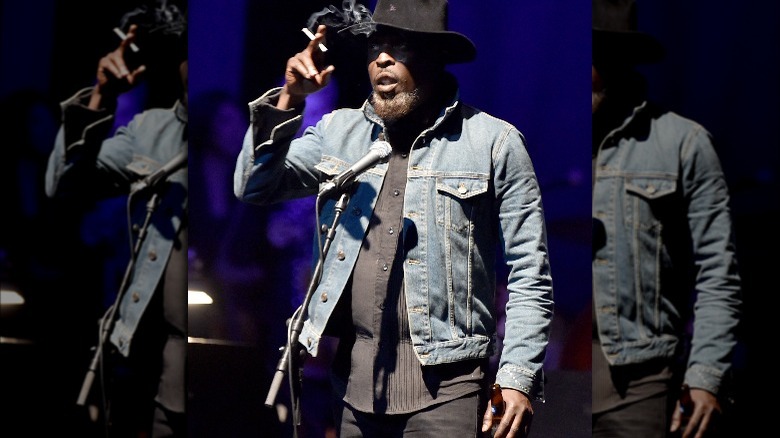 Kevin Winter/Getty
Whether or not Anthony Bourdain knew it when he and Michael K. Williams shot scenes for "No Reservations," the famously troubled chef had found a kindred spirit. This year's Bourdain documentary "Roadrunner" depicts a man who was driven by his addictions long after he quit heroin (via Book & Film Globe). The film leads viewers to the conclusion that Bourdain's addictive personality ultimately led to his suicide. Wherever they are, maybe now Williams and Bourdain can share another meal.
"Great people leave us when the demons continue to run amok," @Bullseyetweets1 tweeted, adding, "They say you die twice, once when your body goes and once when your memory goes, so film of these two will ensure they live forever." Twitter user @MeritaC2 appreciated finding a clip on the social media platform of Williams on "No Reservations." "So good to see these two men of talent and heart enjoying their laughter and conversation over Caribbean food," @MeritaC2 said. "Each died suddenly, but while here they seemed to live their passions."
If you or anyone you know is struggling with addiction issues, help is available. Visit the Substance Abuse and Mental Health Services Administration website or contact SAMHSA's National Helpline at 1-800-662-HELP (4357). If you or anyone you know is having suicidal thoughts, please call the National Suicide Prevention Lifeline​ at​ 1-800-273-TALK (8255)​.