Aldi Has No Shortage Of Pumpkin-Flavored Coffee Items This Year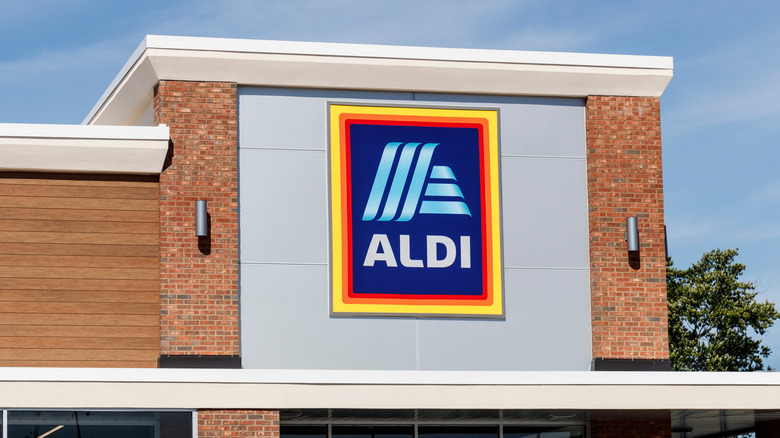 Jonathan Weiss/Shutterstock
As temperatures drop and Halloween decorations begin returning to store shelves, so too are pumpkin products back in force at the popular discount grocery chain Aldi. In the past, the company has gone all out for its autumnal offerings, even moving up the date of the debut of its fall items for fans who just can't wait for the season to officially begin. This year, Aldi is continuing this tradition, with tons of pumpkin spice offerings set to hit shelves in the coming weeks and months. 
While this week's Aldi Finds included a number of festive items, ranging from Pumpkin Cranberry Crisps and Pumpkin Spice Cheerios to apple donut-flavored yogurt and Pumpkin Mini Bundt Cakes, the most exciting news for caffeine lovers is the return of fall-friendly coffee products ready to put you in the mood for the crisp, cozy days ahead.
A post on the popular Instagram account Aldi Favorite Finds, which documents the latest and greatest Aldi offerings to its 222,000-plus followers, displayed a plethora of pumpkin-flavored products sure to make any fall-inclined coffee lover excited. 
These fall-friendly products are sure to delight coffee lovers
Included in the limited-time seasonal products posted to the popular Instagram account were a variety of festive coffee creamers, including Pumpkin Spice and Caramel Macchiato Coffee Creamers by Barissimo Coffee and Pumpkin Spice Almond Milk Creamer by Friendly Farms. 
Also available at Aldi are two pumpkin-flavored cold brew coffees, including dairy-free Pumpkin Spice Latte cold brew by Califia Farms and Pumpkin Creamed Cold Brew Coffee by Stok, which is emblazoned with "OMG #PUMPKINSZN," summing up our thoughts exactly. 
Fall-loving fans in the comments were excited to see the seasonal products back on display on Aldi shelves. "That Califia is what I was waiting on," one commenter wrote. Meanwhile, another shared, "that Caramel Macchiato creamer is better than the same Starbucks brand that costs $5-$6 at other grocery stores."
Aldi's array of autumnal coffee offerings are sure to come in handy at home when you need a caffeinated boost but don't have the time — or extra funds — to run out for yet another pumpkin spice latte.